History has been made made!
The new hair care line's CEO, Kenny Kahn, met Katie through Best Buddies, a "one-to-one friendships, integrated employment and leadership development for people with intellectual and developmental disabilities," and said the decision to appoint her as the face of the brand was effortless.
"The Beauty & Pin-Ups brand is a celebration of the empowerment of a woman and what it took to be a pin-up in 1935, and carrying that message in a modern sense," Kahn tells PeopleStyle. "So as we were launching this product, in our mind it could have been the next traditional pin-up — but as soon as we came up with the name 'Fearless' it was really easy, we were like, 'Well Katie's fearless.'"
The new product, Fearless Hair Rescue Treatment Kit, is an intensive, correcting hair masque that helps to rebuild broken bonds and revive brittle tresses. The brand's mission statement tells costumers to, "grab your spotlight, punctuate your story."
And Meade, the 32-year-old beauty, can't wait to take on her new role as the face of this company.
"It's pretty cool because I love being a part of the Beauty & Pin-Ups family, and I love being apart of Best Buddies and interacting with people," Meade told PeopleStyle.
All proceeds from sales of each Beauty & Pin-Ups product supports those with intellectual and developmental disabilities.
Slowly but surely, the fashion and beauty industry are presenting more diverse representation of bodies on the runway and in campaigns, which we love seeing. Now here's hoping this continues.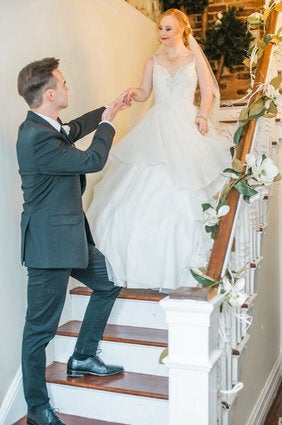 Madeline Stuart Wedding Photoshoot
Popular in the Community