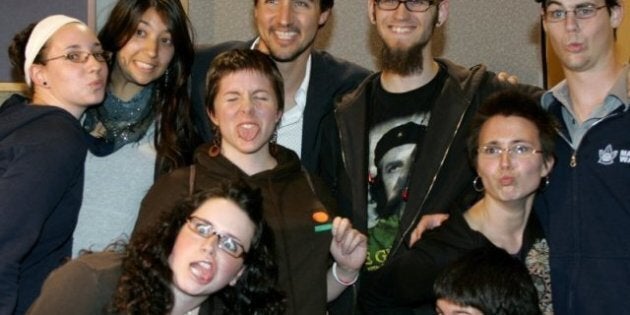 UPDATE: As The Huffington Post Canada first reported, Katimavik is kaput.

The details will be found in the budget, Conservative sources said Wednesday.

Katimavik's National Director of Marketing and Communications Victoria Salvador told HuffPost that "no one" had informed her of the impending cut.

"We are sitting here, business as usual, doing what we need to do to deliver its program and there has been no talk about cancellation," she said.

Katimavik has a funding contract that runs until 2013.
OTTAWA — Katimavik, the youth service program championed by former prime minister Pierre Elliott Trudeau, is on the Conservative government's chopping block, The Huffington Post Canada has learned.
"This has been coming for a long time," Liberal MP Justin Trudeau said Tuesday of the program that his father established in 1977.
"It has been obvious that a program that empowers young people, that encourages them to get out and across the country and serve communities and discover how much they can make a difference in the world, and across Canada, is going to be cut."
Sources told HuffPost the Tories have discussed slashing the group's funding completely but what the government has settled on hasn't been confirmed.
Heritage Minister James Moore's office insisted Tuesday, however, that Katimavik isn't on its deathbed just yet.
"No decisions have been made," Moore's spokesman James Maunder said.
Katimavik, which means "meeting place" in Inuktitut, is a national volunteer service program for Canadians aged 17 to 21 and involves placements in many communities across the country. More than 30,000 people have taken part in the program, which saw its federal funding killed in 1986 by the Brian Mulroney government, then revived in 1994 by the Liberals under Jean Chrétien. A registered charity, the program is currently funded the Canadian Heritage department and donations.
Victoria Salvador, national director of marketing and communications at Katimavik's head office in Montreal, suggested a large funding cut would blindside the organization.
"We haven't heard anything along the lines of Katimavik being slated (for a cut). We have no reason to think that at this point," she said. "It hasn't been discussed at all, we have no indication."
The Katimavik program has huge fans among federal bureaucrats, Salvador added, and the civil service would "definitely recommend" keeping the program going, she said.
But Trudeau, the Liberal MP for Papineau, Que., is convinced the Conservatives view Katimavik as his father's legacy project and intend to cut it regardless of how well it works well or betters the lives of young Canadians.
"I don't care who gets credit for this sort of thing but it is dangerous because we are shortchanging Canadians of a program that is extraordinary," he said.
Montrealer Katie Wheatley, 18, participated in the Katimavik program last year. She spent months working at a regional art gallery in Sault Ste. Marie, Ont., and at a French elementary school in Moncton.
"I did Katimavik because after high school, I wasn't really sure what I wanted to study," she said.
"It's a really well-rounded experience. You are working not only as a full time volunteer … but you take turns in pairs staying home and cooking and cleaning the house and doing everything for your group. So you learn not only the work environment but also how to manage a household, how to manage a budget. So it basically affects every part of your life," Wheatley said.
It's a message that former Katimavik project leader Mel Quevillon hears all the time. The London resident spent two years, between 1998 and 2000, working as a liaison with local communities while she guided the young people under her care.
"It's a great program," she said.
"For a lot of the participants it is the first time away from home and it is an amazing, eye-opening experience for them. They (Katimavik) try to make the groups somewhat representative of Canada so … you'll have Francophones, you'll have Anglophones, you'll have people from small towns, people from big cities, from all different socio-economic backgrounds, Aboriginal folks. So it makes it amazing but it also makes it challenging," Quevillon said.
"You can have a 17-year-old small town participant from Alberta who eats meat every day and is thrown into a situation where he has to eat vegetarian food — they are rocked, their world is just rocked," she said.
Andrew Porter, a participant from 1982 to 1983, contacted HuffPost to say he wanted to speak out in favour of the program that had changed his life.
"When the Mulroney government killed the program in the eighties, I didn't speak up about it but this time I hope to get my voice heard," he wrote to in an email.
Brian Mulroney's Progressive Conservative government cut Katimavik's funding in 1986, and it wasn't restored until 1994 — a period the organization refers to as "the difficult years."
"I consider Katimavik to be the turning point in my life," Porter wrote. "Prior to entering the program I was unfocused, unmotivated and I felt like I was on a downward spiral. The experience took me out of that and gave me new options to consider. It wasn't an instant turnaround but the experience gave me the basic tools to work with and put me on the right track," he described.
Katimavik's benefits are numerous, said former volunteer Catherine Drouin, who travels from school to school in Montreal to raise awareness about the program.
She tells Quebecers that six-months with Katimavik will make them "fully bilingual" — a skill they'll be able to use for life. Aside from the mandatory official languages course, Drouin suggests that participants "fall in love" with volunteering. Years after finishing their program, Katimavik alumni are still volunteering in their home communities, she said. "The more Katimavik participants there are around the country, the better the society will be," she added.
Salvador insists that after Katimavik's budget was slashed a few years ago, the program has little wiggle room to absorb further cuts.
When the Conservatives agreed a few years ago to move towards a multi-year funding approach, they trimmed 25 per cent of Katimavik's budget, some $5 million a year. The organization was given $45 million grant over three-years in operating funds from Heritage Canada in 2009.
The cash runs out in 2013 and no discussions have been held to renegotiate the package, Salvador said.
"Whether (a cut) is five to 50 or 100 per cent, nobody is going to smile. We've done what we needed to do in terms of downsizing and restructuring and looking for efficiencies, so in my mind I don't see how the government would justify … more funding cuts at this point," she said.
Katimavik can't survive without government funding, Trudeau told HuffPost.
Trudeau, who has served in the past as chair of Katimavik's board of directors, said the program tries to use alternative funding streams but ultimately depends on government money.
"The problem is, it is an expensive program. You are taking a young person and sending them across the country to two different locations. Their travel, everything is paid for, their food, it is a year of transformative education and it is more expensive than an exchange program to Toronto for a weekend, there is no question about it. But it is the kind of investment that gives back ten-fold to Canada," Trudeau said.
Katimavik's current administration must ramp up protests and get vocal about threats to the program, he added.
"I've had a little bit of disagreement with the administration of Katimavik over the past couple of years because they decided, like so many NGOs, that the best way to not get cut was to be nice to this Conservative Government and to dissociate themselves with anything Liberal," Trudeau said.
"They have put aside the photos and the tributes to their founder Jacques Hébert, who was a great Liberal, they've changed their mode of functioning and brought in someone who is much more friendly with the Conservative Government in the hopes that perhaps the Conservative government wouldn't cut them," he added.
Silence is a "big mistake," said Trudeau, noting he's hopeful Katimavik's 30,000 alumni will react strongly to the next round of cuts.
"It's time to scream loudly that this government is completely de-investing in young people," he said.
TWITTER REACTS TO KATIMAVIK CUTS
Popular in the Community