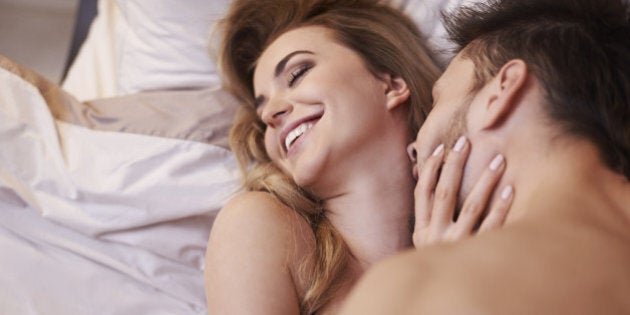 Improving your core strength just got taken to a whole other level, and I want to tell you how. Please, let me introduce you to Elvie -- my favourite product on the market for 2016, hands down.
What is Elvie exactly? It's the newest, at-home personal trainer... for your vagina. It functions to increase the inner strength of your pelvic floor muscles and tone for better core stability and control which is really, really great for helping you have the best sex!
• 1 in 3 women experience pelvic floor problems
• 50% of those women will experience back-related problems
To be fair, there are many factors that contribute to the level of your pelvic floor strength. According to Elvie "the pelvic floor is a powerful little set of muscles that sit like a hammock between your tailbone and your pubic bone". Having a strong pelvic floor can help reduce the likelihood of genital prolapse, incontinence (due to aging or birthing) and, help maintain strength through the tailbone and up the spine to reduce lower back pain. All of which is of course fantastic, but my favourite part is that having a well-balanced and strong pelvic floor is also incredibly beneficial for your sex life!
Let me be clear, I say well-balanced, because I've known of vaginas that have prolapsed from being weakened over time and I know of vaginas that have experienced uncomfortable penetration because of being too strong! It's important, when addressing any changes to your health, to always look at moderation and balance as key values in your physiological re-address.
This little ingeniously inserted trainer is sleek in design, is exceptionally vaginal friendly, and the technology behind improving women's health is admirable. Here's how it works. Before insertion, you connect your Elvie over Wi-Fi to your smart phone via the freely downloadable Elvie app. After some incredibly friendly and polite set-up instructions, (because your vagina rightfully deserves manners) you are firstly asked to place Elvie in your hand and lightly squeeze, so that you can verify that it's working and connected.
On your app, with a light squeeze, you watch the cutest Ruby icon (which acts as the gauge) bounce around your screen mapping out the intensity of each pulse. Upon insertion, Ruby, then takes you through your daily routine where it tracks and measures your Kegel progress over time. What's really attractive about the Elvie app however, is that it brings playfulness and freshness to your daily Kegel routine. Ruby, takes you through different games, where the objective and style of Kegels varies to provide yourself a fulsome exercise routine. Games for your vagina. How does that not sound like a fun time?
Why Are Kegels Good For Sex?
At the root of it, Kegels are encouraged for many reasons, but my favourite is that they can essentially help you achieve deeper and more intense orgasms -- which is awesome. When you Kegel, what you're exercising is the pubococcygeal (PC) muscle--the muscle group that forms the orgasmic platform; and, like any group of muscles, in order to prevent atrophy, their tone and strength need to be maintained.
During orgasm, the orgasmic platform contracts 5-12 times in 0.8 intervals while the vaginal barrel also increases in depth and width (the tenting effect). As well, while in the Plateau phase of the sexual response cycle, your genitalia is experiencing an increase of blood flow. For some, the practice of Kegels actually increases your pelvic vascularity, which means more blood flow and more genital awareness, which is more pleasure for you!
An increase in vaginal sensation and sensitivity can be key for many women who may have difficulty achieving orgasm, which is why I went searching for a tool that can help many of the women I encounter in my practice. This is how I found Elvie. I want to help women have better sex. I want to help women have the best sex. I want to help women embrace sex. Sexuality is a journey and your body is a wonderland, and maintaining a healthy intimate lifestyle takes commitment and sometimes a little help from your friendly Sexologist.
If you're experiencing an unfulfilled sexual performance on your behalf, there are a variety of factors that can affect that course -- but, what I do know, is that if as a woman you have experienced dramatic physical life events i.e. pregnancy, menopause, significant weight fluctuations -- the balance of your pelvic floor muscles could be out of whack, which means, exercising them with the guidance of a health professional and the aid of an incredibly useful measurement tool such as Elvie could get you and your body back on track to experiencing the pleasure you deserve.
Check out Elvie, let me know what you think and hopefully you will join ranks and become an Elvie guru. My vagina is happy that I have and yours will be too.