A spokesman for Conservative leadership candidate Kellie Leitch says the Ontario MP did not know an anti-Muslim group was attending the same event as her this week, where money was evidently raised to fight the construction of a mosque.
Rise Canada, which states on its website that "Canadian values... often conflict with the Islamic way of thinking," posted an edited video of the Brampton, Ont. event online Monday.
In the video, Ron Banerjee, who is listed on the site as an advisor to the group, tells a crowd that Rise Canada has teamed with other groups to fight "Islamization" and "sharia creep." Banerjee is also a director of a group called Canadian Hindu Advocacy.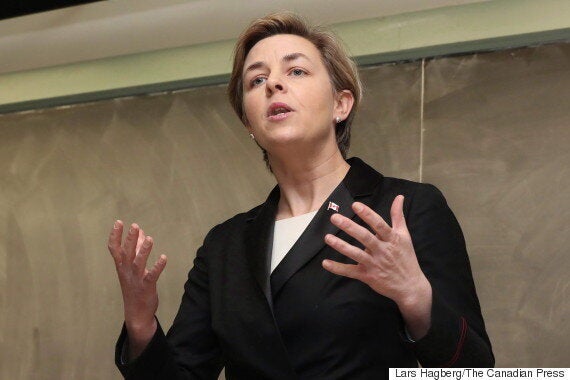 The group also encouraged readers to buy a membership for Leitch by Tuesday's deadline to sign up new supporters who can vote in the May Tory leadership contest.
But Michael Diamond, the Leitch campaign's communications director, told The Huffington Post Canada in an email that the meeting was organized by a group called "Keep Religion Out of Public Schools" and dealt with "the place of religion in public schools."
Diamond said Wednesday that the clip clearly shows Leitch was not in the audience when Banerjee was making those remarks, but did later respond to a question from him.
"Kellie did not know this person or this organization would be there. Had she known, she would not have attended," Diamond said. "She wants to be very clear that this guy and his opinions are repugnant and do not reflect her own views."
The full, 11-minute video can be seen below. Leitch is shown entering the room to applause at around the 6:43 mark:
Earlier in the clip, Banerjee says his group has organized "large scale demonstrations" against "Islamic prayers in Toronto District School Board public schools." Rise Canada posted a video last week of a Peel District School Board meeting that devolved into chaos after a man ripped apart a Qur'an to protest that Muslim students are granted space to pray in public schools.
In the video, Banerjee tells Leitch that Hindus believe in gender equity and female deities.
"I think I probably express the feelings of many in my community when I say we would like to see a female prime minister," he says, pointing at Leitch.
"Happy to look at it," Leitch replies.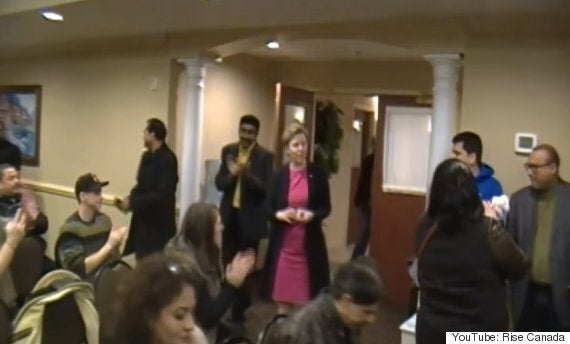 Diamond said Leitch is "committed to building a country that promotes the shared values of hard work, generosity, freedom, tolerance, equality of opportunity, and equality of the individual.
"That includes the freedom to practice your religion and the responsibility to be tolerant of other people's religions."
Leitch has faced frequent accusations of anti-Muslim xenophobia because of her much-discussed proposal to screen newcomers for so-called "anti-Canadian values" and her earlier push in the 2015 election to create a tip line for "barbaric cultural practices."
She was also a vocal opponent of the anti-Islamophobia Motion 103, which easily passed the House of Commons last week. Michael Chong — who pointed out during a Tory leadership debate that Leitch's campaign was attracting support from white supremacists — was the only leadership contender to back the Liberal motion.
The Conservatives will choose their new leader in May.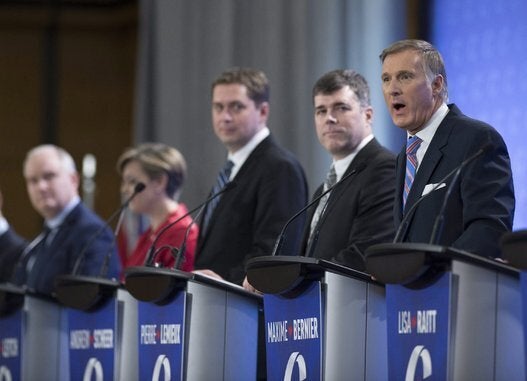 Conservative Leadership Candidates