On the same day that Kellie Leitch released the kind of questions she wants to ask newcomers, MP Deepak Obhrai says his Conservative leadership rival is creating an American-style environment that could get immigrants killed.
Obhrai, a Calgary MP since 1997, said in a news release that Leitch's plan to screen immigrants, refugees and visitors for so-called "Canadian values" will not only lead people to view the Conservative party as "anti-immigrant," but could also endanger people's lives.
"Ms. Leitch is playing divisive politics, and the consequences can be seen in America, where in the last two weeks three innocent people were shot or killed, because they were seen as immigrants," said Obhrai, who is of South Asian descent and immigrated to Canada from Tanzania in 1977.
"This is a dangerous environment to create in Canada, and I am outraged by this."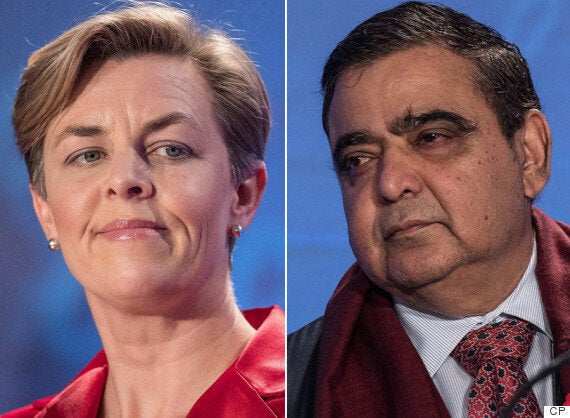 Last week, Deep Rai, a 39-year-old U.S. citizen of Indian descent, was shot in the arm on his driveway in Kent, Wash., by an attacker who allegedly told him: "Go back to your own country."
Two weeks ago in Kansas, a gunman shot two Indian men after harassing them with racial slurs, telling them: "Get out of my country!" Adam W. Purinton was later charged with murdering Srinivas Kuchibhotla, 32, and injuring Alok Madasani, also 32.
'Disguised as Canadian values'
Obhrai told The Huffington Post Canada that the "consequences" of Leitch's campaign are being played out in the United States.
"Ms. Leitch's proposal to screen every immigrant and visitor is nothing but Donald Trump's executive order, disguised as Canadian values, and crafted to keep Muslims out of Canada," he said in a statement Monday.
"We cannot allow Canada to go down this road — treating Canadians as equals is not a social policy, it is a Canadian right," he told HuffPost. "We need to stop playing identity politics."
Sample questions released by Leitch
Leitch provided examples Monday of the kind of questions she wants immigration officials to ask newcomers during the face-to-face interviews she plans to impose.
Among other things, she wants newcomers to Canada to know that they will have to work hard for a good life.
In a "sponsored announcement" to Rebel Media supporters, Leitch said newcomers will be quizzed on whether they believe a man and woman are equal, and whether it is acceptable to "coerce or use violence against an individual or a group who disagrees with your views."
Leitch promised to compare and contrast newcomers' answers to their "social media postings."
"To me this seems obvious, desirable and fair," she wrote in her email. "These are quintessential Canadian values, and we need to uphold them. But I know some people disagree."
Obhrai said the values championed by Leitch are "universal values encompassed by our laws." He called the "pointless" questions an unnecessarily bureaucratic and costly policy.
"This is a dangerous environment to create in Canada, and I am outraged by this."

— Deepak Obhrai
Leitch has acknowledged her plan to impose face-to-face interviews will strain the immigration system and lead to fewer newcomers being accepted each year. She plans to have no "quotas" for immigration and refugee acceptance, if elected prime minister.
Leitch's spokesman Michael Diamond did not specifically address Obhrai's comments about his boss creating a climate of fear for immigrants. He provided a statement from Leitch that said: "Mr. Obhrai's refusal to accept a unifying Canadian identity is unfortunate, and puts him in the same category as Prime Minister Trudeau.
"I am the only candidate for Conservative Party leader that will defend our deeply held values and implement face to face interviews for all refugees and immigrants."
Leitch and Obhrai are two of 14 candidates vying to take the Tory helm from interim leader Rona Ambrose. Conservative party members will chose a new leader through a preferential ballot, with the winner announced on May 27.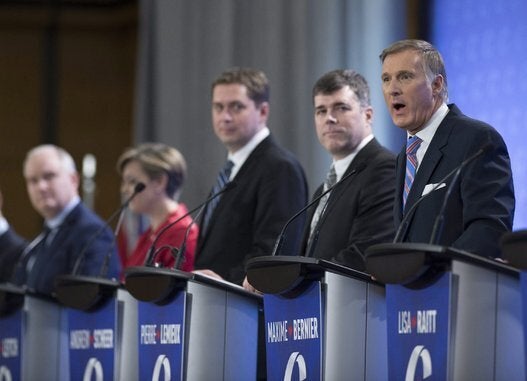 Conservative Leadership Candidates