Donald Trump, sharia law, and carbon taxes were all on the agenda Wednesday as 12 candidates vied for attention during the Conservative party's first leadership debate in Saskatoon.
Pediatric surgeon and former cabinet minister Kellie Leitch made a transparent effort to grab headlines by stating she shared "common interests" and "common ideas" with U.S. president-elect Donald Trump, namely screening immigrants. She railed against politically correct elites — inside and outside of her party — who were attacking her for her plan to screen every newcomer for what she calls unified Canadian values.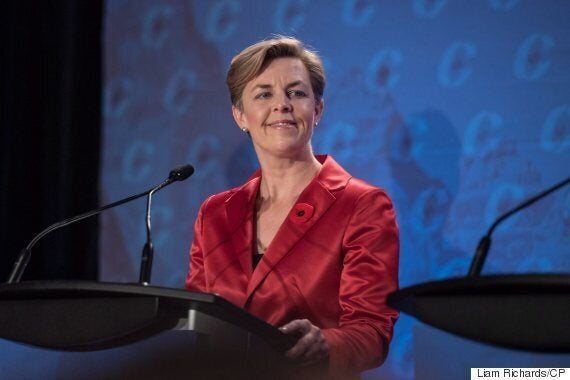 Conservative leadership candidate Kellie Leitch speaks during the Tory leadership debate in Saskatoon on Nov. 9, 2016. (Photo: Liam Richards/CP)
"I am a strong, hardworking individual who will not be bullied [by] those with politically correct views into not allowing us to have important discussions that make Canada safe, stronger and enhance our unified Canadian identity," the Ontario MP said.
"I am the only candidate on this stage that is willing to do something about it."
Leitch also called for a cap on government spending and lashed out at Prime Minister Justin Trudeau for what she said was campaigning to be PM of United Nations by throwing billions of dollars abroad to fight global warming that was instead needed at home.
Longtime Calgary Conservative MP Deepak Obhrai was Leitch's most vocal opponent.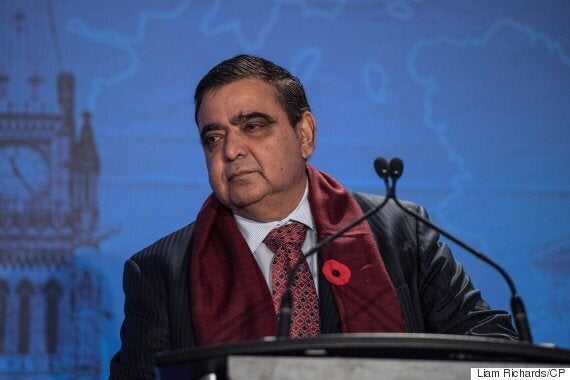 Deepak Obhrai. (Photo: Liam Richards/CP)
"Let me talk of the elephant in the room when it comes to immigration," he said. People are worried about sharia law, he said, but "sharia law is incompatible to Canadian law. Henceforth it will never find any route in this country."
On the niqab, Obhrai, who is originally from Tanzania, said: "If somebody wants to wear a niqab and be marginalized, it is their problem.
"I really don't give two hoots. We give them freedom — they can have the freedom not to wear the niqab. Let them do what they want to do."
To win the next election in 2019, Obhrai said, the Tories need to reach out to new Canadians and to millennials.
"You know what they say? We love your fiscal policy but we have problems with your social policy." He said the party needs to be more inclusive.
Obhrai: 'I have no platform'
Describing himself as the "nobody candidate, ignored by the media and by my colleagues," Obhrai clashed with several Tories on a number of policy fronts. Canada does not need to negotiate with Trump, he said. Lobbying for free trade, with the Trans-Pacific Partnership or a negotiated NAFTA would be more successfully accomplished in Congress, he said. On the environment, he called for recycling nuclear waste to make energy, saying he's visited Pacific Island states, and there is no question climate change is real.
"Ladies and gentleman, I have no platform," he later added.
The Conservatives already have a successful blueprint for governing — former prime minister Stephen Harper's example, he suggested.
Saskatchewan Conservative MP Brad Trost told the audience that if he becomes PM, the "war" on oil, and gas, and coal is over.
"I don't think man-made greenhouse gases are a problem on the environment," he said.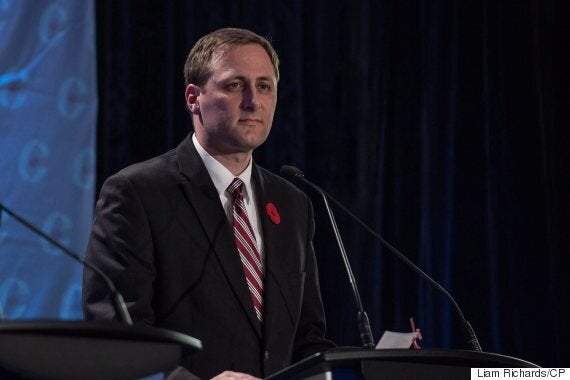 Brad Trost. (Photo: Liam Richards/CP)
Trost said he would curb corporate subsidies and privatize the CBC to help the country get back into fiscal balance. He would ardently pursue the reduction of interprovincial trade boundaries by taking a firmer stand with the provinces.
"Provinces are always asking for something. Transfer payments, infrastructure money. You have to be tough in negotiating with the provinces," he said. "When I am prime minister, yes, we will ask kindly, but we will also use the stick."
The well-known social conservative said he was the only candidate who could speak to all parts of the Conservative family: social conservatives, fiscal conservatives, conservatives from the reform-democratic traditions, and those focused on national security.
"I am the only candidate here tonight who not only identifies with every part of the Conservative coalition but will deliver for every part of the Conservative coalition."
"I don't think man-made greenhouse gases are a problem on the environment."

— Tory leadership contender Brad Trost
Trost also praised Ontario MP Michael Chong as being the only other candidate who was being upfront with voters about his climate change plan. "Each and every candidate needs to say what is the cost of [their] environmental plan."
Chong told the crowd he wants to create a revenue-neutral carbon tax, modelled on British Columbia's whereby profits are used to cut income taxes, as a way to reduce greenhouse gas emissions.
He also championed a plan that would simplify the tax code and cut personal income taxes by 10 per cent and corporate taxes by five per cent. Several times, he mentioned that he was the only candidate to have a plan reviewed and praised by economists at four Canadian universities.
The Conservatives need to build a "much bigger" party that includes people of all races, religions and creeds, Chong said. The party needs to win in cities and also in Atlantic Canada.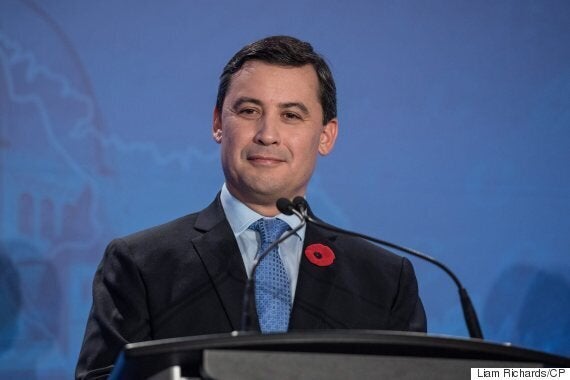 Michael Chong. (Photo: Liam Richards/CP)
He suggested he was the only one with the skills to do so. He can connect with new immigrants because his parents were immigrants, he said. He lived on a farm and therefore understands agriculture and, since he represents a riding in the Greater Toronto Area (GTA), he said, he also knows "what it takes to win in Canada's cities."
Like Obhrai, Chong lashed out at Leitch's policies, saying the Tories need to quit playing politics with the issues of immigrant screening.
Harper's government let three million immigrants and refugees into Canada over 10 years, and "every single one of those immigrants and refugees was screened for security purposes, terrorism, war crimes, crimes against humanity and for health and economic reasons," he said.
Chong stands alone on carbon tax
Immigration should be based on Canada's economic interest, Chong said, something most other candidates also stressed.
Every candidate but Chong suggested or declared opposition to a carbon tax. Several noted that a price on carbon would do little to cut greenhouse gas emissions and would make Canada less competitive than the United States or Mexico. There was broad agreement among all candidates on stage that more tax cuts were needed to spur economic growth. And all championed their support for free trade deals such as the TPP.
Chong appeared the most polished candidate.
Lisa Raitt, the most confident.
The former cabinet minister brought up her experience with Harper at every opportunity. She described herself as battle-tested and repeatedly stated that she could win in 2019.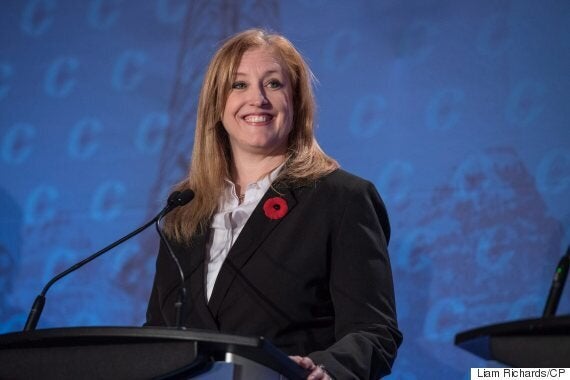 Lisa Raitt. (Photo: Liam Richards/CP)
"Our country needs a leader who understands Canada from the bottom," said Raitt, who is originally from Cape Breton but represents an Ontario riding.
"The folks in Ottawa right now, they just don't get it. They don't care about us."
On immigration, Raitt questioned whether the government is still screening adequately to ensure Canadians' safety. "Canadians are concerned and we need to listen," she said.
On the environment, she suggested there are a number of other avenues Canada could pursue to limit greenhouse gases, such as green mining and biofuels. "Those things can work. They can reduce GHGs. You don't need a carbon tax," she said.
"Our country needs a leader who understands Canada from the bottom."

— Lisa Raitt
Andrew Scheer, former speaker of the House of Commons, said the party needs to pick a leader who can keep it united and articulate a positive message that could reach a broader audience.
He joked that, if elected leader, he would keep his shirt on more often than Trudeau. "He may have a yoga body; I have a dad body," he said, earning the strongest laughs of the evening.
On immigration, Scheer said the parties shouldn't try to outdo each other by suggesting larger and larger numbers.
"We need to put a focus into ensuring that when people come to this country, they embrace what made it so great in the first place, and we need to focus on integration as well," Scheer said.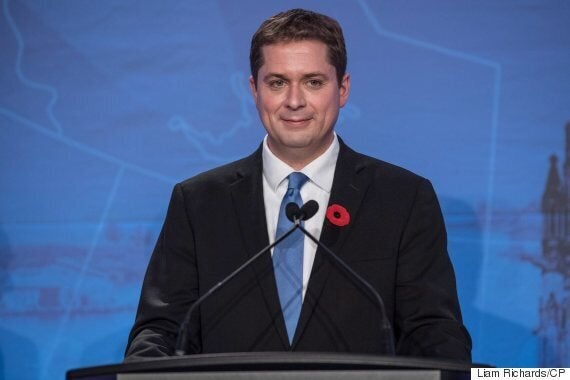 Andrew Scheer. (Photo: Liam Richards/CP)
Ontario MP and former veterans minister, Erin O'Toole noted that he was the only person on stage with military service and cabinet experience.
O'Toole was the only candidate to answer directly when all were asked how many immigrants should be admitted into Canada. About 270,000 a year would be able to be absorbed in the economy successfully, he said, adding that current security screening is sufficient.
Many of his comments were directed at attacking Trudeau, saying, for example, that the prime minister had learned a lesson in his first year that "budgets don't balance themselves."
"We need a leader that reminds Canadians that they didn't vote for a $30-billion deficit, they didn't vote for new taxes on small business, and they didn't vote for a carbon tax," O'Toole said. "They need a government that is competent on the economy — like the Harper government was — and focused on job creation."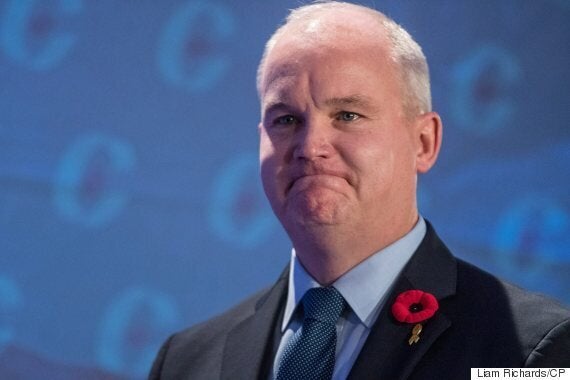 Erin O'Toole. (Photo: Liam Richards/CP)
Chris Alexander, the former immigration minister who lost his seat in the 2015 election, after being panned for, among other things, announcing with Leitch the establishment of an RCMP barbaric practices tip line, said new immigrants should be accepted only if their skills were recognized in Canada.
"They shouldn't touch down in Canada without the ability to go to work in their profession," he said.
During the last election, Alexander said, the Tories failed to present a strong agenda for the new economy. "We didn't speak for people working in technology, in start-ups, we didn't have the vision of an innovative country based on a framework for creating new jobs on the basis of new discoveries."
"Let's broaden ourselves," he said, calling for renewed focus on high tech and finding new markets in Asia. If the United Kingdom leaves the European Union, Alexander said he would also consider inviting the country to join negotiations for a renewed NAFTA.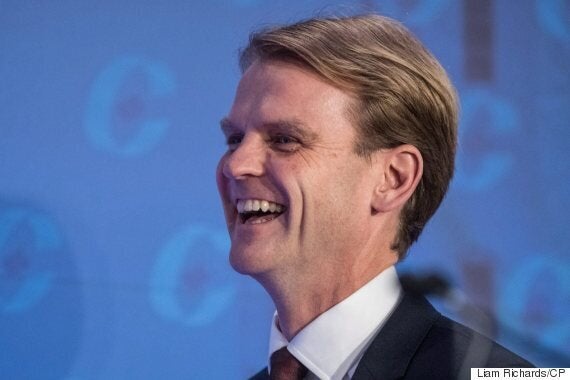 Chris Alexander. (Photo: Liam Richards/CP)
Andrew Saxton, another Conservative defeated in the 2015 election, said Canada needs "the right kind of immigration." New arrivals should be able to quickly integrate and quickly get jobs that are not currently filled, he said.
Saxton called on the party to reach out to urban voters, with a focus on housing, transportation and jobs. He urged a freeze of government spending and a focus on carbon capture and storage to deal with greenhouse gas emissions.
"We did not win a single seat in one of the four largest cities in this country — and I know because I live in one, and I lost my seat in the last election."
The next election will be focused on the economy, he predicted. "The current Trudeau government is the most economically inept since the last Trudeau government."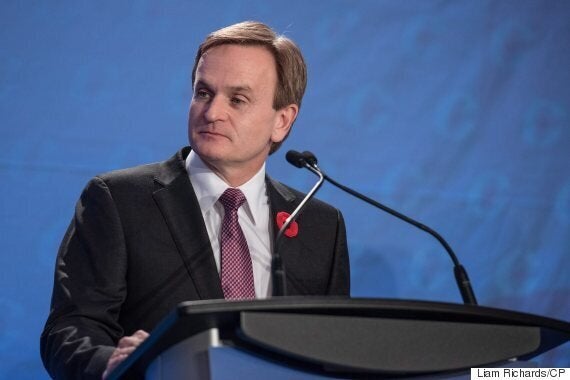 Andrew Saxton. (Photo: Liam Richards/CP)
Arguing that global turmoil will also bring economic problems to Canada, Saxton said he would be best able to navigate choppy waters because of his international banking experience and his past as parliamentary secretary to the minister of finance. He twice claimed credit for helping the Conservatives achieve a balanced budget.
Quebec MP and former public safety minister Steven Blaney was by far the most aggressive, lashing out at Chong for having an environmental plan that was endorsed by the Pembina Institute — an environmental group that had also praised former Liberal leader Stéphane Dion's green shift carbon tax plan, he said. "They pretended [their plan] was revenue neutral," he said. "Well, a tax is a tax is a tax."
Blaney also went after fellow Quebecer Maxime Bernier for his plan to eliminate supply management.
"I love free trade, but I love my Canadian milk," Blaney said. "Maxime, your plan, it is a disaster blinded by ideology. Why do you finance your campaign on the backs of hard-working families from our ridings who feed our country?"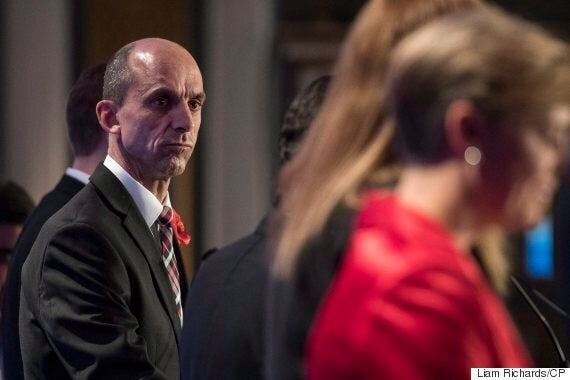 Steven Blaney. (Photo: Liam Richards/CP)
Blaney stood out as the defender of Canadian farmers. "While we argue, the Liberals they are screwing farmers by not dealing with the diafiltered milk and letting our border [be] open to fraud," he said, at one point.
Bernier appeared to find Blaney's outburst amusing, smiling as he was being attacked several lecterns away on stage.
On immigration, Blaney sided with Leitch. He told the audience that maintaining the Canadian identity is key to the country's prosperity, and he vowed to use the notwithstanding clause to ensure that women couldn't cover their faces when they take their oath of citizenship, when they vote, or when they work in the public service.
Newcomers need to respect the equality of men and women and Canadian law, he said, pledging to spend more money on security screening. He also said he wants to abolish the Indian Act.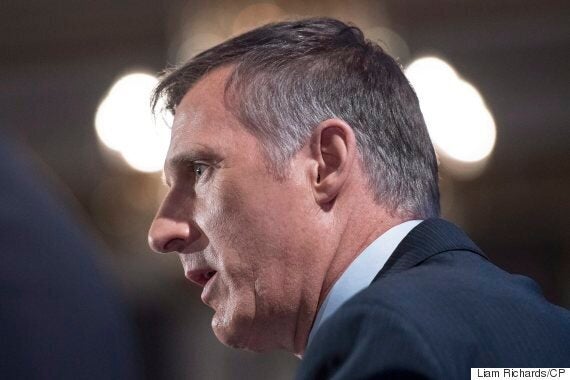 Maxime Bernier. (Photo: Liam Richards/CP)
Bernier stuck to his themes of individual freedoms, personal responsibility, and low taxation. He said he'd already announced "bold" policies, such as ending corporate subsidies, abolishing supply management, privatizing Canada Post and airports. He described himself as the only candidate who truly believes in free trade, including in agriculture.
"I want Canadian consumers to pay half the cost for their milk, their poultry and their eggs," he said. "It's important to follow your principles. I am the only one who can speak for 35 million Canadians."
The surprise of the night was newcomer Daniel Lindsay, the only person onstage with a manbun and someone who has never sat in the House of Commons. The Winnipeg doctor, who served as a president of the College of Physicians and Surgeons of Manitoba and was once recognized as the province's "doctor of the year," also volunteered to serve five tours as a radiologist with the Canadian Armed Forces in Kandahar, Afghanistan.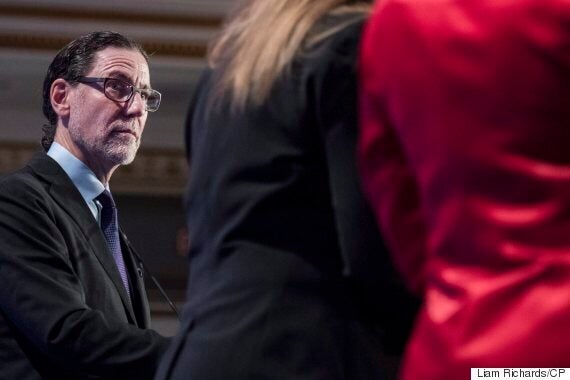 Daniel Lindasy. (Photo: Liam Richards/CP)
"I am not a career politician, but I bring passion, integrity, honesty and real life experience to this race," he said.
The Conservative party "lost touch" with Canadians during the last election, Lindsay said, and it needs to do a better job of listening to everyday folks.
"We need to understand that there is a person at the end of every policy."
Lindsay said he joined the race because he wants to ensure that all Canadians have the same opportunities that he has had.
"Conservative is actually taking care of business. Conservative is about actual fiscal responsibility," he told the crowd. "Conservatism is cool."
The 12 candidates had only 40 seconds each to respond to questions posed by the moderator. Topics included the economy, the environment, immigration, and working with Trump. There were no questions on social policy.
The next official debate will be held in Moncton, N.B., on Dec. 6. The Conservatives choose their new leader on May 27, 2017.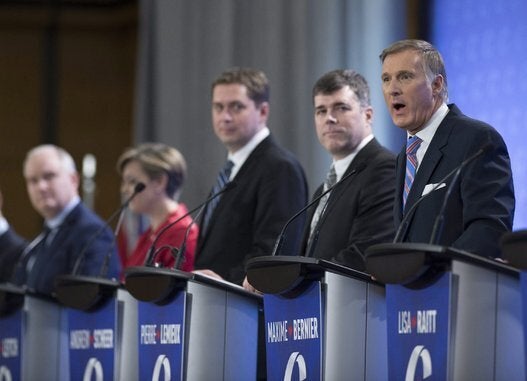 Conservative Leadership Candidates