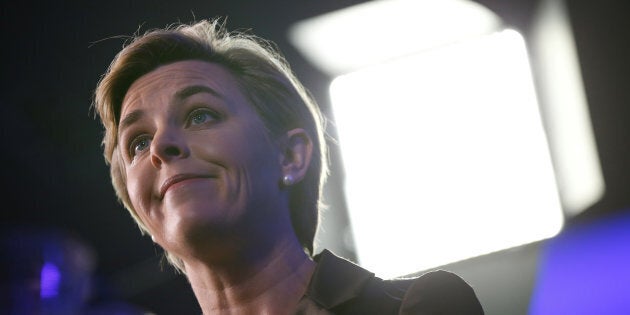 OTTAWA — Conservative Leader Andrew Scheer excluded controversial former rival Kellie Leitch from his party's shadow cabinet Wednesday, keeping the ex-minister away from the front lines and the media spotlight.
In an interview with HuffPost Canada, Leitch said she was informed by Scheer's chief of staff David McArthur about the decision on Tuesday. She said she didn't ask McArthur why she was being sidelined or speak to Scheer about the decision.
"There's a lot of opportunities now for me," she said, putting a positive spin on it. "There are a lot of things that I haven't been doing in my riding that I can do now, either because of the leadership or because I was a cabinet minister. I don't have any regrets and I am not disappointed. I am looking forward to a future that hopefully has another Conservative government in 2019. So it's all good."
In unveiling the team of critics that will take on the Liberal government when the House of Commons resumes next month, Scheer rewarded MPs who had endorsed his candidacy early in the race and found spots for several MPs who challenged him for the leadership. But he had no role for Leitch, Saskatchewan MP and vocal social conservative Brad Trost or Alberta's Deepak Obhrai, the longest-serving Tory MP.
I don't have any regrets and I am not disappointed... So it's all good.Kellie Leitch
Unlike Trost and Obhrai, Leitch sat at the cabinet table in the previous Tory government — serving as labour minister and minister for the status of women from 2013 until the Conservatives were defeated.
The MP for the Ontario riding of Simcoe–Grey said she now plans to work on a private member's bill and possibly extend her hours at the Children's Hospital of Eastern Ontario, where she volunteers as a pediatric surgeon.
"I have a great life. I am a physician, I get to take care of kids and I'm a member of Parliament. There are not a lot of Canadians who have had this opportunity," she said.
During the Tories' leadership race, Leitch generated a great deal of attention for her pledge to screen all newcomers for so-called "Canadian values." While she defined those values as "hard work," "generosity," "freedom," "tolerance" and "equality of opportunity," her critics — including many of her colleagues — accused her of espousing anti-immigrant, anti-Muslim politics. The MP felt the need to proclaim, more than once, that she was not a racist.
Leitch advertised heavily with the far-right Rebel Media website. She blasted media "elites" and applauded the election of Donald Trump in the United States.
After she came in sixth during the May contest, many columnists and television pundits wondered whether Scheer would push Leitch out of the party's front bench in the House of Commons to distance himself from her comments.
Weeks after he won the leadership, Scheer was pressed by reporters to explain a tweet from Leitch on the Syrian refugee program that had sparked outrage online.
But Leitch insisted at the time, and she repeated again Wednesday, that she's not going anywhere.
"I'm looking forward to helping Andrew and assisting everyone as best I can," the MP told HuffPost. "There hasn't been a byelection I haven't been at, and I will be at all the rest."
"I don't think this is a defining moment for Kellie Leitch," she added.
"I've been an activist in the party all my life. There's been lots of exciting opportunities, and I'm sure there will be others in the future."
Leitch has no regrets about her campaign
Scheer's decision to exclude her doesn't make her regret any of the decisions she made during the campaign, she said.
She still plans to run in 2019. "I'll be going door to door at the next election and making sure that my own seat is safe...."
"It's been interesting. I'm looking forward to having the freedom to do some private members' bills and spend some time in my riding and all that, so all good," she repeated.
Leitch said she won't be at the party's national caucus in Winnipeg next week and asked that nothing be read into it. Her sister is taking her on a vacation that was planned in May, she said. "This has nothing to do with this week."
Ontario MP Michael Chong was perhaps Leitch's most vocal critic in the Tory leadership race, accusing her of engaging in "dog-whistle politics" and race-baiting. Chong was named "shadow minister" for infrastructure, communities and urban affairs.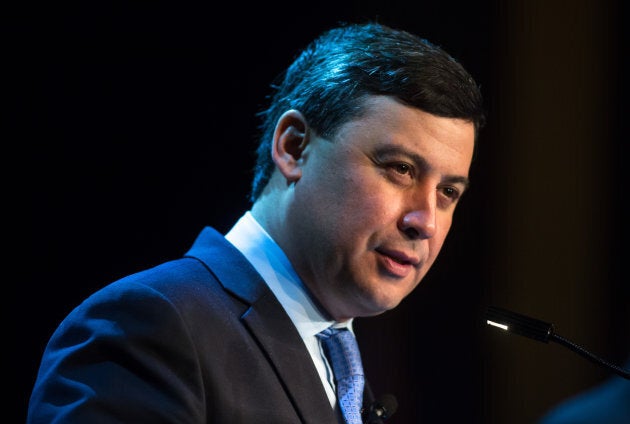 Quebec MP Maxime Bernier, who at one point accused Leitch of playing a "karaoke version" of Trump, was named critic for innovation, science, and economic development.
That is an interesting pick, since Bernier campaigned to eliminate regional development agencies. Scheer's spokesperson did not respond to a request seeking to know if this were now the leader's view as well.
Bernier publicly stated this summer that he hoped to take on the coveted finance portfolio. Ontario MP Pierre Poilievre will instead serve as the main adversary to Finance Minister Bill Morneau.
Ontario MP Erin O'Toole, who finished third in the Conservative leadership race, was named foreign affairs critic. Quebec MP Steven Blaney, who also ran against Scheer, will serve as veterans affairs critic.
Obhrai, who finished last in the race, told HuffPost he isn't overly disappointed he wasn't given a critic portfolio.
"Mr. Andrew Scheer has won the leadership of the party, and as such he is entitled to appoint whoever he feels he wants to," Obhrai said. "And I respect that."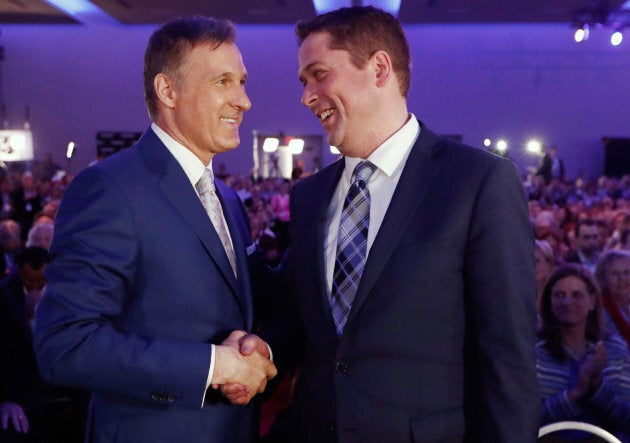 Obhrai said he connected with a large number of Tories during the leadership race and will continue to make the case for why the party should be back in government.
"I don't need anybody's permission to do that," he said.
"Andrew's doing what's in the best interest of the party. He has my support," Trost said. "I'm always glad to be a member of the team and will continue to work for the Conservative re-election in 2019."
Scheer keeps some key critics in place
Opposition critics are tasked with holding the government to account on matters that touch their portfolio, which includes leading the charge in question period.
Leitch served as the health critic in the shadow cabinet of former interim Tory leader Rona Ambrose. She gave up that job to run for the party's leadership in April 2016.
Leitch isn't the only former Conservative minister who is now outside of Scheer's circle. Former agriculture minister Gerry Ritz, who served as the Tories' international trade critic, has been replaced in that role by Ontario MP Dean Allison.
Scheer opted to keep a number of key critics in place, including Rob Nicholson at justice, Michelle Rempel at immigration, and James Bezan at defence. Former New Brunswick MP Rob Moore will remain the critic for Atlantic Canada, despite not having a seat in the House of Commons. Conservatives were completely shut out of the region in the last election.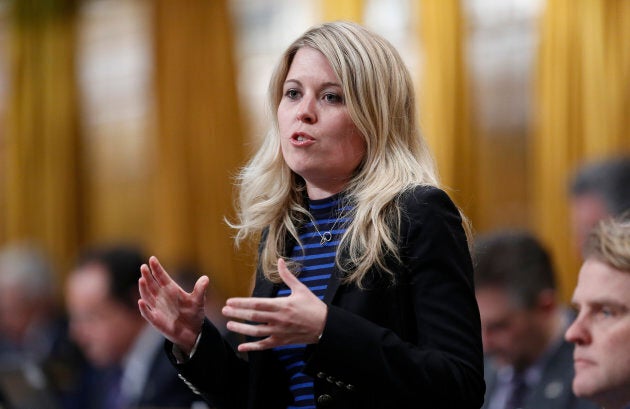 Scheer said in a release that his "united, energized and diverse" team will show Canadians that the Tories are ready to form a government in 2019.
"The Conservative Shadow Ministers will be on the front lines, bringing forward the positive Conservative solutions to get Canada back on track," he said in the release.
"Ours is a movement that has room for every Canadian who believes in responsible government spending, strong borders, and a more affordable Canada for everyone."
Andrew Scheer's team of critics or "shadow ministers," as he prefers:
Ziad Aboultaif:international development

Dan Albas:small business

Dean Allison: international trade

John Barlow:associate critic for agriculture and agri-food

Maxime Bernier: innovation, science, and economic development

Luc Berthold: agriculture and agi-food

James Bezan:national defence

Steven Blaney: veterans affairs

Kelly Block:transport

Michael Chong: infrastructure, communities, and urban affairs

Tony Clement: public services and procurement

Gérard Deltell: Treasury Board

Todd Doherty: fisheries, oceans, Canadian Coast Guard and Asia-Pacific gateway

Ed Fast:environment and climate change

Marilyn Gladu: health

Rachael Harder:status of women

Matt Jeneroux:science

Pat Kelly:national revenue

Peter Kent:ethics

Cathy McLeod: Crown-Indigenous and Northern affairs, Indigenous services, and the Canadian Northern Economic Development Agency

Rob Moore: Atlantic issues and the Atlantic Canada Opportunities Agency

Rob Nicholson:justice

Alexander Nuttall:youth, sport, and persons with disabilities

Erin O'Toole: foreign affairs

Pierre Paul-Hus: public safety and emergency preparedness

Pierre Poilievre:finance and National Capital Commission

Alain Rayes: intergovernmental affairs

Scott Reid: democratic institutions

Michelle Rempel:immigration, refugees, and citizenship

Bob Saroya: associate critic for immigration, refugees, and citizenship

Shannon Stubbs: natural resources

Peter Van Loan: Canadian heritage

Karen Vecchio:families, children and social development.

Dianne Watts:employment, workforce development and labour

Alice Wong: seniors
Popular in the Community