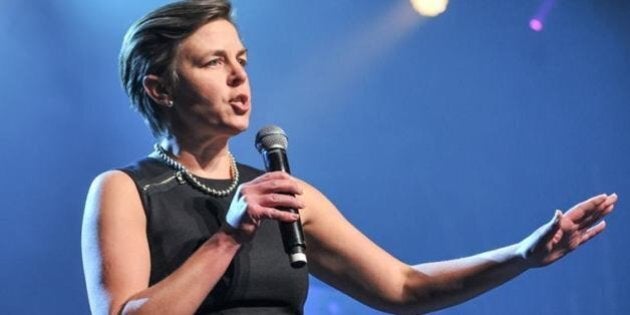 A high-profile Conservative incumbent told a crowd gathered at an all-candidates meeting on Wednesday that she is anti-abortion.
Kellie Leitch, the Conservative candidate for Simcoe-Grey, made the remark after moderator John Eaton asked about each candidate's plan to "protect life, old and young."
"I am pro-life," Leitch said at a Collingwood Royal Canadian Legion. She credited her experience as a pediatric surgeon as a factor in upholding her anti-abortion position.
"A big part of that is because I spent a significant part of my professional career taking care of disabled kids — children that have reached amazing potentials because they were born."
Green Party candidate Joanne Fleming spoke before Letich, but made no mention of abortion in her answer.
Watch Leitch's remark at 1:39:27 here:
According to information collected from Campaign for Life, a coalition charting the abortion stances of Simcoe-Grey candidates, Leitch was the only one to not disclose her position.
The Huffington Post Canada reached Dr. Leitch's campaign office for comment but received no official response before publication.
Leitch and Fleming were joined by three other candidates including NDP's David Matthews, Liberals' Mike MacEachern, and the Christian Heritage Party's Len Noordegraaf.
Liberals "believe in an individual's right to choose," said MacEachern. "We believe in the right of choice."
Party leader Justin Trudeau made headlines last year after he announced that anti-abortion candidates would not be permitted to run for his party. However, incumbent Liberal MPs opposed to abortion are allowed to seek re-election, but must support a woman's right to choose in any future vote on the matter.
Former Liberals blasted Trudeau's abortion policy, calling it "discriminatory."
Abortion hasn't received much attention from federal leaders throughout the campaign as a marquee election issue.
But it did come up Wednesday during a CBC Radio roundtable discussion in P.E.I. when Cardigan Conservative candidate Julius Patkai criticized incumbent Liberal candidate Lawrence MacAulay for abandoning his anti-abortion stance to align with Trudeau.
"I know Lawrence has compromised his core values about life, pro-life and he went with abortion," Patkai said. "I'm very pro-life and that's where my conscience lies."
MacAulay admitted that the subject has been "a very difficult" topic. "People know I'm pro-life," he said.
Conservative Leader Stephen Harper has repeatedly pledged that that he has no intention to reopen the abortion debate as long as he is prime minister.
"The government will not bring forward any such legislation, and any such legislation that is brought forward will be defeated. This is not the priority of the Canadian people, or of this government," Harper said in 2011.
"The priority is the economy. That's what we're going to focus on."
The following year, Conservative backbencher Stephen Woodworth tabled Motion 312, a private anti-abortion motion to re-examine the definition of human being under the Criminal Code. Harper, adamantly against any possibility of reopening the abortion debate, called the motion "unfortunate."
Rona Ambrose, status of women minister between 2010 to 2013, voted in favour of the motion at the time — a move that immediately brought scrutiny over her appointment to the position.
Leitch voted against the motion, and it was defeated by a vote of 203-91 in the House of Commons.
With files from Althia Raj