Kellie Leitch's pitch to change the country's laws to allow Canadians to carry pepper spray for self defence has drawn the ire of the federal status of women minister.
Patty Hajdu's office issued a statement to The Huffington Post Canada on Friday in response to Leitch's proposal to protect women by amending the Criminal Code, calling the idea "unrealistic and offensive."
Violence against women is unacceptable in our society and our government is committed to making sure that women facing violence have a safe place to turn. Ms. Leitch's proposal is unrealistic and offensive to women across this country. Her misguided approach places the onus on women to defend themselves rather than focusing on addressing and preventing gender-based violence. It is not surprising, given that Ms. Leitch and the former Conservative government had 10 years to address violence against women and failed to do so.

That's why, after 10 years of inaction, we are developing a federal gender-based violence strategy in consultation with provinces, territories and grassroots organizations to ensure that women in Canada can live free from violence. We will continue to make sure that gender equality is at the core of all government decisions we make.
Leitch, a former status of women minister herself, announced the proposal Thursday. She pledged to "make Canada safer by better empowering Canadians to defend themselves from criminal acts."
The Conservative Party leadership contender called her idea a "sensible" way to "strengthen the rights of women."
While it's legal to buy bear mace to use against bears, people who carry the product with the intent to thwart a human attack risk being charged with carrying a concealed or restricted weapon.
Pepper spray and mace — which has a higher concentration of the chemical oleoresin capsicum than the former — are considered prohibited weapons in Canada.
Shouting 'federal gender-based violence strategy!'
Leitch, who has carved a campaign pledging to gut the CBC and subject immigrants to "anti-Canadian values" screening, responded to Hajdu's comments in a Facebook post.
"Does she think that if a woman is set upon by a violent predator she should just shout 'federal gender-based violence strategy!'?" Leitch said. "I think that women should at least have a fighting chance with non-lethal tools to subdue and incapacitate an attacker."
Supporters praised her stance, calling the former cabinet minister "proactive." But critics were also quick to write off the proposal as the latest provocative push to feed Leitch's campaign.
"You are [sowing] division," wrote a commenter.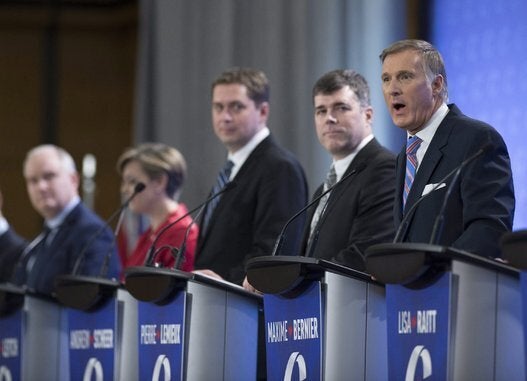 Conservative Leadership Candidates