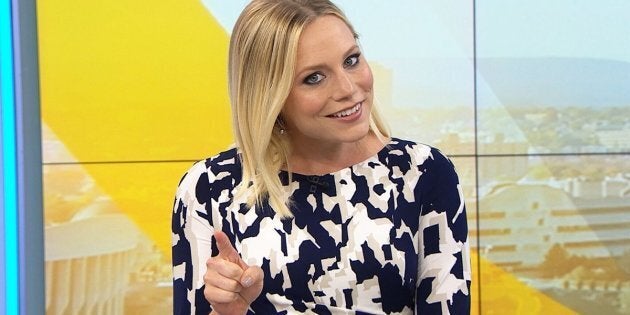 A Canadian meteorologist has decided enough is enough after a viewer called her maternity wear "disgusting."
"I decided to take it upon myself to share this tweet with the world, and say you know what ... when what I'm wearing is what you find disgusting in this world and this week, you need to check your priorities," said McEwen during the live broadcast.
"Listen, I'm a firm believer that my body and your body is no one's business but your own. Your body is not for anyone to talk about, whether they're talking about your pregnant shape or ... your athleticism, or your hair colour or your skin colour, it's not anyone else's business but your own," she added.
"When all we can talk about is our worth based on our attractiveness, we just set ourselves up to fail time and time again."
McEwen was clear to preface her statement with the fact that she has been "flooded with compliments and beautiful messages from our viewers" throughout much of her pregnancy, but said the timing of this particular tweet in connection to racially motivated violence in Charlottesville, Va. set her off.
"With the events yesterday, especially with what came out at about 4 p.m. ET with Trump yesterday, I'm encouraging all of us to share the love today," said McEwen. "You know what is disgusting? Not my wear, but racism and hate and bullying, so let's stand up to that. We are so much more than how we look."
McEwen isn't the first pregnant broadcaster known to receive this type of viewer criticism.
In 2015, Kristi Gordon, a senior meteorologist with Global BC, asked the audience to "please be kind" to her during her second on-air pregnancy after having experienced criticism the first time she was pregnant. But some viewers continued to be hostile. In a memorable news segment, she read some of the less-than-kind feedback aloud.
"Nowhere on North America TV have we seen a weather reader so gross as you," said Gordon, quoting one viewer's message. "Your front end looks like the Hindenburg, and your rear end looks like a brick (fill in the blank) house. We now turn off Global."
Earlier this summer, Laura Warren, a news anchor in Georgia was also dubbed "disgusting" by a viewer who did not approve of her maternity wardrobe. She responded with a blog post on her personal site, "Bump, Baby and Breaking News," which began, "Being pregnant is already one of the most emotional, insecure times of your life."​
Hopefully McEwen's message of self-love and body positivity will connect as strongly with her audience as Gordon and Warren's did in their respective markets.
"Enough is enough," wrote McEwen, on Instagram. "We are better."