TORONTO - The man alleged by police to have hurled a beer can at a Baltimore outfielder during Tuesday's dramatic playoff between the Toronto Blue Jays and the Orioles has come forward.
"I contacted Toronto police earlier this evening, around 7 p.m., and identified myself as the person in the photo," Ken Pagan wrote in an email to The Canadian Press on Wednesday night, adding he "cannot say much else."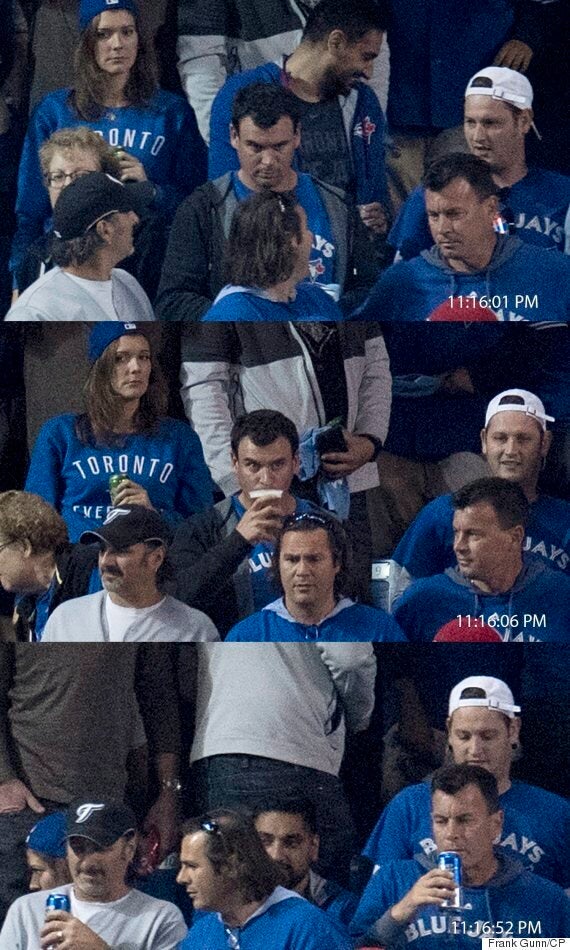 Ken Pagan is seen at the centre in the top photo. The middle photo, taken five seconds after the first, shows him holding a drink to his mouth. The bottom photo, taken 46 seconds after the middle picture, shows the area where Pagan had been. (Photos: Frank Gunn/Canadian Press)
Pagan, a sports journalist who works for Postmedia and formerly of Sun Media, told The Toronto Sun that he was "drinking out of a cup," suggesting that police do not have the right suspect.
He added that his lawyer has advised him not to say anything about the incident.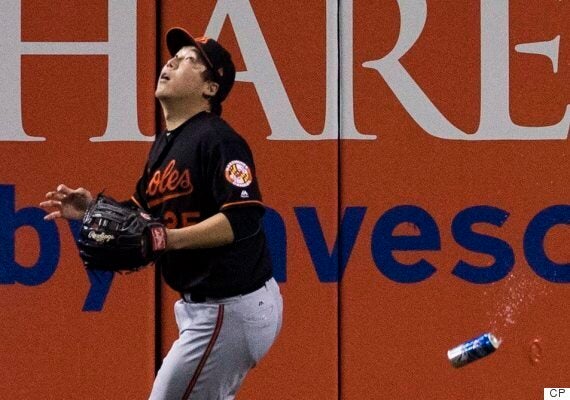 In the seventh inning of the wild-card game, Orioles outfielder Hyun Soo Kim was stretching to catch a fly ball when a can of beer crashed down onto the field, almost hitting him.
The incident was widely criticized by baseball fans during a game that two Orioles players said also included racial slurs hurled at them.
YouTube user Brad Holden posted a video zooming in on the crowd during the incident, theorizing that it was actually a woman sitting behind Pagan who launched the beverage.
On Wednesday, the Toronto Blue Jays announced security changes in light of the can-tossing.
"We will also enact heightened security measures and alcohol policies that will ensure the fan experience and safety of everybody involved," said a news release from the team.
"We hope the focus will remain on the exciting play on the field, and that our fans will express their passionate support for the Blue Jays while demonstrating a level of respect and responsibility that has made Rogers Centre one of the best atmospheres for families and fans of baseball."
With files from The Canadian Press