Conservative leadership candidate Kevin O'Leary says that he doesn't recall whether he asked for permission to touch a model's rear-end during an episode of "Dragon's Den."
The Huffington Post Canada asked O'Leary about the 2013 TV segment on Friday after he wrapped up a leadership debate at the Manning Conference in Ottawa.
"I honestly don't remember, but I'm sure she wasn't offended," he said.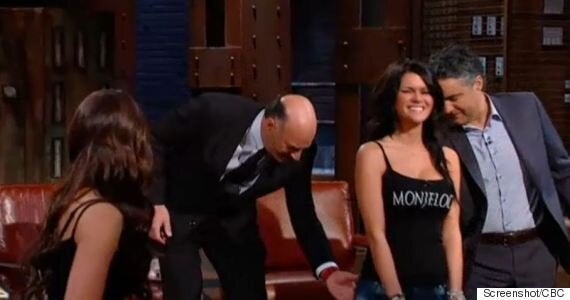 During the season 8 premiere of the show that aired in October 2013, O'Leary and his fellow panellists hear from Nora Furber, an Alberta-based entrepreneur hoping to score some dragon dollars for her women's clothing business.
Furber brings two models to show off Monjeloco Jeans, which are described on the company's website as having a "'lift-the-butt' and 'tuck-the-tummy' innovative cut."
"Let's see. Let's see these bums," O'Leary says as the models walk out wearing Furber's product.
"Ai Chihuahua! Caramba!" he says, for some reason, as the women turn around to show off the jeans.
Dragon asks if he can 'touch one'
Things get more awkward after Toronto-based businessman Bruce Croxon asks if he can "touch one."
"I want to touch one, for sure," O'Leary responds. "Can you please bring the technology over here?"
"... in the end of the day, that is television. It is not policy."

— Kevin O'Leary
Arlene Dickinson, the only woman on the 'Dragon's Den' panel, seemed to take issue with what was happening.
"No, you can't touch one!" she says, as O'Leary and Croxon place their hands on the model's behind.
Another dragon, David Chilton, then calls it "due diligence."
"Some people say 'copping a feel,' other people say 'due diligence,'" Dickinson says.
Furber told the St. Albert Gazette after the show aired that the judges had asked for permission beforehand.
Asked on Friday if there was a context in which such an action is acceptable, O'Leary replied: "Not at all. But my point is that in the end of the day, that is television. It is not policy."
When asked the same question, fellow contender Andrew Scheer replied: "I certainly can't think of one. I think it's very important, especially in the workplace environment, that women feel that they are safe and able to do their job.
"We can't just assume that because the person (who) is selling a product is a woman that that gives licence to other people to do things that they wouldn't do to a man. So I would say that's not something that I would ever condone."
Since O'Leary joined the crowded Conservative contest, the businessman has insisted that some of the more outrageous ideas he's pushed on TV — like the time he said poverty was "fantastic news" — were simply meant to create good television and did not represent actual policy.
"She was obviously trying to sell a deal to a bunch of dragons, and I hope she was successful. But at the end of the day, she was an entrepreneur seeking for capital. I'm very proud of that format and what we did for Canadians, men and women," O'Leary told HuffPost on Friday.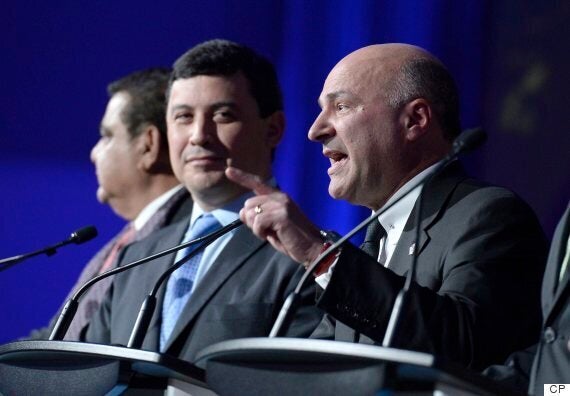 He reverted to a familiar talking point, adding: "This is a different world right here, we are talking about an economy that is collapsing, no jobs of millennials and you want to talk about reality TV."
The dragons ultimately chose not to invest in Furber's business, but at O'Leary's encouragement, she began selling her jeans online, boosting her sales by almost $450,000, reported Avenue Edmonton. Furber is no longer the owner of Monjeloco Jeans, a spokesperson told HuffPost.
As the camera shows Furber and the models leaving the studio in the episode, O'Leary smiles and says it's "fun seeing the deal walk out."
O'Leary has been compared to U.S. President Donald Trump repeatedly, both before and after his entry into the Conservative leadership contest.
The "Shark Tank" star has insisted the only similarity lies in their television background.
While co-dragon Dickinson has said she doesn't believe O'Leary is the Canadian incarnation of Trump, she's lobbed a lot of criticism his way since he announced his candidacy.
After he dismissed her remarks as coming from an "emotional" woman, Dickinson bashed O'Leary's comments as "misogynistic rhetoric" — the type she says she heard on "Dragon's Den" for seven years.
"Here's the blaring alert for Conservatives across the country," she said of his comments.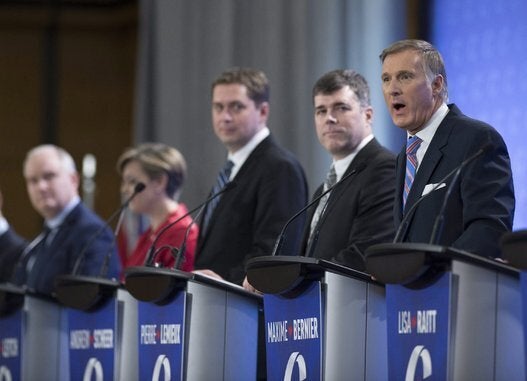 Conservative Leadership Candidates