Kevin O'Leary says removing "all that crap" from Ottawa in the 2019 federal election will be a difficult procedure, but he insists he has the tool necessary for the job.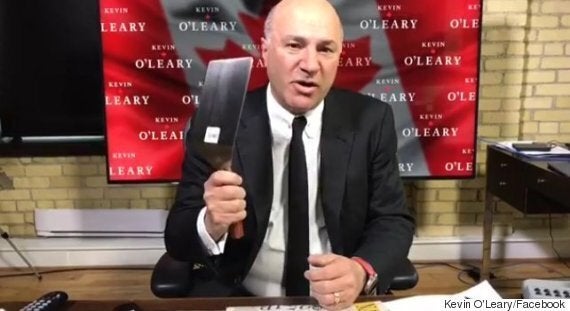 O'Leary showcased the tool during a live stream on Facebook Friday in which he announced an exploratory committee for a possible Conservative leadership bid.
That group includes ex-Ontario premier Mike Harris as well as Marjory LeBreton, the former Conservative leader in the Senate.
O'Leary is perhaps best known among Canadians from his work on the CBC television show "Dragon's Den" and later it's American equivalent. He's also worked as a commentator on CTV and BNN in recent months, but no longer.
"As a result of today's announcements that Kevin O'Leary has formed exploratory committee for a Conservative leadership run and has launched a website, he will no longer be a contributor to BNN or CTV News,'' a spokesman for Bell Media said in an emailed statement to The Canadian Press.
O'Leary said the committee is a team he needs to "guide him through this journey" of a possible leadership bid.
"Remember, the exploratory committee, they'll come back to me with a plan to win the leadership and then, in 2019, this goes to Ottawa," he said, holding up the "spatula," which looked more like a burger flipper.
O'Leary also bashed the Liberal government's "faulty" carbon tax and accused it of hemorrhaging "hundreds of thousands" of jobs.
"Most Canadians know this is an absolute mess," O'Leary said, before brandishing his alleged government-cleaning tool.
"This is a device we're going to need."
Earlier this month, O'Leary unofficially kicked off his bid for the party leadership at the Fairmont Chateau Laurier in Ottawa, where he spoke to around 30 Tory MPs.
The "Shark Tank" star told the crowd that he could beat Prime Minister Justin Trudeau, who he referred to as a "surfer dude."
The Conservative party is set to choose its new leader in May.
With files from Althia Raj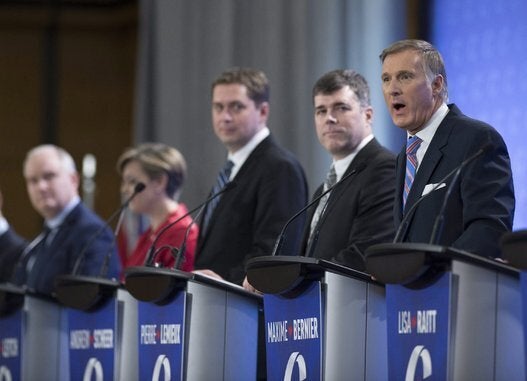 Conservative Leadership Candidates