Kevin O'Leary says he has endorsed the man who blasted him as a loser mere weeks ago because he thinks Maxime Bernier is the only one who can win.
The celebrity businessman appeared beside his former Conservative leadership rival at a news conference in Toronto Wednesday after his bombshell announcement that he was quitting the race. News of O'Leary's exit came mere hours before the leadership race's final debate.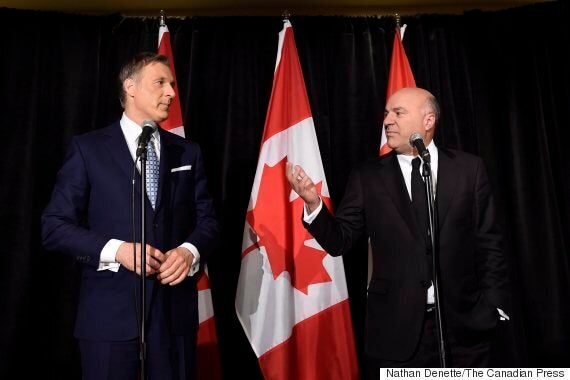 O'Leary painted himself as a benevolent competitor who read the tea leaves — namely, data showing him tanking in Quebec — and knew he couldn't win a majority government against Prime Minister Justin Trudeau in 2019.
"It would seem foolish, even selfish, to win the leadership knowing that I didn't have a clear path or high probability [of winning a majority]," he said.
Bernier and O'Leary were far more chummy Wednesday afternoon.
"He's a winner," Bernier said when asked about his earlier assessment.
"I love politics," O'Leary added.
The two glossed over policy differences, including Bernier's much-discussed support for dismantling Canada's supply management system for dairy and poultry. In a statement earlier in the day, O'Leary called Bernier the "candidate that best mirrors my policies."
"We're in a civil war here until we pick a leader then we coalesce just like mercury coming together," O'Leary said.
Bernier conceded O'Leary was his main opponent and a strong competitor.
"I like competition. I like competition in the free market," he said. "We had a nice competition and now we are together."
But journalists assembled at the Fairmont Royal York in downtown Toronto pressed O'Leary on why it took him so long to figure out he had trouble in la belle province. O'Leary's inability to speak French fluently was long seen as his biggest liability.
Quebec the 'Florida of Canada'
O'Leary said he just got the data after membership sales closed and saw he was "singularly unsuccessful" in Quebec, where he said his poll numbers were around 12 per cent. He conceded he would have a hard time capturing 30 seats in the province in just two years from now — a number O'Leary estimates the party needs to win a majority.
"Look at how many times Quebec has determined the federal outcome of elections in this country," he said. "It is the Florida of Canada."
Stephen Harper, however, won a majority for the Tories in 2011 with only five seats in Quebec.
O'Leary said he worked hard to raise his fortunes in Quebec, working hard on weekend trips. In the next breath, he talked about appearing on CNBC in New York City.
"It would seem foolish, even selfish, to win the leadership knowing that I didn't have a clear path."
He was also asked why he reportedly called Bernier at 1:30 a.m. to announce his intentions. O'Leary disagreed there was something strange about that, saying politics is "all night long."
Bernier added that the two had been in touch throughout the campaign.
O'Leary also denied he was being "duplicitous" by asking for donations online Wednesday morning after he had already made up his mind to drop out.
"The fundraising will continue. It will continue," O'Leary said. He still has to pay off campaign debts.
O'Leary shot down suggestions that he didn't really want the job in the first place, suggesting he wouldn't have wasted his time for four months.
"I'm totally committed to finishing the job. I want Trudeau gone," he said, adding he will use his "massive social media platform" to convince young people not to vote for Trudeau again.
Millennials, he suggested, were are not getting the "sunny ways" they were promised by the Liberals.
"Just a bare lightbulb in their parents' basement, where they live because they're unemployed."
The next Conservative leader will be announced on May 27.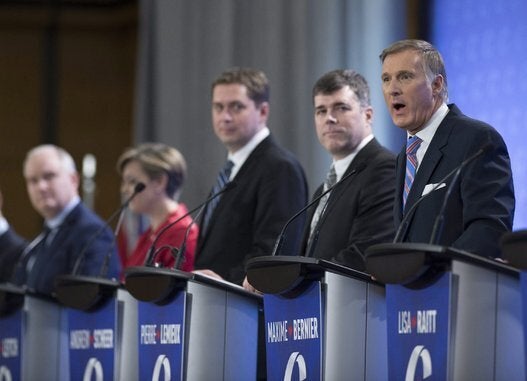 Conservative Leadership Candidates