He's wading into an old political arena as something new, and using some borrowed media tactics to promise he can boost something blue.
Celebrity businessman Kevin O'Leary formally announced his candidacy for Conservative leader on Wednesday, ending nearly a year of speculation over his possible — now confirmed — bid.
To prove how serious he is about becoming Tory leader and taking on Prime Minister Justin Trudeau in 2019, the "Shark Tank" star pulled out his passport on live TV to make the case that Canadians don't have to live with Liberal government's "stupidity."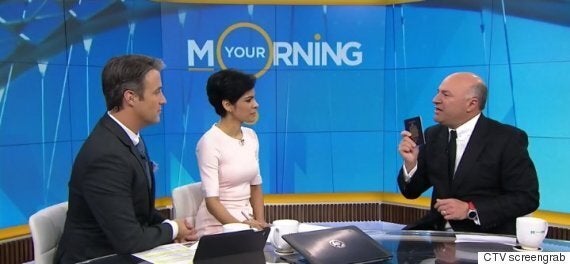 "Nowhere in this document does it say that I have to settle — or in our constitution — for mediocrity, for incompetence, and in some cases stupidity," O'Leary told "Your Morning" hosts Ben Mulroney and Anne-Marie Mediwake.
"We need a leader who can actually deal with Trump. We need a leader in the Conservative Party that can beat Trudeau."
O'Leary: Trudeau is 'destroying our country'
Birth certificates and passports have become infamous political props ever since Donald Trump gave rise to the birther movement after questioning legitimacy of Barack Obama's presidency more than five years ago.
Trump, who will be sworn in as the 45th president of the United States on Friday, tried to undermine the election of America's first black president by fixating on Obama's birthplace.
"I'm the son of an immigrant from Ireland and Lebanon. There's no walls in my world."
Inevitable comparisons have been made between O'Leary and Trump, who are both businessmen, international investors, and reality TV stars. But unlike the president-elect, O'Leary said their stances on immigration are as similar as night and day.
"I'm the son of an immigrant from Ireland and Lebanon. There's no walls in my world. I wouldn't exist if Canada had walls," O'Leary said, making a reference to Trump's promise to build a southern border barrier.
He outlined that it's his objective to expand the Conservative Party's base by appealing to 18-35 year olds — the same demographic the Liberal Party targeted during the 2015 election.
Watch O'Leary's full interview below:
And like any practiced TV personality vying for political office, O'Leary showed off his on-camera zeal with some choice words to amplify his belief that he's the guy who can unseat Trudeau come 2019.
"It will be an exorcism," he said, recycling a line he told Tory MPs in Ottawa last month.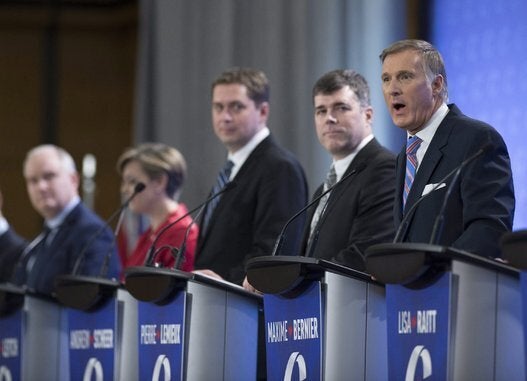 Conservative Leadership Candidates