Even though Canada's former budget watchdog called the NDP's fiscal plan "Swiss cheese," leader Thomas Mulcair insists Kevin Page has very nice things to say about his party's document.
Page, who served as parliamentary budget officer from 2008-2013, has been advising Mulcair and the NDP, as well as other parties. He told The Huffington Post Canada Thursday that he was disappointed with the NDP's fiscal plan.
"They've exposed [Mulcair], because this is a Swiss-cheese fiscal costing platform," Page said.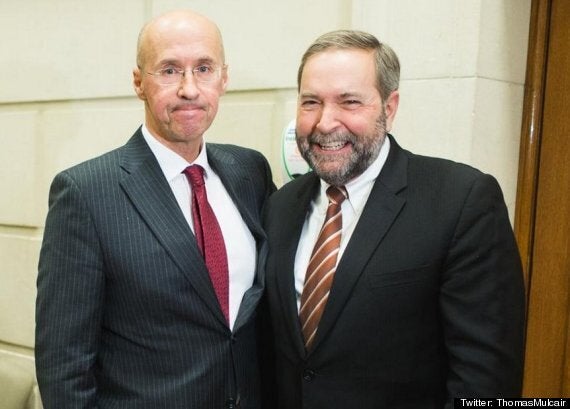 Former parliamentary budget officer Kevin Page and NDP Leader Thomas Mulcair pose in a photo from earlier this year.
The NDP used Conservative Finance Minister Joe Oliver's budget projections — a document that now includes outdated forecasts — to craft its "balanced plan." The Tories' budget, for example, planned for oil at US$67 a barrel in 2016, US$75 in 2017 and US$78 after that.
A barrel of West Texas Intermediate — the benchmark used for Canadian oil prices — was trading at US$44.89 on Friday.
"Our projections are responsible, they're reasonable, they are sustainable and they are prudent, and we are basing ourselves on the best analysis from the best people in Ottawa, including the parliamentary budget officer and our own finance ministry," he said, without answering the question.
This summer, the parliamentary budget officer used a July forecast from the Bank of Canada to revise the budget's numbers. Using the PBO's math and the NDP's own projections, HuffPost found that a Mulcair government would be in deficit in its first year in government by $1.94 billion unless it used the $3.5 billion employment insurance fund to pad its bottom line.
When asked about Page's comments, Mulcair said he had had a long and productive conversation with the former parliamentary budget officer.
"[H]e said that we're being very prudent in our assessment … and and he liked the fact that we were being transparent," Mulcair told reporters on Thursday.
Page — whose interview with HuffPost was interrupted while he took a call from Mulcair — said he had been asked by the party Friday to correct or clarify his earlier comments, but had refused.
"I told them, 'Yeah, there are repercussions when you put out a document that is thin. You put Mr. Mulcair on the spot,'" Page said.
Mulcair accused of 'fudging the books'
Page said he didn't necessarily agree with everything said by his former boss, Scott Clark, the former deputy minister at the department of finance. Clark, who also served as an adviser to Liberal prime minister Jean Chrétien, told HuffPost on Thursday that Mulcair was "fudging the books" and "choosing a forecast that helps him out."
It is possible high oil prices won't affect the budget's forecast too much because the department of finance has been known to offset a drop in oil prices through other means, Page said.
On Friday, Page said he thinks the NDP's fiscal plan is prudent, but that the party's costing in later years — when the NDP's new revenue sources ($7.54 billion) don't match their new spending ($11.3 billion) — might raise some sustainability issues.
"It's an issue to have $7-8 billion worth of revenues and spending that is kind of climbing in the outer years. Like, where does that go after that?" he asked.
The NDP is planning to spend billions of dollars on a $15-a-day daycare plan that it says will be fully implemented in its second mandate.
All parties should do feasibility studies every single year before taking big decisions, Page said.
"I'm not a big person about balanced budgets. I don't think it's such a big issue. For me, fiscal sustainability issues, passing debt onto future generations [that's a bigger issue.] You could run some deficits in the next few years, and that's not a big deal if the economy goes weak," Page added.
"I think the future question for Mr. Trudeau, Mr. Harper, Mr. Mulcair and Elizabeth is: What happens if the economy goes one way or the other way? How are you going to respond?
"So, yeah, you're going to balance the budget if the economy is 2.5 per cent next year, but what if it is not 2.5 per cent? What if it is one per cent? Do you still want to balance the budget? Those are questions [that should be] put to all of those people running."
Page said that Mulcair is trying to do the right thing by putting out numbers so people can see where he's coming from, and that it's now up to Liberal Leader Justin Trudeau and Conservative Leader Stephen Harper to follow suit.
The NDP doesn't enjoy the advantage of an incumbent government in crafting a fiscal forecast, the former parliamentary budget officer noted.
"In a perfect world, maybe [Mulcair] would have had a different relationship, he would have had a research office or a relationship with a bank that could do these numbers," Page said of private-sector forecasts that Finance Canada uses.
"But honestly, he didn't have a perfect world."