Kevin Vickers received a hero's welcome Thursday as he walked into the House of Commons, carrying a ceremonial gold mace — as he's always done for the past eight years as Canada's sergeant-in-arms.
Hailed as a hero for taking down a gunman in the Hall of Honour just outside the Parliamentary Library on Wednesday, Vickers led House Speaker Andrew Scheer into the Commons as rounds of applause rang out from the chamber.
Vickers appeared to hold back tears, humbled by the gratitude Parliamentarians and those in the gallery above showed him.
Stephen Harper addressed the country about the attack.
"In this struggle in which we are engaged, in which not only our finest values must be pushed to work, so must be, and will be, the highest unity and resolve,'' Harper said.
He continued to repeat language he used in his live televised address Wednesday evening: "We will not be intimidated. We will be vigilant, but we will not run scared. We will be prudent, but we will not panic. Here we are, in our seats, in our chamber in the very heart of Canadian democracy, and the work is going on.''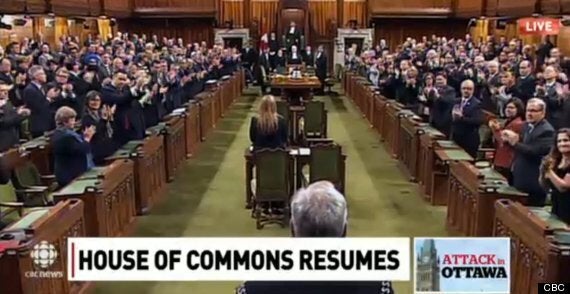 He ended his remarks by rising from his seat and walked across the floor toward Vickers, seated at the back of the room in his chair, watching the room.
The prime minister then approached Liberal Leader Justin Trudeau and Opposition Leader Thomas Mulcair to give each of them a hug before making his way back to his seat.
Vickers issued a statement saying how he is "very touched by the attention" after "extraordinary circumstances" paralyzed Ottawa 24 hours earlier.
"On behalf of all members of the House of Commons Security Services team, I would like to extend our deepest condolences to the family of Cpl. Nathan Cirillo. Our prayers are with you," he said.
Read his full statement below:
I am very touched by the attention directed at me following yesterday's events. However, I have the support of a remarkable security team that is committed to ensuring the safety of Members, employees and visitors to the Hill. Yesterday, during extraordinary circumstances, security personnel demonstrated professionalism and courage. I am grateful and proud to be part of this team.

House of Commons Security Services also maintains a close working relationship with its security partners, including Senate Security, the RCMP and the Ottawa Police. This close collaboration made it possible to pull together and quickly restore order in the Parliamentary Precinct and throughout the downtown core.

I would also like to take this opportunity to thank the Speaker, the Hon. Andrew Scheer, for his leadership and calm demeanour throughout.

On behalf of all members of the House of Commons Security Services team, I would like to extend our deepest condolences to the family of Cpl. Nathan Cirillo. Our prayers are with you. Our thoughts are also with Constable Samearn Son, who has been with the House of Commons Security Services for 10 years. Constable Son suffered a gun shot wound to the leg. He is in stable condition and expected to make a full recovery.

As this is an ongoing investigation, I unfortunately cannot comment any further at this time, nor can any member of my Security Services team.

Thank you,

Kevin Vickers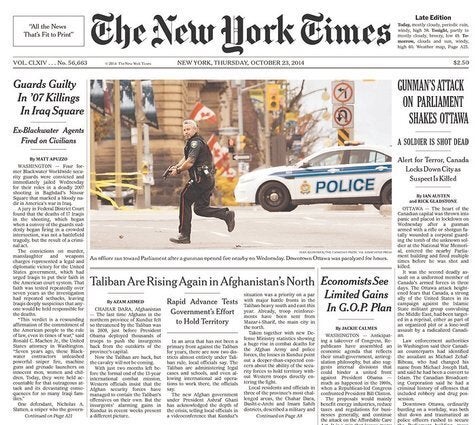 Newspaper Coverage Of Ottawa Shooting
Popular in the Community