Sergeant-at-Arms Kevin Vickers was "literally an arm's length" away from alleged Ottawa gunman Michael Zehaf Bibeau. A new CBC report breaks down Wednesday's dramatic events on Parliament Hill, which claimed the life of Canadian honour guard Cpl. Nathan Cirillo.
Cirillo was fatally shot at the National War Memorial before the gunman made his way to Parliament's Centre Block, where a chaotic scene was set to unfold. In a video, the CBC's Evan Solomon describes how Zehaf Bibeau, after "exchanging gunshots" with parliamentary security at the entrance of Centre Block, ran to the end of the Hall of Honour and hid behind a pillar close to the doors of the parliamentary library.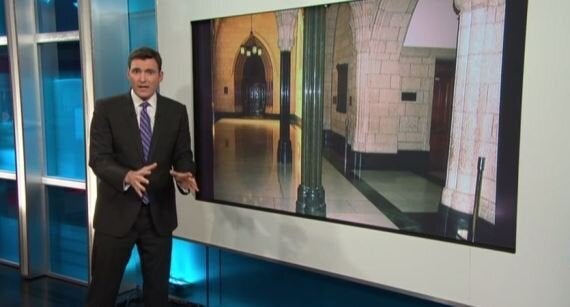 Evan Solomon, host of CBC's Power and Politics
Vickers — whose office is about six metres away from those doors, according to The Globe and Mail — reportedly grabbed his automatic pistol and ran toward the pillar, propping himself up against the opposite side.
The two were so close that Vickers, 58, could see the barrel of Zehaf Bibeau's gun "sticking out from behind the pillar," according to CBC sources.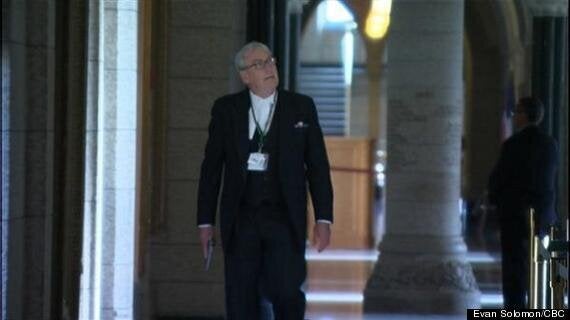 Sergeant-at-Arms Kevin Vickers holding his gun while walking in Parliament's hallways
What Vickers allegedly did next captures the chaos of the incident.
"Kevin Vickers takes his sidearm, dives around the pillar to the ground," Solomon said. "While he's in the air he spins to land on his back, firing upwards at Bibeau, hitting Bibeau as he himself hits the ground."
Once the gunman was down, Solomon said, Vickers continued firing, "emptying his entire clip."
After Zehaf Bibeau hit the ground, the rest of Vickers' security team went in and opened fire as well.
You can watch the video above for the complete timeline.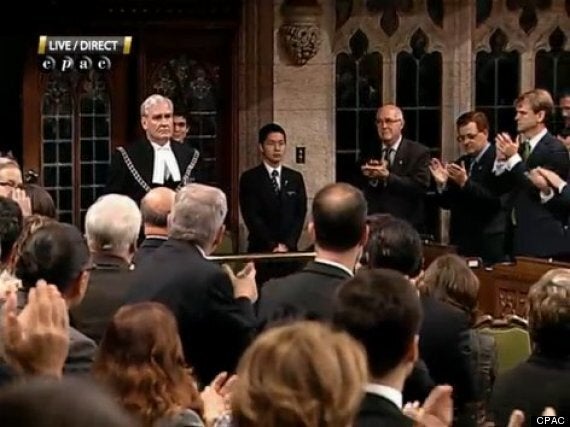 Kevin Vickers receives a standing ovation in the House of Commons
On Friday, Cirillo was honoured on the Highway of Heroes, where Canadians came together to pay their respects as his body was transported to his hometown of Hamilton, Ont.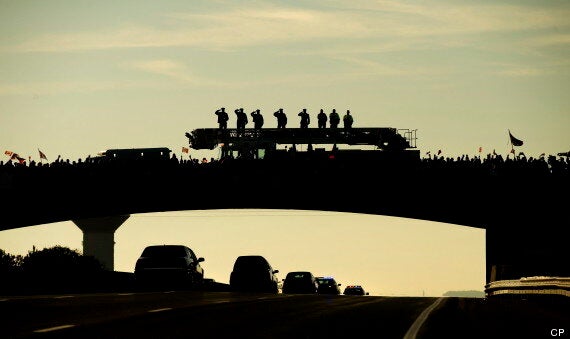 (Credit: Nathan Denette/CP)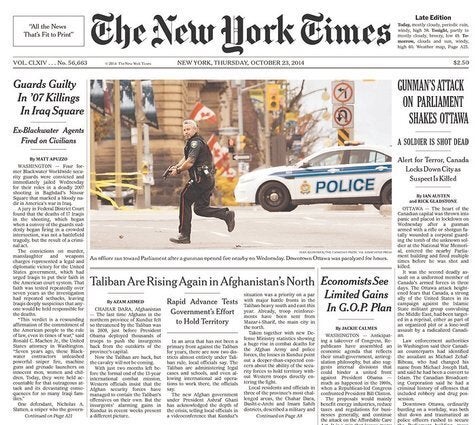 Newspaper Coverage Of Ottawa Shooting