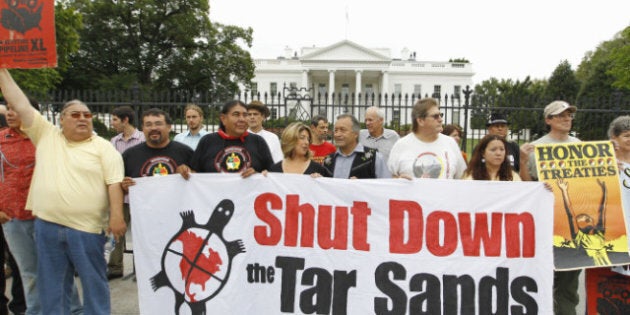 The NDP's concerns over the Keystone XL pipeline are not likely to make the party many new friends in Alberta.
But are the New Democrats writing off the province, or speaking for an unrepresented portion of the population?
Alberta is, of course, at the centre of the debate, but is far from an electoral battlefield in Canada. The Conservatives have taken more than 50 per cent of the vote in the province in every federal election since 1965, and under Stephen Harper they've won between 26 and all 28 of its seats. The province will be getting six more seats once the new seat distribution formula becomes law, and the Tories are likely to win them all.
However, the New Democrats are becoming more competitive in the province. In the last federal election, the NDP took 16.8 per cent of the vote - the most in the province since 1988 under Ed Broadbent. The party took more than 25 per cent support in three ridings in Edmonton, winning one of them.
Mr. Mason's NDP is also doing well in the polls, indicating his position on Keystone does not necessarily make his party a pariah in the oil-rich province. Polls taken by ThinkHQ and Lethbridge College in late September and early October put the New Democrats at about 16 per cent support, with the latter polling firm placing the NDP ahead of the Wildrose Party for second place. A more recent survey by Angus-Reid put the NDP at 13 per cent support.
But that is still an improvement over the 8.5 per cent of the vote the party took in the 2008 provincial election. If another election is held next spring, as some suggest, the NDP could make some gains.
Though not in Calgary. The city's economy is centred around the oil and gas industry, and the NDP did not do better than 16 per cent in any Calgary riding in the last federal election, while the Lethbridge and Angus-Reid polls put the provincial party at less than 10 per cent support in the city.
Edmonton, however, is far more amenable to the NDP. With its more diversified economy and jobs in the public sector, the NDP does far better in the city. Mr. Mason's NDP is at 21 per cent in Edmonton and had more than 35 per cent support in four ridings in the last election.
In the end, however, these support levels should deliver few new Alberta seats to the NDP. Though the party might be carving itself out a niche in the province, its opposition to the Keystone XL project is not going to propel them to dizzying new heights.
Éric Grenier taps The Pulse of federal and regional politics for Huffington Post Canada readers on most Tuesdays and Fridays. Grenier is the author of ThreeHundredEight.com, covering Canadian politics, polls, and electoral projections.