 Canadians are less likely than Americans to support the Keystone XL pipeline, according to a new poll that comes out amid an unconfirmed report that President Barack Obama is poised to approve the contentious project.
According to research carried out by pollster Nik Nanos for the Woodrow Wilson International Center for Scholars, 74 per cent of Americans back the $5.3-billion project, compared to 68 per cent of Canadians.
Gaining energy independence from Middle Eastern oil sources "trumps reducing greenhouse gases as a policy priority," Nanos said.
David Gordon, a former State Department director of policy planning, told the Globe "the chances are about four-to-one" that Obama will approve the pipeline, which would shuttle Alberta oil from the oil sands to a facility in Cushing, Okla., and on to the refineries on the Gulf Coast.
Gordon said Obama's fight with the Republican-controlled House of Representatives makes approval of the pipeline almost inevitable.
"What strikes us is the degree to which Canadian government officials are much less certain of the outcome than we are," the Globe quoted Gordon as saying. "I would really be surprised if this didn't happen."
In an interview ahead of Earth Day, the CEO of TransCanada, the company building the Keystone XL, tried to downplay the importance of the pipeline both to the environment and to the development of the oil sands.
Keystone "has become this symbol of everything that's wrong with the fossil fuel energy industry. And it's not," he said.
"It transports products from A to B, and it does that safely. It has no material impact on refining markets or supply."
Girling said market forces, including oil prices and production costs, are more important in determining how the oil sands develop than any one pipeline project.
The Nanos poll also found Americans are more concerned about energy independence than Canadians, with 63 per cent saying it's more important than reducing greenhouse gases. Fifty-five per cent of Canadians said energy independence is more important than reducing carbon emissions.
Federal Environment Minister Peter Kent and his Alberta counterpart Diana McQueen were scheduled to be at Carleton University in Ottawa on Monday to flick the switch and allow public scrutiny of new research measuring the quality and quantity of the land, air and water in the Athabasca region.
Once public, the data, Kent has said, would show a skeptical world that Canada's oil should be welcomed and not scorned.
It's a contrast to the defensive stance the Conservatives have taken on Earth Days past. Last year, hundreds of thousands of people rallied in Montreal and other cities against the government's changes to environmental oversight and its withdrawal from the Kyoto accord to cut emissions.
And it's part of an increasingly urgent effort to court more public buy-in for Canada's resource development practices as the oil patch worries about how it will pipe its product to port.
"I think they are on a quest of social license, that's for sure," said Megan Leslie, the NDP's environment critic. "The reasons it's a 'quest' is their own fault."
-- With files from The Canadian Press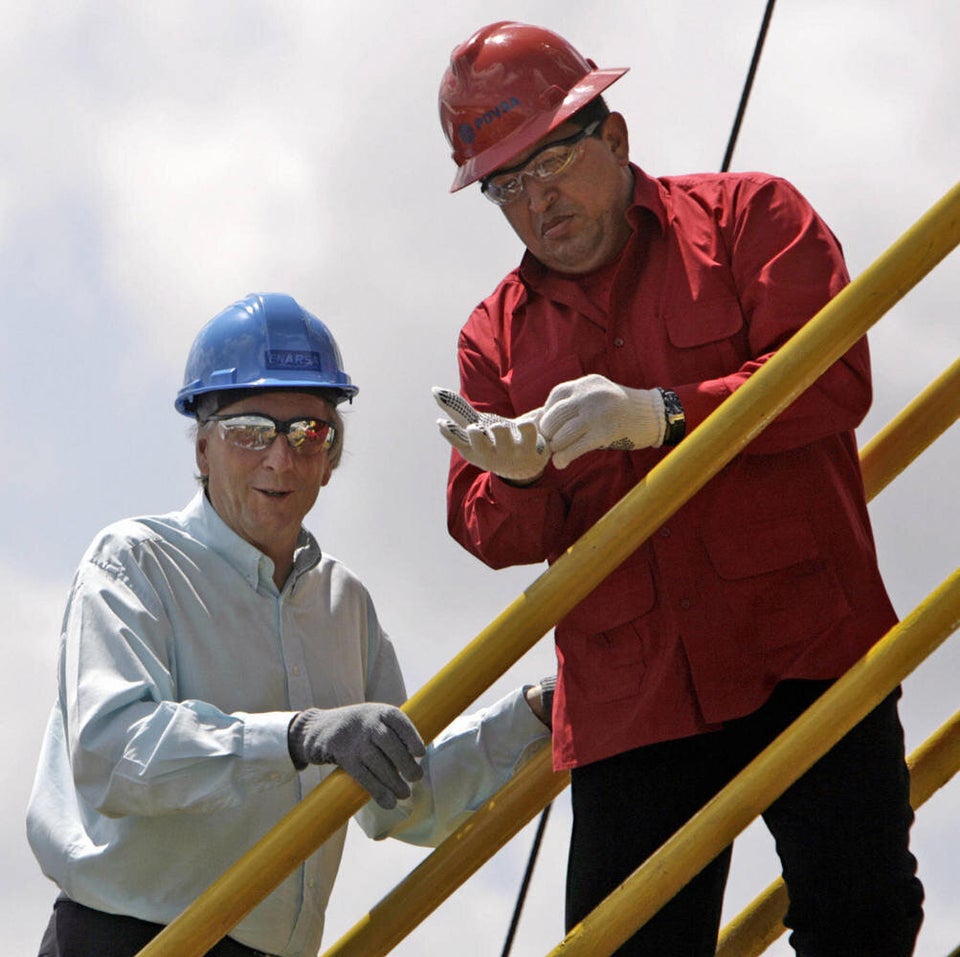 14 Top Climate Villains -- Greenpeace