"I mean, it's incredibly traumatic what happened to her," Kardashian said to DeGeneres. "But our family is super close and great and we'll get through it together and we do appreciate all of your guys' love and support. It will take time. You know, it was horrible what happened to her."
"I think it's just a wake-up call to make a lot of life adjustments. This is a really serious matter for Kim," Khloe explained to Ellen. "It's a wake-up call for all of us. But definitely just to make sure our sister is OK."
She continued, "We have to make sure we're protected as well as possible. We're a family and we'll do this together, and I think it's important to make those adjustments and pull back a little bit."
Since the robbery, the Kardashian-Jenner clan has been fairly quiet on social media. Matriarch Kris Jenner broke her silence, posting a passage on Instagram Monday.
"Every morning is a reminder of how blessed we are," the passage read. "Today I am grateful for my family, who I love more than words can explain. Count your blessings, be grateful always, and cherish every moment you spend with your loved ones."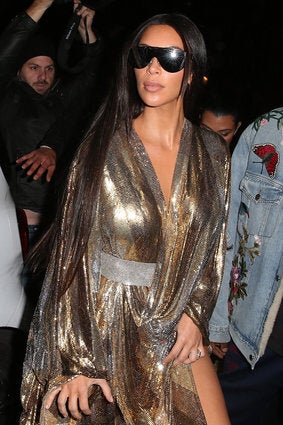 Kim Kardashian Style