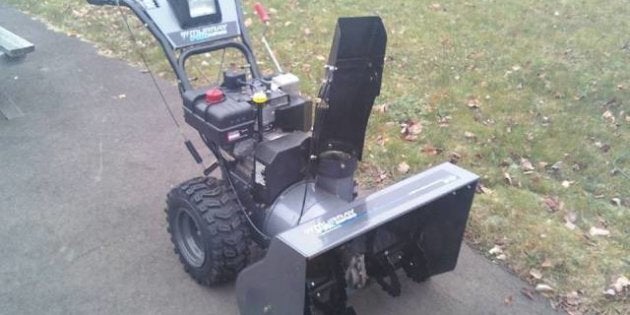 UPDATE: Sold, to a fellow writer. Weh-Ming Cho found a buyer for the snowblower in Alec Bruce, a Moncton-based editor, columnist and blogger. Bruce won Cho over with an offer that included the line, "As a professional writer, I think we writer guys ought to stick together on matters of snow jobs!" Read more about Cho's happy ending on his blog.

Cho's notes that he received nearly 1,400 emails as the story blew up on the Interent. They included:

job offers
requests for dates
requests to teach people to write ads
a request from a teacher for permission to use my ad as an example of persuasive writing (my mother is so proud!)
marriage proposals
people who thought they knew me, but were wrong
people who didn't think they knew me, but were also wrong
lots of speculation on my career
some speculation as to whether I was running some kind of scam
more compliments and encouragement than I've received since the day I introduced my future wife to my family
and buried deep, deep down, even a few actual offers to buy my snowblower
Snow and humour. Can't get more Canadian than that.
"Let's face it, we live in a place that attracts snow like Magnetic Hill attracts cars, only that ain't an illusion out there. That's 12 inches of snow piling up and, oh, what's that sound? Why it's the snow plow and it's here to let you know that it hates you and all the time you spent to shovel your driveway."
The seller is Weh-Ming Cho, an office worker from Moncton, and the poor guy has been inundated with e-mails — as many as two-to-three a minute — since the post went viral.
"It's taken on a life of its own," Cho told HuffPost Canada on Friday. "My wife is really excited about everything that's happening too. She was the one who pushed me to sell the snowblower in the first place."
You can hear more from Cho in this audio interview he gave to the "You Suck At Kijiji" blog, which first discovered the ad.
The entry, which has been viewed more than 212,000 times thanks to social sharing, taps into the angst and blower-envy felt by all shovellers:
You tried to shovel by yourself and I respect you for that. I did it, my parents did it, some of my best friends did it. But deep down inside, we all wanted to murder that neighbor with the snowblower who was finished and on his second beer while you were still trying to throw snow over a snowbank taller than you are.
And it includes this dynamite sentence that only a Canadian or resident of the northern states can truly appreciate: "Just plug that sucker in, push the button, and get ready to punch snow in the throat."
It goes on and on, an ad so rich with humour that the Cho felt obligated to clarify with an update that it's the real deal and the snowblower is still available.
Cho said there are three points he wants to clarify: "I don't work in advertising or in sales. I really do have a snowblower. I really do want to sell it."
According to
, he just did interviews with CTV and CBC, adding that it was "awkward and super fun."