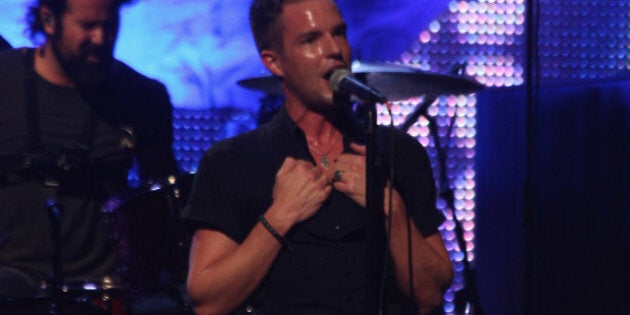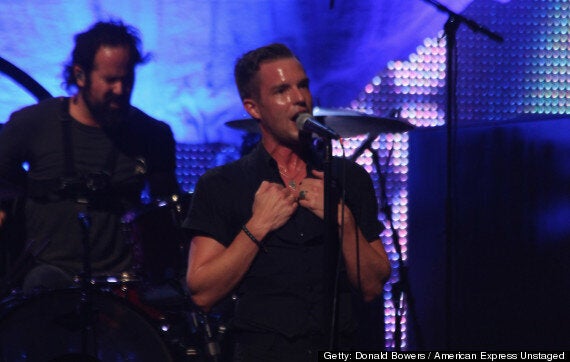 Mere hours after The Killers' new album Battle Born arrived on both literal and virtual store shelves, the Las Vegas synth-rock stalwarts themselves split the on- and offline difference by taking to the wondrously baroque stage of the Bronx's 1920s-era Paradise Theatre for a Werner Herzog-directed livestream concert.
It was the 11th edition of the American Express "Unstaged" series, a "live and digital" concert collaboration between the credit card company and online video kingpins YouTube and VEVO which pairs major musical acts with cool-cred directors.
The series kicked off in 2010 with Terry Gilliam directing an Arcade Fire show in Madison Square Gardens and has subsequently ranged from pairing Coldplay and Anton Corbijn to Duran Duran and David Lynch to Jack White and Gary Oldman.
Given their guestlist, they're not messing around here, and Amex claims over 100 million video views so far, not to mention boasting that "our global live streaming efforts have helped make nearly half of the music acts who were releasing albums at the time hit number one on the Billboard Hot 200 albums chart."
But what's the real impact of these livestream concerts?
Unlike traditional broadcast media like TV or radio, the Internet is an on-demand medium. In doing so it has reduced shared pop-cultural experiences by ushering in an era of niche narrowcasting and essentially eliminating event programming. Livestreams like Unstaged are an attempt to bring some of those shared experiences back to our post-digital world.
Ironically, of course, it's tying to do this by streaming the ultimate shared experience, a live concert, to the ultimate solo technology, a laptop or smartphone.
"Hello, we're The Killers, brought to you by way of fabulous Las Vegas," Flowers announced at the concert's onset. "This one goes out to Planet Earth!" And it certainly felt that way, with Instagram photos of viewers scrolling past on the side of both stage and screen, pics of viewers with their names and locales, ranging from Argentina to Korea. (Though in actual fact, the first few songs got left off the livestream as freak storm rolled through NYC, leading to tornado warnings and "technical difficulties.")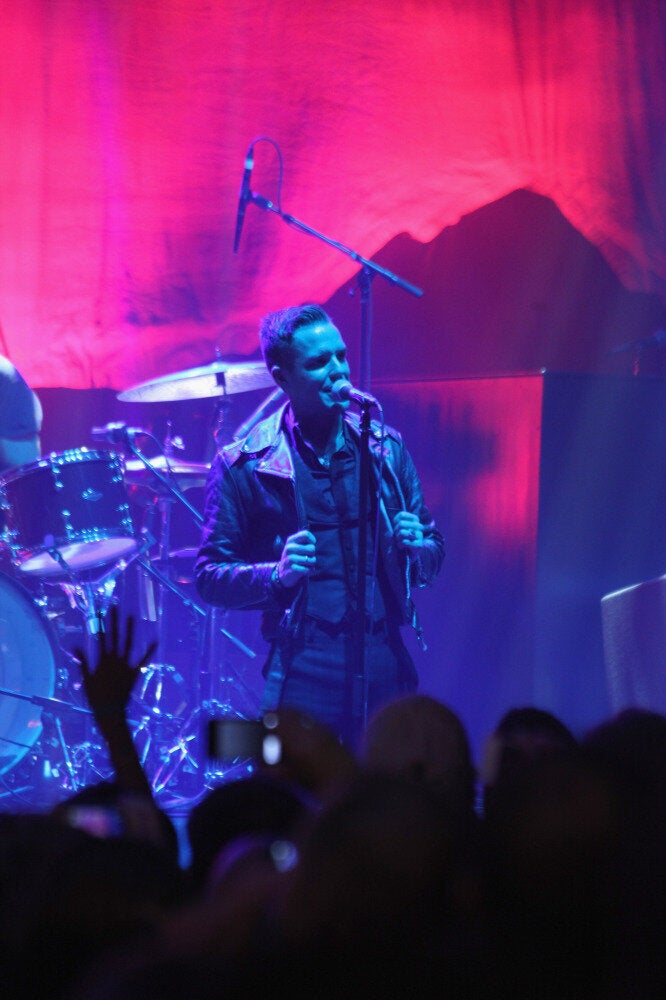 The Killers @ Amex Unstaged, Paradise Theatre, The Bronx
The Killers were in fine form, despite their long layoff. Decked out in all black everything, Brandon Flowers still looks and plays the part of an old-school rock star and they ably combed through their eight-year song catalogue, combining new soon-to-be-anthems like "Runaways" and "Flesh and Bone" with classics like "Human," "Smile Like You Mean It" and "All These Things That I've Done" (aka the "I've got soul but I'm not a soldier" sing-along song) and a couple covers running the coolness gamut from Alphaville's "Forever Young" to Joy Division's "Shadowplay." There were smoke machines, lasers, confetti cannons and a mountain shaped backdrop that displayed a dizzying array of visuals.
In a press conference earlier in the day, Flowers explained why the band chose Unstaged as their album launch party. "I have seen the Arcade Fire one and I've seen the Coldplay one," he said, "and I thought it was a great idea and I wanted to be a part of it. And the fact that you get this freedom to pick a director -- and we were so lucky to have Werner say yes. I mean, he was at the top of the list, and everything kind of fell into place."
Herzog, for his part, seemed intrigued by the unexplored terrain.
"I've never done it before. I warned the band, by the way," he kidded. "The internet is exploding and it's going fast, and I tried to respond to what is out there. And it doesn't matter whether I do something for a narrative film structure or a documentary, this is a very specific challenge I am jumping in to. And I know with the band out there, I can jump out the window and I don't care if there is rock bottom down there or soft water, I'll just jump with them. And it's going to be fine."
"Of course, there will be mistakes and the mistakes cannot be corrected," he noted of the 18 cameras to control and no post-production correct bad calls. "So be it."
Ultimately, Herzog's goal was to "get something across that is authentic, that is alive, that brings over the excitement, that brings over the character of the band, and also incorporates the world out there. They are not the receiving end alone; they contribute."
"All the other concerts were not really responding that much to the audiences out there," he added. "Fans have sent in their pictures identifying where they are from, and thousands have come in and they are still streaming in. And while the concert is going on, they will still stream their photos and it will be part of the show. And they look at each other; the live audience in the theater is looking at the faces out there of other fans, and the other way around. So I wanted to have it really interactive."
"It's so communal," drummer Ronnie Vannucci Jr noted. "It's bringing the whole world together. And it makes me feel almost emotional about it when he talks about it."
The new addition of viewer pics is certainly an effective way to appeal to the social media-era narcissism, but primarily proves that there is a virtual audience out there. Thing is, that still can't compete with a real audience. While the online viewers actually had better sound than those of us inside the Paradise Theatre, where there was too much high-end distortion that buried the band's signature synths, it suffered from the lack of non-virtual fans. When the Bronx crowd sang along to "Mr. Brightside," it enveloped us in the experience because we were amidst of all those voices -- talk about surround sound. Plus, there's no way to replicate the feel of a dangerously bouncing mezzanine as the crowd jumps up and down in unison.
Online, you got swooping crane shots and cool angles from the drummer cam and crowd-surfing camera, which somehow stayed upright for most of the concert. Still, it couldn't help but pale next to the real thing -- kinda like, as The Killers could attest, Las Vegas' pretend pyramids at the Luxor Casino.
And along the same vein, a famed documentary director's inaugural attempt at helming a webcast can't compete with the seven-minute mini-doc he filmed with the band prior to the show that effortlessly -- literally so, as Herzog boasted it was "written, scripted, filmed and edited in less than an hour" -- captured the surreal Strip upbringing behind the Nevada natives' mix of art and artifice.
But even if a livestream concert will never offer the same, well, interactivity of a real one, it does refreshingly show the music industry moving beyond its digital fears to use the Internet to give fans something fantastic for free.
Popular in the Community