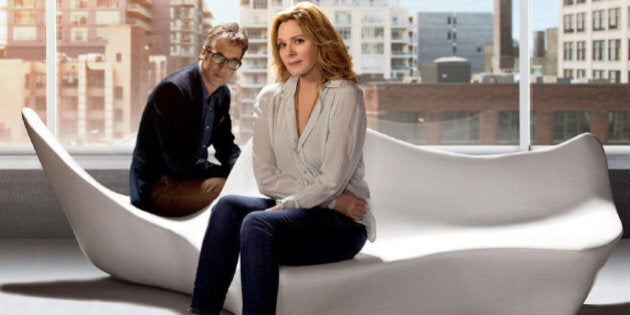 Kim Cattrall is back on TV -- more specifically, on HBO Canada -- in baby boomer comedy "Sensitive Skin," which follows the daily struggles of Davina (Cattrall), a woman in her 50s who feels her life, her marriage and her career have become stagnant.
Based on the original British series of the same name, this version of "Sensitive Skin" is directed by Don McKellar ("The Grand Seduction," "Last Night"). It is sharp, witty, and positively charming. While many Canadian series lack that special "something" right out of the gate, "Sensitive Skin" has smart writing and interesting characters, and completely embraces that element we often forget about: humour.
Season 1 only has six episodes, but each stands alone as a vignette of Davina's life, with cameos from the likes of Mary Walsh and Elliot Gould adding more spice to the mix. And hey, you can binge-watch them! HuffPost Canada TV spoke with Cattrall about "Sensitive Skin," taking a time out from North America, and how she made the huge decision to return to TV.
HuffPost Canada TV: OK, I'm addicted to this show.
Kim Cattrall: The increments of the story, the way the story is told is really smart and really fresh. I'm so proud of it.
Sometimes Canadian TV shows have this low-budget "feel" to them. "Sensitive Skin" does not, which is nice.
We didn't have a really big budget, it's all on-screen. [Laughs] Nobody went home rich!
Right from the first 30-40 seconds, there's such a strong vibe to this show.
There is. It's really strong. It's a great advantage to have an original series to look at, to say, "Oh, I love what they did here," and then take the show and make it more "ours," for a North American audience. It was challenging -- it's not easy -- but I think we achieved it.
Did you encounter this show while you were over in the U.K.?
Yes, I did! [I was sent] the six episodes of the original series, which, as you know, stars Joanna Lumley. It was my first binge-watch experience! [Laughs] I watched the whole thing and I was hooked. I couldn't stop thinking about it, I thought it was so smart and so clever. It was difficult to find the right collaborators; I took it to HBO America and they immediately put it into development, but it was sitting there for almost four years. I had different writers working on it, but it was either too American or too faithful to the British version, so we needed to define it. It wasn't until I met Don [McKellar] that I thought it was going to be possible.
Did you chat with Joanna Lumley about the series?
I actually met her in 2007, and she said to me, "I hear that you're going to do 'Sensitive Skin.' I told her what a fantastic job she did, and she wished me well, she was lovely. Then I did this spoof of "Downton Abbey" with Jennifer Saunders, and she was in it. The important thing for us was to make it our own.
Well, yeah. I think, after "Sex And The City" the series, I wanted to take a time out. Part of my time out was engaging in theatre and working with some really great British theatre directors. I just felt like I need to find out more about myself and being an actor. I needed to get out of New York and just go somewhere completely different. My father was also diagnosed with dementia, so it was a time to go home and reassess.
Coming back to TV with my own show was a tough decision, because I was doing so well with my feature films, theatre and guesting on TV. "Sensitive Skin" brought me back; after doing "SATC," which was so groundbreaking, I didn't want to revert back to something that had become commonplace. I wanted to keep trying to understand not only the human condition, but also where a woman my age is in the world, in society.
So then the role of Davina must resonate with you personally.
It does. I've never been in a 30-year relationship, and I've never been a mother, I don't live in Toronto, I don't have a sister like that. There were a lot of new circumstances. I've also had a very successful career, and this woman has never really felt fulfilled in a professional way. She had aspirations, but she was too terrified to see them through. And then she got married and had a child, and had what we consider a good life, an ordinary and uneventful life.
At this last chapter in her life, she's thinking, "I still don't know who I am, where's my potential?" That reflects real life. You don't know the answers. Trauma isn't just about breast cancer. Traumas happen on a day-to-day basis and they wear you down. You see this malaise that creeps into her, and the judgement in society -- it's insane, for a lot of young people, if you're 50 or 60 you might as well be 80 to them. My generation, the Baby Boomer generation, are a huge force out there. I'd like to address that audience, to entertain them and to show them something new.
Another thing I love about this show is -- as a born and raised Torontonian -- it unabashedly depicts Toronto. It doesn't disguise it as another city, as happens on so many other shows.
The thing I love about Toronto is that the city itself is going through its own midlife crisis. This whole condo glut. Just as New York is a character in "SATC," Toronto is a character in "Sensitive Skin." Don knows Toronto so well; he even showed the crew neighbourhoods they didn't know existed. It really gives it a "home" feeling. It's not Nameless City, North America.
Level with me. Is that a real couch that Davina buys? Meaning, does that couch exist in reality?
[Laughs] No, we made it, but it's based on a couch, a very famous couch. The architect only made three or four of them, and I think they cost upwards of $150,000. Her couch is so much more comfortable. Ours -- as you can see -- is impossible to sit on, there's no comfort. Again, it's a great metaphor for what's going on with Davina. She wants to elicit change but she's not comfortable with it.
Is there a possibility for a Season 2? I know that the British series had 12 episodes.
Yes, we'd like to! I think it depends on how it goes when we launch on July 20. I think it's exciting that that network is so behind it. We're the first binge-watch show in Canada, which is really great. I think they'd like to, I know we'd like to. The way our sixth episode ends leaves it very open for more. We'll see ... [Laughs] keep in mind this took us nine years.
"Sensitive Skin" premieres on July 20, 2014. It continues to air in its regular broadcast timeslot, Sundays at 8 p.m. ET/MT on HBO Canada until its finale on Sunday, August 24, but is also available for binge-watching.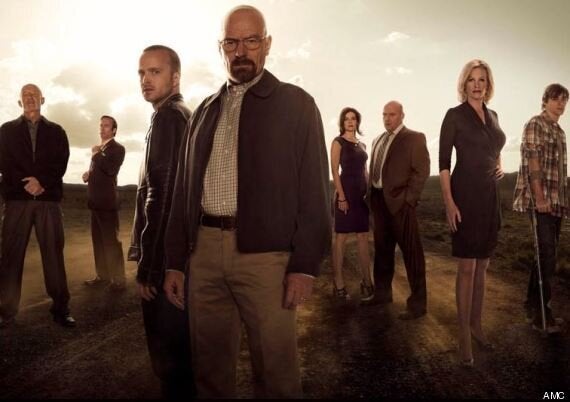 Best TV Shows To Binge-Watch