The battle over Canada's tar sands pipelines is heating up, and south of the colonial border, people are paying attention. As Hollywood's most glamorous descended on the Sundance Film Festival in January, the usual rubbing of elbows soon became the raising of fists of unity and resistance against oil projects like the Dakota Access Pipeline.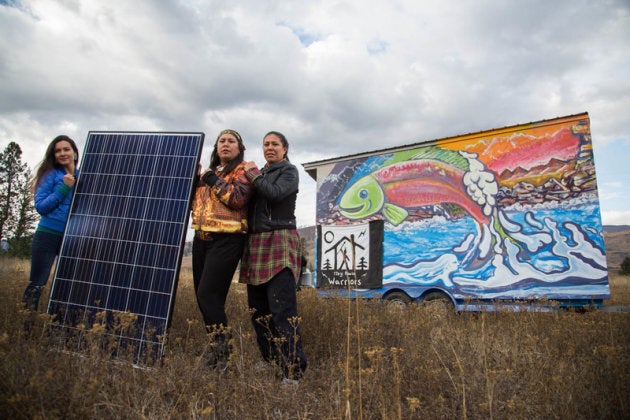 At Sundance, I attended the world premiere of Akicita: The Battle of Standing Rock, directed by the award-winning Cody Lucich. I'm honoured to be featured in this documentary, which also details the battle against another pipeline here in my homelands north of the colonial border. I'm referring, of course, to the fight against Kinder Morgan's massive new Trans Mountain Expansion pipeline. It's a fight that's been dubbed the "Standing Rock of the North."
For almost a year now, Indigenous leaders have promised that Kinder Morgan's determination to ram through a new tar sands pipeline without consent would bring about Canada's Standing Rock. This is already starting to take shape.
Now, Kwantlen First Nation (also in British Columbia) will build a healing lodge in memory of ancestors lost to the violence of colonization that will also be placed in Kinder Morgan's path. Meanwhile, the Tsleil-Waututh Nation, Coldwater Indian Band, Upper Nicola Band and Squamish Nation are all fighting this pipeline in court.
These lands we are defending aren't forgotten patches of wilderness; the land is our home. We remain the rightful, lawful defenders of this land we have never ceded. And so, as it ekes toward the coast, Kinder Morgan's black snake will meet our united warriors' resolve.
When Europeans colonized our land they did so under the doctrine of terra nullius — empty land. Only it wasn't empty. This land wasn't empty when "Trudeau Senior" proposed the infamous White Paper in 1969, which attempted to write Indigenous identity out of existence and make us invisible. And the land still isn't empty today as his son continues that legacy, shedding tears at the Truth and Reconciliation press conference while he simultaneously bulldozes over our rights and title.
Make no mistake, if prime minister Justin Trudeau continues to support reconciliation and Indigenous rights without recognizing our right to free, prior and informed consent, it will signify a strategic decision to continue this fairy tale of "empty land." Acknowledging our existence but refusing our right to decide what happens on our territory makes reconciliation impossible.
Standing Rock brought about an unprecedented level of awareness about Indigenous rights and destructive oil pipelines. It's a change in mainstream consciousness that will only continue to grow as our resistance ramps up, as films like Akicita touch people's hearts, and as the expiry date on peoples' old colonial views comes due.
The inertia that has allowed Canada's federal government to pay mere lip service to Indigenous rights is being overcome by a stronger force.
Not long ago, it was laughable that women would get the vote. At one time, the southern United States could never have envisioned the civil rights movement of the 1950s and 1960s. Indeed, South Africa's apartheid government was once sure the chains would hold on their oppressive system (modeled in part on Canada's Indian Act.)
They were wrong then, as Trudeau is wrong about Indigenous consent today. But he, and all of us, still have a chance to be part of the change on the horizon.
When Idle No More rose up, people said we were witnessing an Indigenous renaissance. It's this and so much more. Indigenous resistance against Kinder Morgan is bigger than one pipeline battle. It's a hallmark of our changing times. This is a revolution for Indigenous rights — peaceful and unyielding.
Popular in the Community