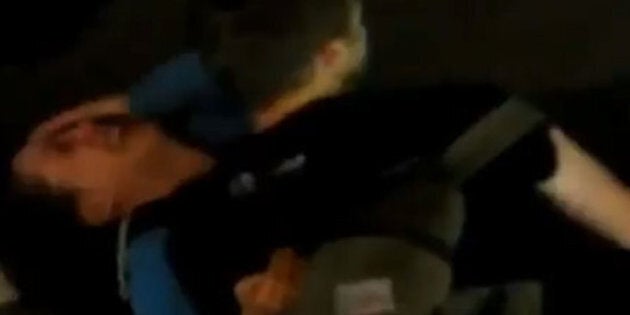 New video footage has surfaced of the now famous kissing couple from last week's Vancouver riots.
Seconds later you see Jones protecting his girlfriend Thomas from police. The kiss, caught by Getty Images photographer Rich Lam, occurred seconds after that.
The couple's kiss became a defining image of the Vancouver riots and catapulted the couple to celebrity. They have since hired an agent to deal with the surge in publicity.
"They started beating us with the shields, like trying to get us to move," Jones said.
"We weren't being aggressive towards [police] or anything like that. But eventually they passed over us. And that's when we were on the ground. She was a bit hysterical afterwards, obviously, and I was just trying to calm her down," said Jones, 29, an Australian who's been in Canada for six months.
"They were literally charging at us and we tried to run away," he said.
Rich Lam who snapped the image also recalled the moment.
"It was complete chaos. Rioters set two cars on fire and then I saw looters break the window at a neighbouring department store," he said to the Guardian.
"At that point, the riot police charged right towards us. After I stopped running, I noticed in the space behind the line of police that two people were lying in the street with the riot police and a raging fire just beyond them." he added.
The image sparked speculation about the couple's identity on Twitter and Facebook and questions about whether the image was photoshopped. Jones even picked up a nickname, the "Riot Romeo" for his smooch.
Neither Thomas nor Jones blames the police for what happened, but understand they were in the wrong place at the wrong time.
"[The police] were doing their job," Thomas said.