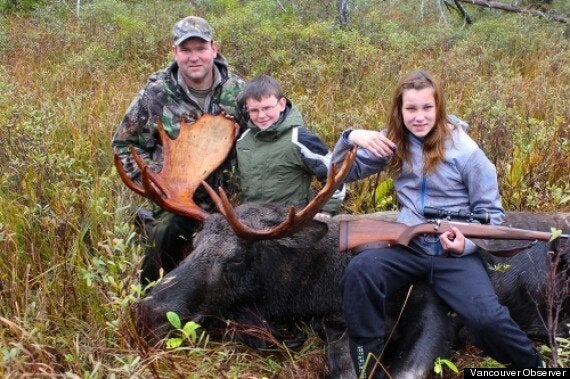 Mike Langegger recalls the autumn moment two years ago when he, his son Adam, and daughter Hannah spotted a moose a stone's throw away in a valley just outside Kitimat in northwest B.C.
The rutting beast could easily have charged at the family with its dangerous antlers. But Langegger coaxed the bull to come closer: "I did a series of cow calls, and it came out of the willow patch about 25 to 40 yards away."
Hannah, 13 at the time, aimed one of the family's many rifles. With her pulse racing, and eye on the scope, she fired a single shot. The moose fell. They approached the creature excitedly, but with mixed feelings too.
"[We] took the animal's life, [so] there's some remorse there. But the animal also made it's way to our dinner table.
"It was an incredible family moment," said the father last week. But such experiences could be threatened by the Northern Gateway pipeline, said Langegger.
The industrial power engineer, who is a well-known hunter in area, has long spoken out against the project. Like many citizens who will soon vote in an April 12 Kitimat plebiscite regarding the $6.5 billion pipeline, he's done a lot of research into Enbridge.
"For those of us that call coastal British Columbia home, the existing environment, fish, wildlife, and associated values are the foundation of who we are," he told the Joint Review Panel in 2012.
"It is those values that the Northern Gateway Project ultimately threatens to extinguish," said Langegger, to the applause of many in the hearing room.
He expects "hundreds" of hunters like him will vote against the oil sands pipeline. But what Langegger did not know until a recent conversation with the Vancouver Observer was just how close the proposed pipeline is to an area he hunts.
"That pipeline, according to that map, would come within 700 metres of where that moose was shot," reacted Langegger.
He was shown a more detailed Enbridge consultant's map of the pipeline's route near Kitimat than he had seen before. An additional Google Earth map — provided by Living Ocean — also helped him visualize how close the pipeline comes to where the moose was downed.
The pipeline crosses two major rivers north of Kitimat.
"If you had an oil spill on the Big Wedeene or Little Wedeene for example — those are both salmon bearing streams — very, very game-rich habitats," he said, pointing out that oil would end up in the Kitimat River, down into the estuary, and into the ocean.
"You'd have a number of fur-bearing species, birds of prey, and wildlife directly impacted… mink, martens, fisher, otters... [as well as] beaver, wolverines, wolves, and the bear population."
"If you impact the salmon — you impact all these species, because it's a pinnacle part of the food chain," he said.
Enbridge was invited to comment for this story, but the company did not respond to our requests.
The company is now blanketing the region's media with advertisements ("Students need schools. Schools needs students. A pipeline can help.") and editorials in advance of the April Kitimat vote. Its messages push the pipeline as good for jobs and government coffers.
After construction, the pipeline would employ 58 people directly, and 130 in Kitimat harbour and emergency response staff, according to JRP records.
Langegger got a call from Northern Gateway staff asking him how he intends to vote. He was appalled, and immediately wrote a complaint letter to the mayor.
Of chief concern to many is the potential for a pipeline spill, perhaps not right away, but in the years and decades ahead.
Enbridge's executive vice president Janet Holder said Kalamazoo was "humbling" and resulted in many internal changes.
But many still worry how natural factors in northwest B.C. would make an oil spill especially challenging to control.
Northern Gateway's 1,177 km pipeline would cross hundreds of cold, fast-moving waterways, that also move quickly into wetlands, and down rugged mountainous areas.
These conditions are perhaps even more complex and difficult than the terrain faced by the company's oil spills in Kalamazoo or Minnesota, which were on much flatter terrains with slower moving water, said Langegger.
Each day, Northern Gateway's two-way pipeline would pump 525,000 barrels of toxic bitumen westbound to coastal tankers, and 193,000 barrels of condensate would flow eastbound.
An Enbridge website states that its target is "zero spills" using leak detection technology: "Just as failure is not an option for airlines or for the aerospace industry, the safety and reliability of our delivery systems are of paramount importance."
But some find that hard to believe.
"If there's an oil spill here on our rivers, that could potentially close the river to fishing for four years," said local angler Manny Arruda.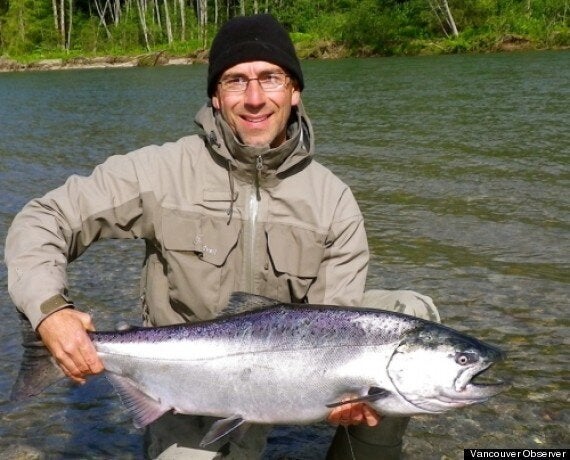 Arruda has worked in control room and emergency response positions at Rio Tinco Alcan, as well as Methanex, for nearly 20 years. He has experience in pipeline leaks, and told the JRP, they are unavoidable.
"The bottom line is that no matter what state-of-the-art infrastructure, instrumentation, safety measures are in place, human decisions or lack of decisions will affect the outcome. Humans are the weak link," he told the panel in 2012.
"A long remote pipeline through mountain passes - there are no field operators readily available to check every kilometre of the line to verify what the control room operator may think is going on," he added.
Langegger, who works at a smelter, said Kitimat needs the right kind of industry. The district is also entertaining several multi-billion-dollar LNG development proposals.
He said once the Enbridge pipeline construction boom is gone, the project's 50-60 direct jobs are not enough to justify the risk to the wilderness and wildlife.
"I'd certainly like to have jobs, and have my children close to me in the future as they come into working age," said Langegger. "But do you let [an industry] over run the entire area and wipe out the habitat?"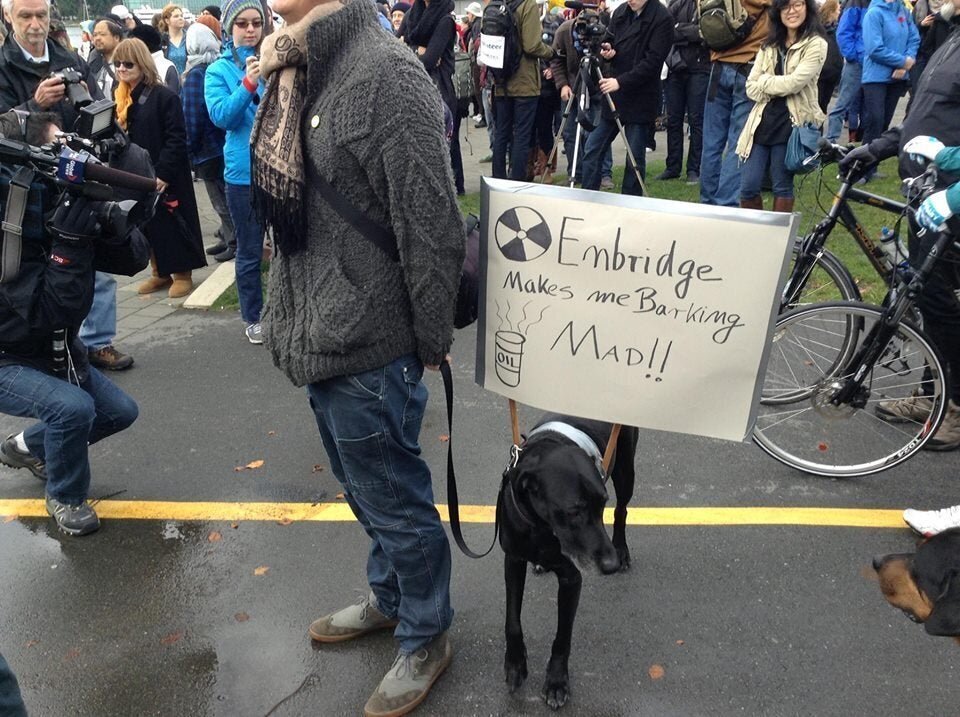 'No Enbridge' Rally, 2013