UPDATE - Feb. 12, 2015: About 168 centimetres of snow fell on Kitimat between 4 p.m. Feb. 5 Thursday and 4 a.m. Feb. 7 Saturday, while 159 centimetres fell in Terrace during the same time period.
The heavy snowfall just fell short of breaking 24-hour records, as 109 centimetres fell in Kitimat over 24 hours and the previous record was 112.3 centimetres on Feb. 18, 1972, according to Environment Canada.
People in the northern B.C. cities of Kitimat and Terrace are being asked to stay home as snow continues to bury the region.
Officials are asking people to stay home as whiteout conditions have created dangerous travel conditions. Abandoned vehicles are making it difficult for already stretched road crews to clear all the snow, said Kitimat Mayor Phil Germuth.
The Pineapple Express weather system that's bringing wet and windy weather to the South Coast of the province is also responsible for all the snow on the North Coast.
Thousands of homes lost power in both cities. The outages were affecting Kitimat's pumping system, prompting the city to warn people to conserve water.
Environment Canada, which issued a weather alert, said the snow would taper off overnight.


With files from The Canadian Press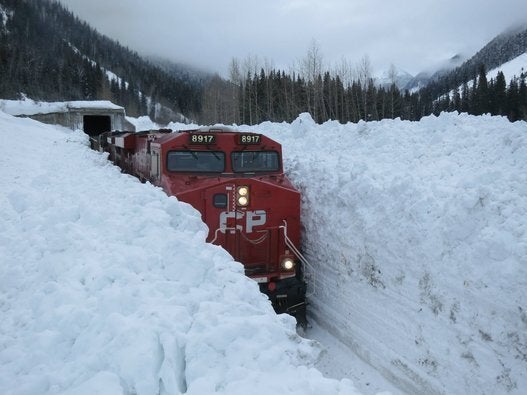 Most Insane Photos Of Winter 2013-2014
Popular in the Community