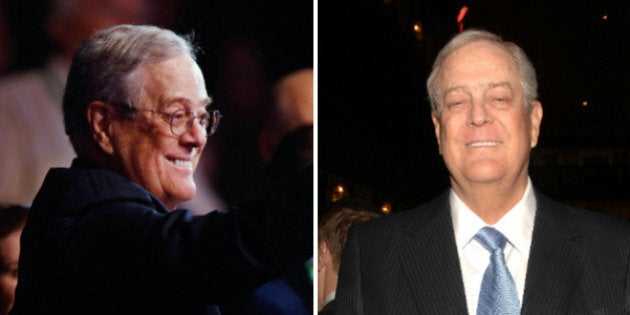 UPDATE: A former executive director of the Fraser Institute has confirmed to the Vancouver Observer that the think tank has been taking money from the Koch brothers for "years and years."

"I know the grant from the Koch Foundation is for our international work, but I can't tell you which of the projects ... it's funding," Fraser Institute co-founder Michael Walker said. "Before the Koch Foundation, we used to get funding from Koch Industries, when they had extensive holdings in Canada."

Walker defended the Fraser Institute's use of foreign money, saying that any funds from the Kochs are being used to fund international work, for which "we do have to raise money offshore from different sources."
But if the Tories go ahead with their campaign against politically active charities, they may find themselves having to smack down some of their own preferred charitable organizations -- those that back the oil sands.
In a report released earlier this month, the left-leaning U.S. Center for American Progress reported that the Koch brothers, owners of Koch Industries and a favourite target of the American left, had donated $373,721 in total to the Fraser Institute, arguably Canada's most prominent right-wing think tank and an official charity registered with the Canada Revenue Agency.
That may have to change with the Tories' new insistence on funding transparency from charitable groups.
The Koch brothers have become bogeymen in recent years to the American left. The group they founded, Americans for Prosperity, has been described as one of the most influential groups in the rise of the U.S.'s tea party movement of the past four years.
"If the Koch brothers didn't exist, the left would have to invent them," Rolling Stone magazine wrote. "They're the plutocrats from central casting -- oil-and-gas billionaires ready to buy any congressman, fund any lie, fight any law, bust any union, despoil any landscape, or shirk any (tax) burden to push their free-market religion and pump up their profits."
Though it's hard to determine all the different ways that the Koch brothers' activism has touched Canadian politics, the billionaire brothers have been linked to other issues of concern to Canadians.
The government said it would be cracking down on charitable groups that exceed their legal limit on political spending -- 10 per cent of the charity's budget.
CLARIFICATION: An earlier version of this story referred to the Fraser Institute as being "Tory-allied." While there is some overlap in the membership of the Conservative Party of Canada and the Fraser Institute, the groups are not formally affiliated.
Popular in the Community