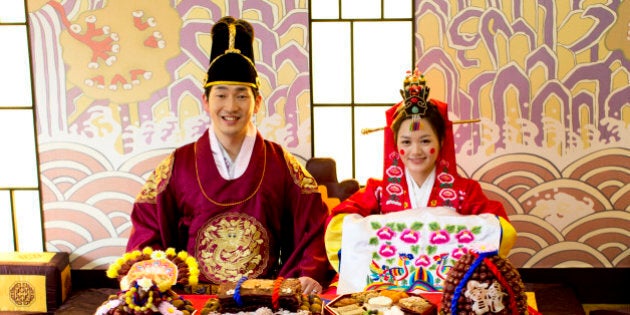 Thanks to our multicultural society, you may find yourself at a wedding this summer that celebrates in ways you aren't familiar with — and we're here to help. Each week, the HuffPost Canada Living team will take a look at a different culture's wedding and tell you about the customs, traditions and rules that go along with celebrating your friends' big days.
Korean weddings are all about going back to one's roots. From traditional Korean attire to sharing the "head table" with parents, Koreans weddings encompass all the importance of family and unity.
"During the paebek/pyebaek ceremony (a Korean wedding custom), the parents also share some stories of wisdom on marriage to the couple," says Toronto-based wedding planner Wendy Lee of Asian Fusion Weddings.
At this ceremony, which tends to happen after the wedding ceremony, Lee says the couple even play games with the parents (like catching dates and chestnuts tossed over the head table) and share wine and traditional foods that symbolize parenthood.
These days, most couples tend to stick with some of these wedding traditions, but find modern ways to incorporate their western culture as well. For example, during dinner at a Korean wedding reception, you may find a variety of meats and seafood along with traditional items like long noodles and short ribs. And while a cake is also common at Korean weddings, a sticky rice cake called dok is also served.
And while you may also see a bride in a white wedding gown, Lee says the hanbok, a Korean wedding dress, is also a sight to behold. It is usually worn after the wedding ceremony.
"The hanbok consists of a jeogori, which is a short jacket with long sleeves with two long ribbons. A chima (skirt) is worn under the jeogori. Completing the outfit is pair of boat-shaped shoes and worn with white socks," she says.
Here are 10 questions you probably have about Korean weddings: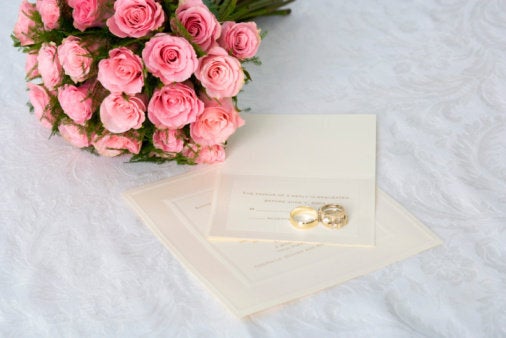 10 Facts About Korean Weddings
Popular in the Community