A Toronto city councillor refuses to be quiet about a "homophobic, racist, sexist" letter she received from an apparent Ford Nation supporter.
Kristyn Wong-Tam, an openly gay member of council running for re-election, says the unsigned letter was "quite extreme," including a wish that she "get AIDS and die in public office."
She said it's an example of "radical and extremists out there" but stressed they "don't represent the majority of values purported by Torontonians," she told The Huffington Post Canada in an interview.
A Google search by campaign staffers on the return address came up empty.
WARNING: this letter contains language that may offend readers.
LET'S KICK THE FAGGOTS OUT OF CITY HALL ON OCTOBER 27 2014

KRISTYN WONG-TAM – UGLY LESBIAN, WARD 27

YOU GUTLESS LOUDMOUTH FAGGOT NIP PLEASE GO TO HELL, YOUR PINK SQUAD IS CRAP, YOUR CRAP, ALL YOU DO FOR TORONTO IS BRING YOUR FAGGOTS IN, I DON'T SUPPORT FAG MARRIAGES OK I DON'T SUPPORT ANY FAG LOVING COUNCILLORS I HOPE YOU GET AIDS AND DIE IN PUBLIC OFFICE, COME OCTOBER 27. YOUR VOTED OUT WE DONT WANT ANY FAGGOTS LIKE YOU IN PUBLIC OFFICE.

I SUPPORT FORD NATION.
Most reactions condemned the letter and its hateful tone. But at least one person called the letter "a hoax" while another accused the councillor of "playing the gay card."
Although it's not the first hate letter Wong-Tam has received during her four years in office, she noted this most recent piece of mail is "not the usual correspondence" fielded by her or her campaign team.
Wong-Tam says the letter comes days after a constituent verbally accosted a volunteer who was going door-to-door, handing out campaign materials.
The unnamed resident reportedly told her that Wong-Tam should "go back to where she came from." He went on to threaten the councillor's life, saying if he had a gun, he would put a bullet in her head. The volunteer reported the incident to police.
Wong-Tam told CBC Radio's Matt Galloway on Metro Morning similar attacks have increased during Mayor Rob Ford's tenure.
"Four years ago when I was elected in 2010, there was a transcension of political identities. I was not known in ward 27 as the gay candidate or the Chinese candidate, I was simply one of 15 candidates and I think that was a great moment for the City of Toronto."
"We're not going to let it slide," she said of homophobic, racialized, and sexist attacks, urging politicians and citizens alike to call out incidents of homophobia and xenophobia when they see it. She pressed Doug Ford to take a leadership role to curb racially and sexually charged remarks from Ford Nation supporters.
Ford spoke on the subject Wednesday after he was asked to respond to racist attacks lobbed at fellow mayoral candidate Olivia Chow during a debate Tuesday.
"I want to make it very, very clear. I don't condone that," he told reporters. "I don't condone that whatsoever. I don't know who it was. But if they want to talk that way, they aren't a part of this campaign."
Wong-Tam was encouraged by Ford's statement, but called on him to establish clear rules of engagement for Ford Nation supporters to avoid "detrimental effects on our community."
"He needs to loudly, and very forcibly condemn that kind of language and behaviour," she said.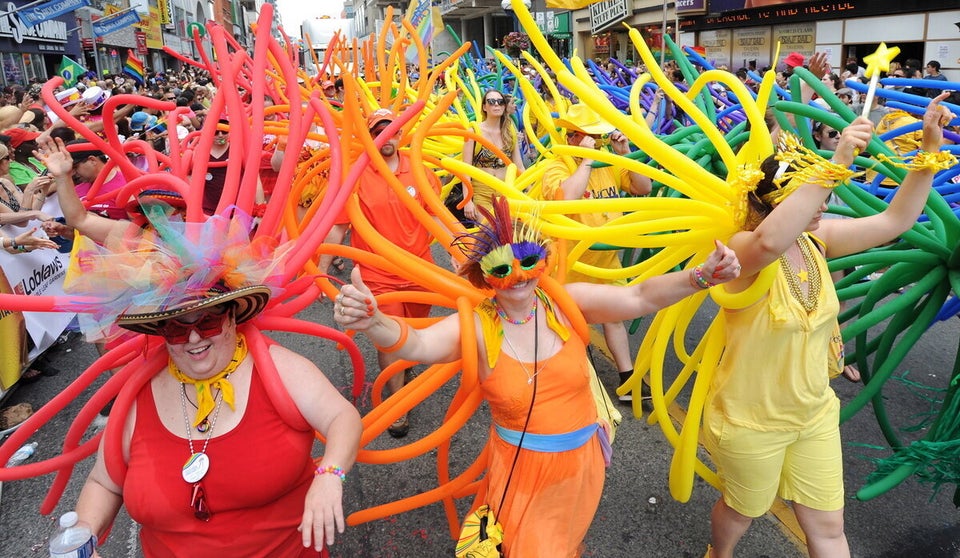 WorldPride Parade Toronto 2014