A deadly new drug called Krokodil has been making headlines in Russia and the U.S. for its horrific effects on users.
And now it might be in Canada.
Health workers in southeastern Ontario say they're seeing cases of the flesh-eating drug on the streets and Niagara Regional Police say they're dealing with two cases connected to the street drug. It's the first time Krokodil use has been made public in Canada.
In the last two weeks, two men in St. Catharines have been hospitalized with sores on their bodies from using krokodil, CHCH reports, and there is another reported case in Niagara Falls.
"The one gentleman described it he felt like there was a burning coming from the inside out. And it left holes all over his arms." said Brenda Horton of the Drug Treatment Centre.
"Ever since oxycontin went off the market, it's turned into the wild west out there."
Krokodil, named for the scaly green appearance skin takes on once gangrene sets in, became popular in Russia due to a heroin shortage. The drug is cheap, roughly one-tenth the cost of heroin, and is made from codeine tablets combined with substances like gasoline, paint thinner or lighter fluid. The average life expectancy for a krokodil addict is less than two years.
Forbes notes, however, that the drug itself (also known as desomorphine) isn't responsible for the "rotting from the inside-out" effect of krokodil. The drug was in fact patented in the 1930s and marketed in Switzerland as a painkiller under the brand name Permonid.
The deadly effects from the illicit version stem from the substances that Forbes says "amateur chemists" don't properly remove.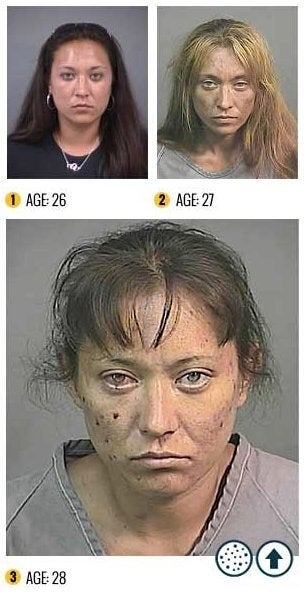 Horrors of methamphetamines