Police may not have re-opened Kurt Cobain's suicide investigation, but after 20 years there's still new information coming out. First there was a raft of police photos from the death scene and now a never-before-seen note found in Cobain's wallet has been released.
And it says some not particularly nice things about his marriage to wife, Courtney Love.
Knowing Kurt, it very well could have been sardonic but knowing Courtney it could also have been rooted in actual marital animosity.
As part of a freedom of information request by CBS, Seattle police have released the handwritten note on hotel stationary that was found in the Nirvana singer's wallet when his body was found on April 8, 1994.
"Do you Kurt Cobain take Courtney Michelle Love to be your lawful shredded wife even when she's a bitch with zits and siphoning all yr money for doping and whoring..."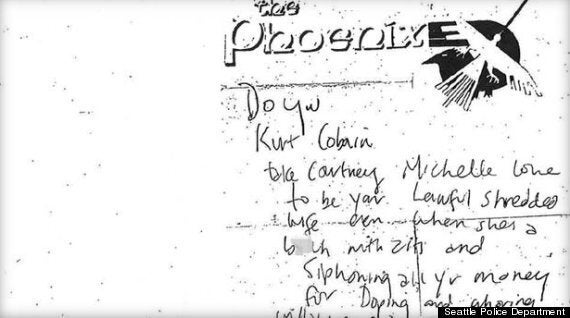 CBS takes pains to point out that "the note may show the author, presumably Cobain, poking sarcastic fun at the marriage; or perhaps it reveals a deep-seated resentment towards Love about drugs, sex, rock and roll.. and money. One might even imagine two lovers penning the note together, fully aware of the scrutiny their relationship engendered."
Still, many conspiracy theories involving Kurt Cobain's suicide revolve around Love's involvement and rumours that Kurt was planning to divorce her, and this is unlikely to quell those.