In "What Up Steve?," 27-year-old Kyle McKenna and his hip-hop group, The Caravan, touch on everything from the contempt of Parliament ruling that sank Harper's minority government in 2011 to the controversial Beyond The Border pact.
He even accuses the prime minister of listening to Creed.
But it's clear from the first verse that McKenna is particularly concerned about the plight of Canadian artists.
What up Steve?

Thanks for cuttin' CBC

From all us people making music with our hearts on our sleeve

We squeeze rocks, and write it while we're makin' em bleed

But then you're droppin' the axe

And your cuttin' the feed man
In an email exchange with HuffPost, McKenna said it was cuts to the CBC in last year's federal budget that first motivated him to write the protest song. With less funding, he said CBC Halifax had to close down a space used by local musicians to perform and record.
"We were one of the last four local bands to play that stage," he said. "So this affected myself as well as others and spurred the inspiration."
McKenna admits he's no political science major, but the "carpenter by day, sales clerk by night, performer by late night" still thinks it's his obligation to raise a fuss.
"If the person leading our country is unable to be truthful … he should be questioned," McKenna said. "I do not feel as though Canadians don't care enough. I feel as though we remain unheard."
The long-time performer was also inspired by the Idle No More movement that dominated headlines this winter. At one point in a music video recently released on YouTube, he can be seen burning a paper with the words "Bill C-45" on it.
"I feel like the Idle No More movement is a step towards Canada's public finding their voice, and being heard with it," he said." This movement, among others, is the reason I started to pay more attention to our political process."
But what really got McKenna fired up, he said, was the robocalls scandal. The idea that Canadians may have been purposely misled and kept from casting a ballot was a "breach of trust."
It's on this issue where McKenna arguably hits the prime minister hardest.
Shit Steve,

Are you forgettin' where you come from

Or you don't give a fuck about the people ya run from

I see it in your eyes

So smug and blatant

And you auto dial homes so the polls are vacant

What up Steve?
For now, McKenna hopes that his tune may serve as a wake-up call, not just to Canadians but to a prime minister he fears could become "Canada's George W. Bush."
"2015 can't come soon enough," he said.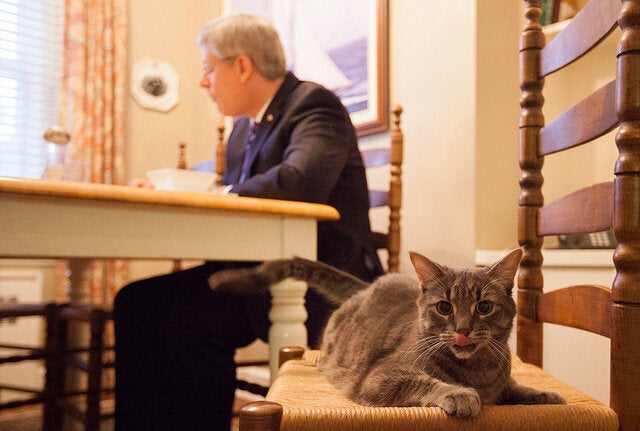 Day In The Life Of Stephen Harper