She is queen of the matte lip, but Kylie Jenner has declared gloss back in fashion.
The teen has unveiled a brand new collection of lip glosses to add to her beauty empire Kylie Cosmetics' growing portfolio.
In typically dramatic style, the reality TV star and makeup entrepreneur dropped the surprising news via a three-minute movie trailer directed by Grammy-nominated Colin Tiller. Featuring Kylie and three swaggering, lip gloss-toting girlfriends, the clip sees the group taking matters into their own hands during what looks to be an underground money transaction in an abandoned motel.
The end of the video reveals that the new range will comprise a trio of glosses named "Like," "Literally" and "So Cute." An image tweeted from the official Kylie Cosmetics account shows them to be thick nude shades, ranging from brown to pink hues.
The glosses were released at 4pm EST on April 1st, and are already sold out.
Jenner made an impressive beauty industry debut in November 2015, with the launch of her "Lip Kit by Kylie" product, comprising three separate kits containing a liquid matte lipstick and a pencil line in complementary shades. The line was an instant sell out, with restock flying off the online shelves in 28 minutes, and the subsequent addition of three new shades for her 'Valentine Collection' proved just as popular. The collection now totals eight different shades, and its oil-free liquid formula, which promises to glide on and dry down to a "powdery-soft, matte finish," has consistently sold out with every re-stock ever since.
Keeping up with a Jenner is proving to be just as difficult as keeping up with a Kardashian!
With files from Madelyn Chung.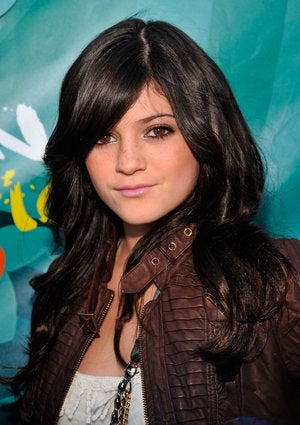 Kylie Jenner Through the Years