In it he calls global warming "the greatest threat to life on the planet" and warns that the devastating effects of climate change "will be seen in our children's lifetime."
The documentary is getting renewed attention because of a protest staged by the Council of Canadians outside Kent's constituency office on Friday to coincide with the end of the Durban talks.
The group projected the documentary on the exterior of the building in order to "remind him (Kent) with his own words from 28 years ago about the consequences of protecting oil company profits instead of protecting the planet," said Mark Calzavara, an organizer with the Council of Canadians.
STORY CONTINUES BELOW PHOTO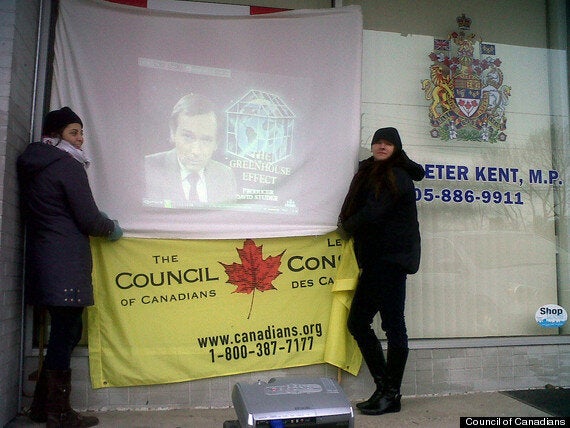 The group is upset about the stance Canada has taken at Durban. "Minister Kent said he was going to South Africa to defend the tar sands and he is doing that in his position on Kyoto which is paving the way for a weak international agreement on climate change," says Mark Calzavara, referring to the government's decision not to renew Canada's commitment to the Kyoto Protocol when the current deal expires at the end of 2012.
The expression of openness to a Kyoto replacement came on the same day that the feds gave the green light to the controversial Joslyn oil sands project. Work can now begin on the $9 billion mine 70 kilometres north of Fort McMurray, Alta.