The idea that workers should be paid a living wage is not a new one, emerging with the rapid expansion of industrial capitalism in the late 19th century. The concept was taken up by early trade unionists as a principle to guide wage bargaining with employers. Most provincial minimum wage laws were introduced following the First World War. However, they only applied to women, were set on an industry-by-industry basis and averaged one-half to two-thirds of the fair wage laws applied to male-dominated industries.
It was not until the 1970s that legislated gender-based wage discrimination was formally eliminated.Through the 1980s and 90s, "good jobs,'" those with full-time employment, often unionized and with some measure of security and benefits, gave way to jobs that were increasingly part-time and temporary, providing few opportunities for career advancement.
These changes occurred in tandem with capital flight to newly emerging industrial regions with cheaper pools of labour and lower environmental standards. Trade and investment liberalization agreements, including drastic reductions to corporate and high-income earners' taxes, weakened the power of unions as bargaining strategy became increasingly defensive. Thus, the primary mechanism for increasing labour income had been severely constrained. It's in this context that demands for living wages have reemerged.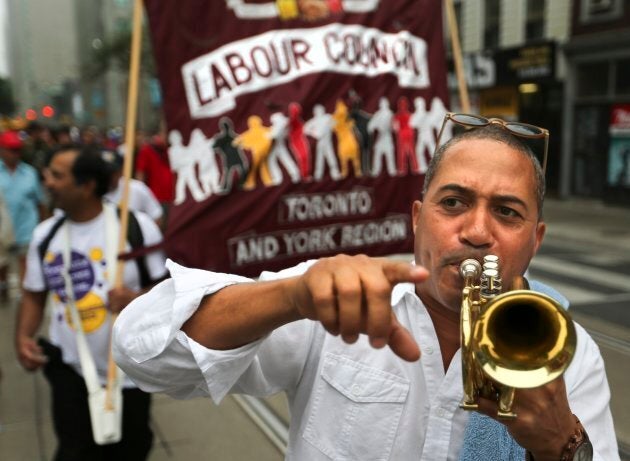 A living wage is distinct from the minimum wage in several important ways. The minimum wage sets a legal "floor," and is not tied to the poverty line or otherwise determined by some measurement of adequacy. In some jurisdictions the regulation allows for certain occupational variance from the general minimum, such as for alcohol servers, students, domestic labourers and farm workers. Some companies also avoid paying the minimum wage by outsourcing, hiring workers as unpaid interns, through temporary agencies, as independent contractors or misclassifying employees.
The result, in many cases, is to exclude workers from employment standards legislation, making them ineligible for overtime pay, paid leave and benefits.
The living wage, on the other hand, sets a higher bar than the minimum wage, reflecting what working families need to bring home based on the actual costs of living in a specific community. In other words, economic need is a central component of the living wage concept and reflects the failure of minimum wages to address the issue of income adequacy.
Some 50 living wage campaigns have been launched across the country
Most living wage frameworks assume a family unit composed of two working adults with two dependent children. A basket of goods and services to meet this family's needs is constructed consisting of such items as food, clothing, rent, transportation, child care, non-government funded health care expenses, adult education and other quality of life measures.
In a context where both average industrial wages and minimum wages are roughly equivalent to what they were in the 1970s, one clear problem with real wage erosion is the lack of any explicit policy goal, whether to reflect higher average industrial wages, ensure work is paid above the poverty line, keep the real minimum wage from eroding or take wages out of competition.
To date, some 50 living wage campaigns have been launched across the country and are at varying stages of development having made some important breakthroughs as of late. While their organizational makeup varies, living wage movements tend to include segments of organized labour, faith-based communities, non-profit organizations, communities and anti-poverty groups.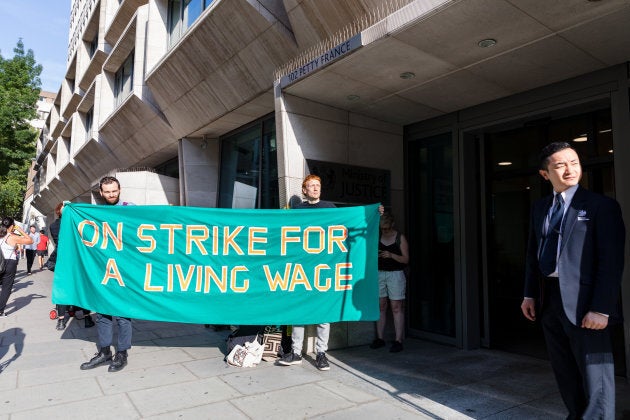 In 2011, the City of New Westminster in British Columbia became Canada's first government to adopt a living wage that requires all firms contracted or subcontracted by the City to pay a minimum of $19.62 per hour. More than 50 B.C. employers have also become certified living wage employers. And, in 2018, the B.C. government announced plans to move to more than $15 per hour by 2021.
In Alberta, living wage advocates were able to lobby the provincial government to increase the minimum wage to $15 per hour starting this October, but with an election taking place later this year the United Conservative Party has already vowed to roll this back if elected.
In 2017, after years of sustained pressure from labour and other social movements, the then-Liberal government in Ontario introduced the "Fair Workplaces, Better Jobs Act." The new act began the process of bringing labour standards into the 21st century, although the biggest news was that the minimum wage would increase to $14 per hour Jan. 1, 2018, rising to $15 per hour in 2019.
Dozens of private sector employers have already voluntarily signed on, although the Ford government has announced the increase will not be happening as planned as a broader review of labour relations gets underway.
This is not moralism, but good public policy.
Living wage movements are also gaining traction in Saskatchewan, Manitoba, Nova Scotia, New Brunswick, Yukon and the Northwest Territories, bringing a focus on everything from research and raising public awareness through the publication of the living wage calculations, to tying demands for living wages to issues of poverty reduction, improved public services and greater self-government for Indigenous communities.
Contrary to apocalyptic assertions, early evidence suggest that raising the wage floor has had beneficial effects by countering weak demand, increasing productivity, reducing after-tax government redistribution, increasing consumer purchasing power and higher employee retention.
By challenging so-called conventional wisdom, living wage advocates have stimulated a public debate about low-waged work and social inequality more generally. If the living wage movement continues to evolve and grow, it may well be able to exert a greater influence over public policy, as well as issues of workplace justice and economic democracy.
As the experiences in Ontario and Alberta shows, success, when it does happen, is not a cue for coalition demobilization but rather for ongoing participation in the implementation process to ensure enforcement of the policies. Work that does not pay adequately to allow a decent life is both a political and ideological problem for capitalism as much as it is an economic one. This is not moralism, but good public policy.
As we reflect this Labour Day on how far labour market conditions have come, let's also remember how far they still have to go.
Bryan Evans is Professor in the Department of Politics and Public Administration, and Director of the Centre for Policy Innovation and Public Engagement at Ryerson University. With Greg Albo, he is the co-editor of Divided Province: Ontario Politics in the Age of Neoliberalism.
Carlo Fanelli is Assistant Professor and Coordinator of Work and Labour Studies in the Department of Social Science at York University. He is the author of Megacity Malaise: Neoliberalism, Public Services and Labour in Toronto, and co-editor, with Bryan Evans, of The Public Sector in an Age of Austerity: Perspectives From Canada's Provinces and Territories.
Have you been affected personally by this or another issue? Share your story on HuffPost Canada blogs. We feature the best of Canadian opinion and perspectives. Find out how to contribute here.