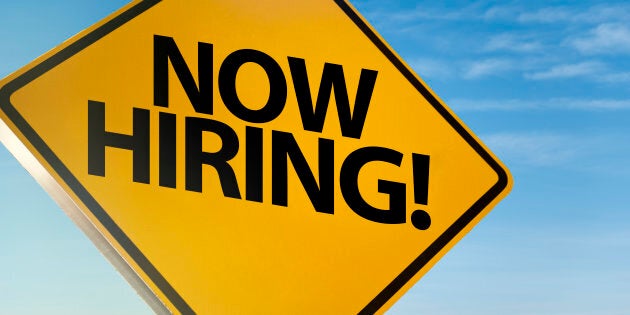 Nearly one in 25 jobs in British Columbia is sitting unfilled, a striking sign of the growing labour shortage facing Canada as the economy heats up.
New data from the Canadian Federation of Independent Business (CFIB) shows that the country doesn't have enough workers for all the jobs available.
According to CFIB's latest Help Wanted Survey, there were 399,000 vacant jobs in Canada in the fourth quarter of 2017, an increase of 38,000 vacancies, or 10.5 per cent, in just three months.
Leading the pack is British Columbia, where 3.9 per cent of all jobs sat vacant in the latest report, up from 3.6 per cent three months earlier. Quebec's vacancy rate has also jumped to 3.4 per cent from 3.1 per cent.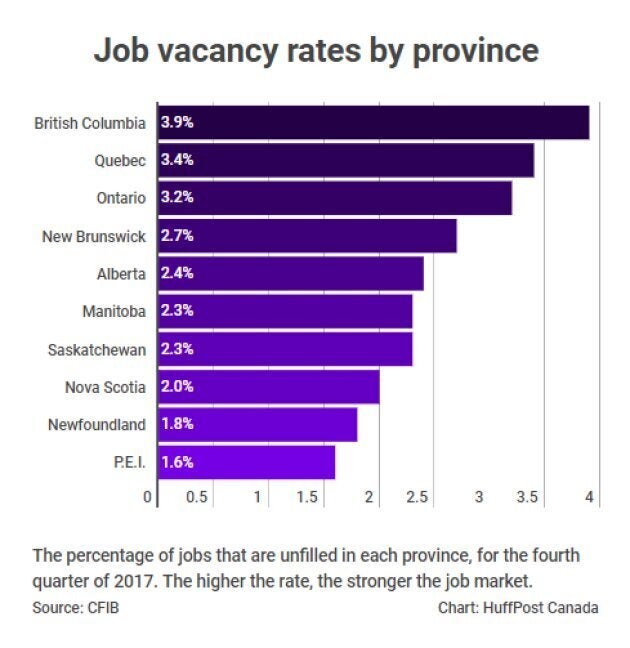 The growing labour shortage comes at a time when Canada's job market is putting in an historically strong performance.
The 5.8 per cent unemployment rate recorded in February ties for the lowest nationwide rate seen in Canada at least since 1976, a sign that the country's economy has been firing on all cylinders lately.
Nonetheless, there are still more than 1.1 million people on the unemployment rolls in Canada. Some of that is structural — some percentage of people will always be between jobs — but some of it points to a continuing mismatch between Canada's available labour force and the jobs being created in the country today.
Ted Mallett, vice president and chief economist at CFIB, says more retraining of workers in industries that are "in transition" would help mitigate the problem, by shifting workers from declining industries to growing ones.
The current labour shortage is a "particularly troublesome" problem for small businesses, he said.
"When a business of five people is missing one person, that's 20 per cent of its workforce," Mallett told HuffPost Canada on Tuesday. "That puts a significant crimp in their ability to offer products and services."
Watch: The most in-demand jobs in Canada in 2018
But what's problematic for businesses could be good for employees in this case, as the shortage of workers is likely to mean higher wages ahead.
Mallett says those businesses that are experiencing labour shortages are planning to raise employee pay by a larger margin than others. Currently, businesses with shortages are planning average wage hikes of 2.8 per cent in the coming year, versus 2.3 per cent for businesses not seeing labour shortages.
Highest vacancies in personal services, construction
The CFIB report broke down job vacancies by broad occupational categories, and found that personal service workers and construction workers are in highest demand, with vacancy rates of 4.5 per cent and 3.7 per cent, respectively.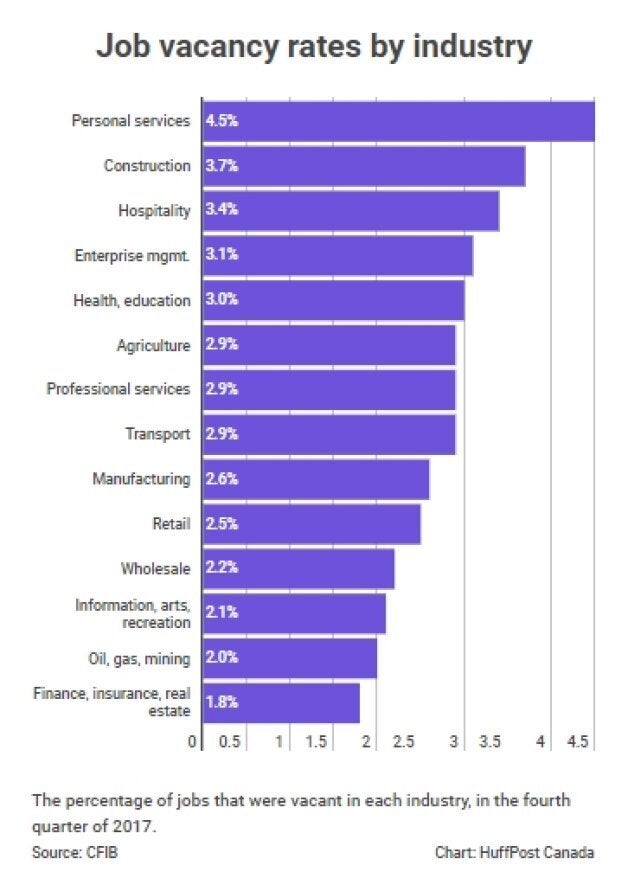 Canadians unwilling to move for work
Mallett says greater labour mobility would help address the labour shortage issue.
"If there are some regions doing better than others, it would be beneficial if we were able to pull resources from those areas that aren't doing as well," he said.
Canadians are putting a greater priority on their families and social circles these days, making them less willing to move for work.
Mallett suggests policymakers could help to mitigate this problem by making it easier to move. For instance, aligning certification and standards across provinces would make it easier for licensed professionals to get accreditation in other provinces, he said.
Popular in the Community