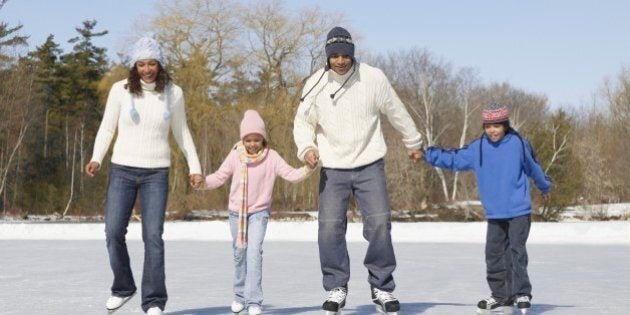 When Canada freezes over every winter, Canadians make the most of the icy temperatures and head outdoors for a skate. From Guinness World Record-breaking frozen rivers to the World Pond Hockey Championship blue lines, there are skating rinks all over the country for leisurely gliders and speed-skating Olympians. Here are the best outdoor skating rinks from coast to coast: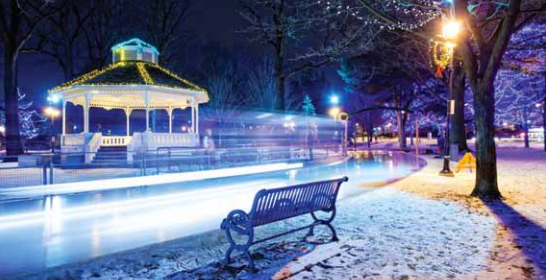 Winding its way through Bannerman Park, one of the oldest parks in Newfoundland, The Loop is open as long as the weather is cold enough. Skaters enjoy free admission to the pretty circuit, looping through one of St. John's most-loved outdoor spaces.
The Loop, Military Rd, St. John's, NL A1C 5M2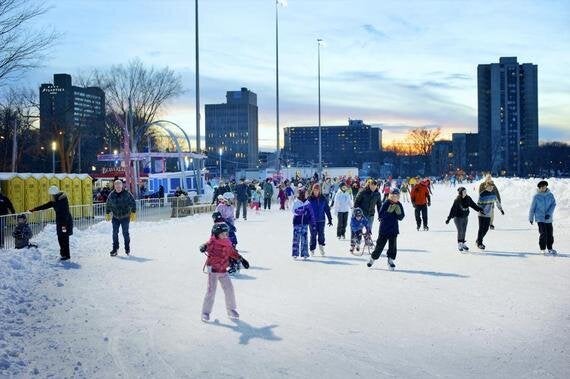 Courtesy of destinationhalifax.com
Initially built for the 2011 Canada Games, the Oval was so loved by Haligonians that the city has kept the ice smooth every winter since. Skate around the regulation-size speed-skating rink, or take lessons from the pros. Skates and helmets are available in all sizes for free throughout the winter, and in the summer there are inline skates, rollers skates and scooters.
Emera Oval, 5775 Cogswell St, Halifax, NS B3K 4B2
Plaster Rock, New Brunswick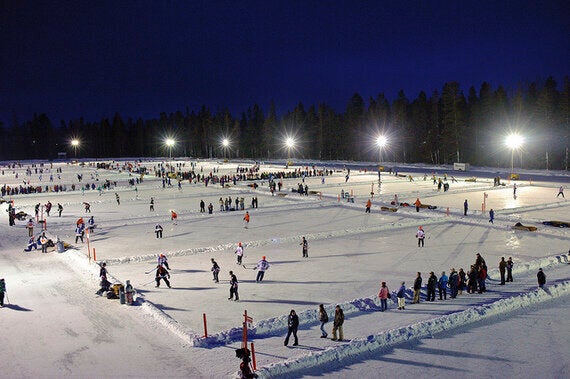 Courtesy tourismnewbrunswick.ca
Every winter, this small New Brunswick town hosts World Pond Hockey Championships. Last year over 120 teams competed in the event, held on 20 outdoor rinks construction on frozen Roulston Lake. For those who don't want to play a game of puck, the rinks can be enjoyed for a leisurely lap all winter long.
Roulston Lake, 157 Main Street,Plaster Rock, NB, E7G 2H2
Bonsecours Basin, Montreal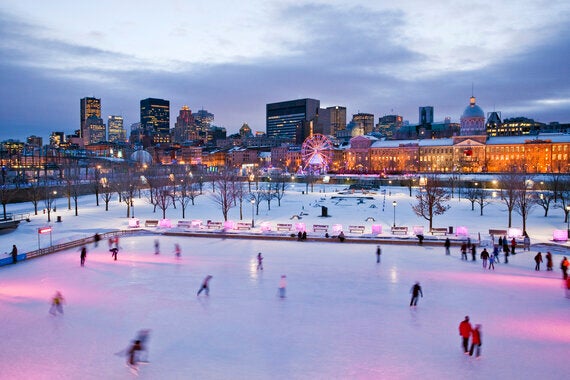 Courtesy tourisme-montreal.org
With views of the St.Lawrence River and the Old Port, this well-known rink is located in Old Montreal next to the Pavilion du Basin Bonsecours. Skate to a beat with the themed musical evenings, including retro Fridays and ballroom matinees on weekdays. Rentals are available for a fee.
Ville-Marie, Montreal, QC
The Rideau Canal Skateway, Ottawa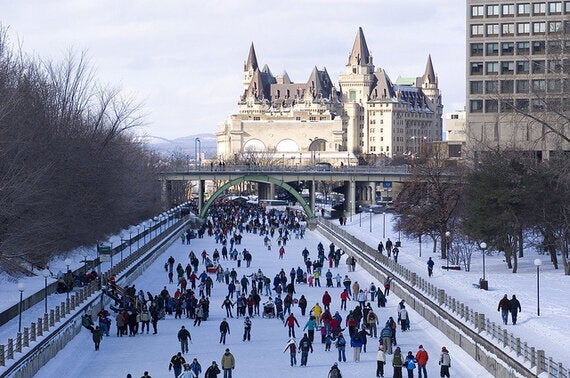 Courtesy ottawatourism.ca
A UNESCO World Heritage Site, and the world's longest skating rink, the Rideau Canal meanders its way through Ottawa, stretching 7.8km. There are multiple places along the way to rent skates and sleighs, and some Ottawans even commute to work skating along the canal. Glide through the capital city past the Parliament Buildings and don't forget to stop for a Beaver Tail.
Rideau Canal, Ottawa, K1M 1M4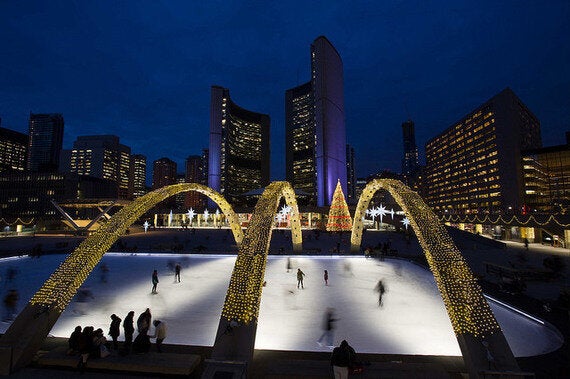 Situated in front of Toronto City Hall, this iconic square is a must-do in Toronto during the winter months. Skate underneath the tall buildings of downtown Toronto with rentals available on-site.
100 Queen Street West, Toronto, ON M5H 2N2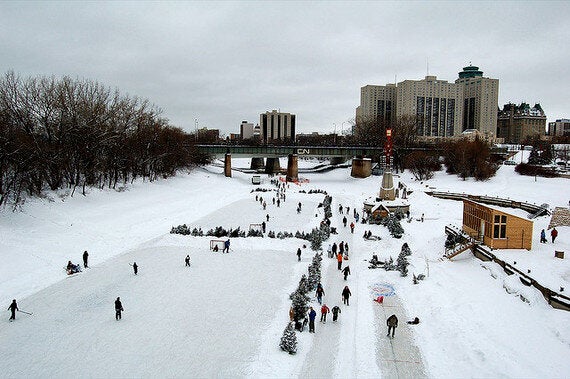 At The Forks -- where the Assiniboine and Red Rivers meet -- the icy fun begins. Part of the Artic Glacier Winter Park, the trail broke the 2008 Guinness World Record for longest frozen skating trail at 8.54 kilometres. Winter activities abound, from skating to curling. Every year there is an architecture contest for the warming huts that people enjoy along the way. Rentals are available for a nominal fee.
The Forks, 1 Forks Market Rd, Winnipeg, MB R3C 4L9
Cameco Meewasin Skating Rink, Saskatoon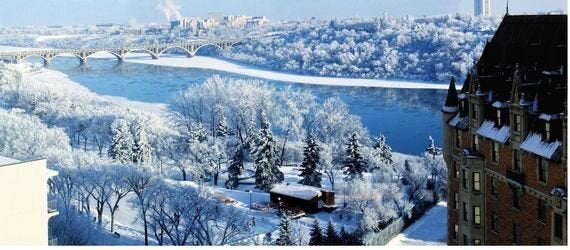 Courtesy of tourismsaskatoon.com
This skating rink sits in Kiwanis Park, on the South Saskatchewan River in the heart of this prairie. Skate along the river with views of the historic Delta Bessborough Hotel and warm up in the Skaters' Lodge. Free rentals are available.
Spadina Crescent E, Saskatoon, SK S7K 3G8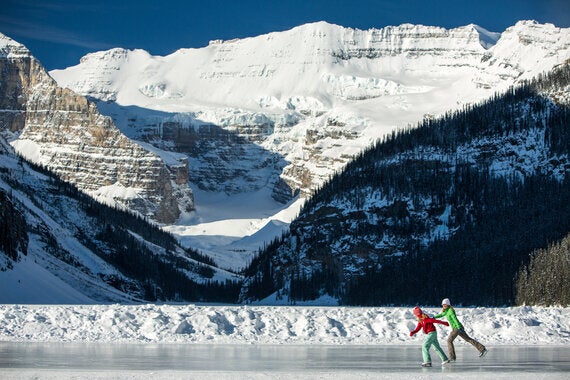 Courtesy Banff Lake Louise Tourism / Paul Zizka Photography
Skating around this lake is like gliding through a postcard; with epic views of the Rockies and the Fairmont Chateau Lake Louise in the background, this experience is one not to be missed. With an ice castle and fire pits, the great outdoors don't seem so bad.
111 Lake Louise Dr., Lake Louise, AB T0L 1E0
Lake Windermere Whiteway, Invermere British Columbia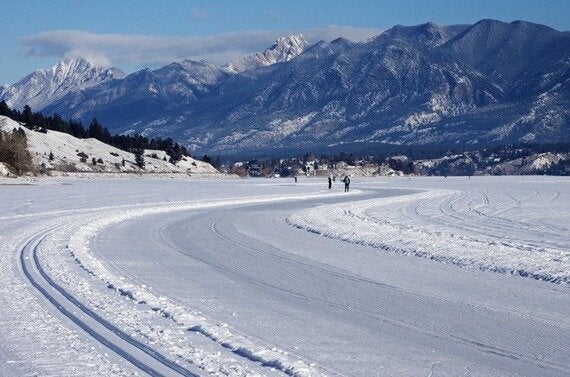 Courtesy of hikebiketravel.com
With almost 30 kilometres of skating, this Columbia Valley lake offers Rocky Mountain views. Pick a loop and sail through a variety of skating trails or throw some rocks on the curling rink. In addition to skating, the Toby Creek Nordic Ski Club has developed a lengthy cross-country trail.
Gabby Peyton is a Travelzoo Deal Expert based in Toronto. Travelzoo has 250 deal experts from around the world who rigorously research, evaluate and test thousands of deals to find those with true value.
Follow HuffPost Canada Blogs on Facebook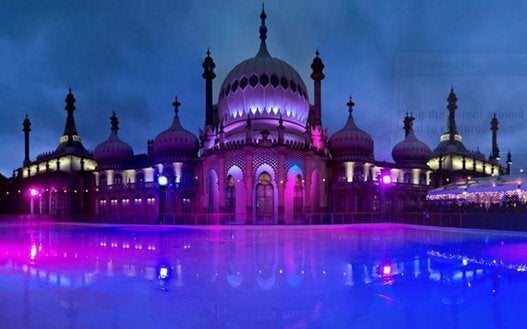 Best Ice Rinks In The World
Popular in the Community