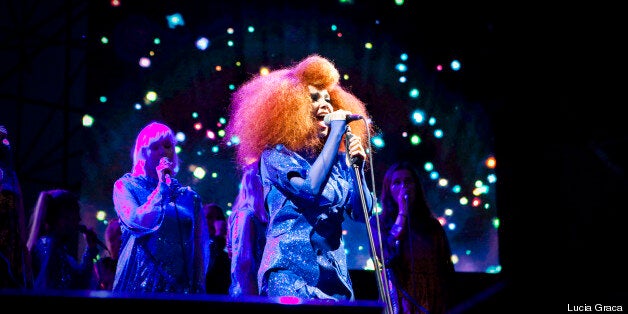 Pop culture has been overrun with '90s nostalgia over the past few years, especially as we keep hitting the 20-year mark of so many classic alt-era albums that came out between 1991 and 1994.
This month marks the 20th anniversary of Björk's aptly-titled first adult album, "Debut," a record which turned her into an instant international star thanks to its alternative dance hit "Human Behaviour." (Her actual first solo album came out when she was 11 in 1977 and she began singing with the Sugarcubes in 1986.)
That it and follow-ups like "Human Sensuality" and "Violently Happy" were hits at all says a lot about the open-mindedness of the era, especially of the early-90s radio and video establishments that (briefly) welcomed in all matter of weird music.
But when Björk took to the waterfront stage of Toronto's Echo Beach on July 16, this wasn't a nostalgia show, or even a comeback. Over the past two decades Björk has not only never gone away, she's never seemed less than current because she's never seemed less than timeless.
As the diminutive singer emerged in sparkly blue dress and sprawling orange fright-wig, looking every bit as if Diana Ross had grown up in Lord of the Rings' Middle-Earth -- probably a rebellious royal from Lothlórien's forest-elf kingdom -- what became clear (again) is that Björk has found the perfect alchemy of art and pop.
So perfect, in fact, that she exists in a musical bubble that nobody else has ever managed to permeate, certainly not Lady Gaga despite her best efforts.
Story continues after slideshow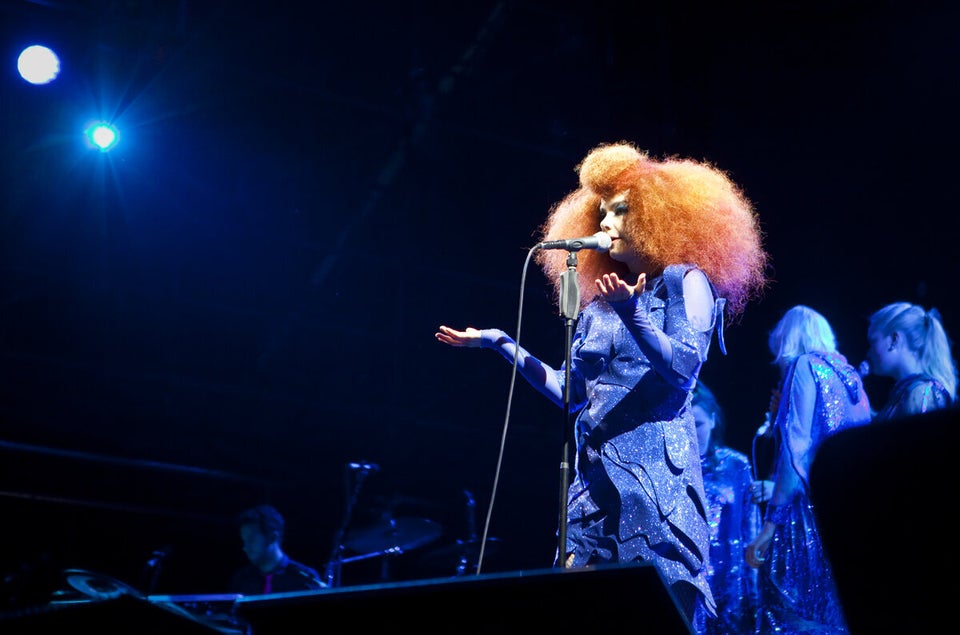 Bjork at Toronto's Echo Beach
On the back of the stage, for instance, was an enormous old-world organ while high up above was a similarly massive Tesla coil, an electrical device that she regularly used to fire off spastic, body-rattling synths. And though Bjork was dressed like a disco queen, her army of 14 back-up singers were adorned in church robes and alternated between looking like a gospel choir, a coven of witches, and a pack of ravers.
Speaking of which, Skrillex might want to catch a few Björk shows to step-up his game, because when she released the wild beats during "Army of Me" or mashed-up "Hyperballad" with an LFO techno track, the resulting grimy beats that burst forth from the speakers were more badass than any dubstep I've ever heard
The first half of the show, though there were electronics, skittering drums, and crunchy synths amidst the choral harmonies and Bjork's otherworldly chirp, was mostly ethereal, drawing heavily from her newest album, "Biophilia," with tracks like "Cosmogony," "Thunderbolt," "Moon," "Crystalline," not to mention her classic "Hunter" off 1998's "Homogenic." There was even a virtuosic hang session on "One Day"" (and yes, I had to google what that obscure Swiss percussive instrument was.)
It felt post-post-apocalyptic, as if it was a performance from a far-off future where civilization had collapsed and then been reborn as a techno-organic utopia. Heavy on the techno in the second half, which took off from the epic "Joga" to transform into a tribal rave with Björk often abandoning the mic to wild out with her dancing choir girls.
There is no better descriptor for what Björk does than artpop, which also happens to be the name of Lady Gaga's upcoming fall album. But there is thus far little evidence that Gaga has the artistic ambitions, or perhaps even aptitude, to become what Björk is.
Gaga has certainly got the crazy costumes down -- remember Björk's Oscar swan dress? -- and fashion can definitely be an art on its own, but it also symbolizes the superficiality of Gaga's pop. Sure, she has an affinity for dance music, but her inspiration is commercial EDM rather than Björk's borrowing of jungle or techno or Matmos' experimental beatscapes.
And ultimately, Gaga's music is simply standard pop music. Take "Born This Way," her statement anthem intended to tell all her little monsters to be themselves. It's a great sentiment, but the song is a rehash in both sound and theme of Madonna's "Express Yourself" and pales in seriousness to Björk's Trayvon Martin-dedicated encore "Declare Independence." The digi-metal epic saw her scream-singing "tear off their blindfolds / Open their eyes" and chanting "raise your flag" and, with righteous Trayvon-fuelled fury, "don't let them do that to you!"
Maybe I'm wrong, and Lady Gaga's "ARTPOP" album will take the next step to make her more than her outrageous outfits. Or maybe we'll just find further evidence that Gaga's wearing nothing under her meat dress.