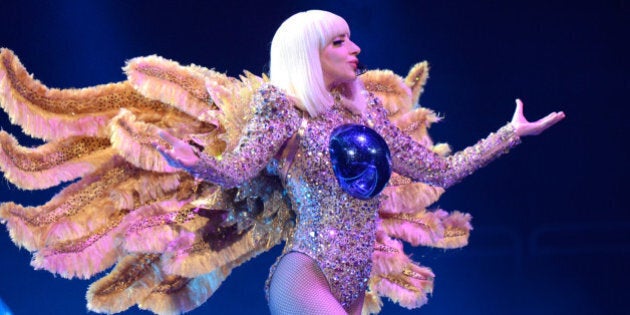 The tragic suicide of comedian Robin Williams has left many addressing the issue of mental health including several musicians including Lady Gaga and others.
After hearing news of Williams' death, Lady Gaga -- about to start a brief Japanese tour tomorrow before heading to Australia -- tweeted about the dangers of depression and how to get help if in despair:
Gaga's first tweet was retweeted over 14,000 times while getting over 17,000 favorites. But the pop diva wasn't the only one speaking about depression. Motley Crue's bassist Nikki Sixx, who also has battled depression over the years, also chimed in this morning among others:
Meanwhile, Canadian rapper Buck 65 addressed Williams' death and depression in a lengthy Facebook post this morning (Aug. 12). "The thing is, no amount of money or success or friends can rescue someone from depression," the musician wrote. "And it's great that strides have been made in the field of mental health but a depressed person has to want that help and it usually doesn't work that way."
Buck 65, who believed there was a link between the comedian's genius and his depression, said his suicide should be a clear and loud message that should be heard by those around people in the depths of depression, not just those suffering from the illness.
"Yesterday, the call went out loudly that if you're depressed, you can get help," he wrote. "That's a beautiful notion. But I think it shows a lack of understanding of what some depressed people wrestle with (I can only guess). Maybe hotlines lit up yesterday. Maybe the wakeup call worked for some people. I hope it did. But I'm guessing it also made other people want to hide more carefully.
"It's up to us, not them. We have to do a better job of looking out for one another."
"'Comedy is hard' is true in the way that 'art is hard,' but stand-up performers, in particular, are laid bare in public the way few creators are," Bidini wrote. "They crave (or demand) approval for expressions of joy and humour and life -- even the wretched and mean ones -- and because there's never a guarantee, that burden of expectation can be a lot to bear. Whether it drove Williams to his final fate we'll never know -- his graveyard-visit appearance in Season 4 of Louie seems now even more prophetic -- but I've seen it in a few comics I know, and in comedians I've worked with."
James Taylor also spoke about Williams' highs and lows in a short but thoughtful Facebook post this afternoon. "I felt two things immediately when I got the news last night: first that the light had dimmed and, on its heels, a sense that this was inevitable; that Robin had lived for a long time with a darkness at the periphery of his vision," Taylor wrote.
"What must it have been like to be present when he improvised the genie in "Aladdin" or Lovelace in "Happy Feet?" His Texan, his gay stylist, his Soviet comedian, Mrs. Doubtfire…He was a one-man menagerie. Perhaps, just as we were swept away, so was he."
Popular in the Community