Images released from NASA satellites are painting a grim picture of how badly droughts have affected the America's largest water reservoir.
You can watch the dramatic change in water levels in the video above when two satellite photos of Lake Mead from 15 years apart are placed side-by-side.
The water levels at Lake Mead, the country's largest freshwater reservoir, have dropped 37 metres, or the equivalent of an 11-story building, since 2000. The man-made lake was formed by the construction of the Hoover Dam and provides 90 per cent of Las Vegas' public water supply. While the lake shrinks, the city continues to grow making the dependence on Lake Mead even more critical as a source of fresh drinking water.
The reeding water levels have even uncovered a ghost town. St. Thomas was once a thriving Mormon settlement, but was swallowed by the Colorado River in 1938 as the Hoover Dam was built.
While California has been receiving the most media attention for its drought, all western states have been feeling the effects of climate change, including Nevada. Watch the video above to see how Lake Mead has changed for the worse.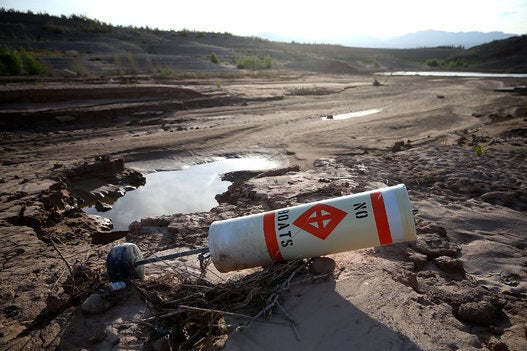 What A Drought Looks Like