A couple of boat rides, a little hike, and you'd never know you were only about 150 kilometres away from Vancouver.
On Lasqueti, a community off the coast of Vancouver Island, around 400 people live completely off grid, says a documentary by Global News' 16x9.
Lasqueti Island is off grid, literally. It is not connected to BC Hydro's power infrastructure and many residents rely on solar panels to generate electricity for their homes.
The island also boasts a pub, a cafe and a "free store," where you can pick up whatever suits your fancy, without handing over any money at all.
Lasqueti is home to Al, 83, who left Vancouver almost 30 years ago for some peace and quiet. His home — which he built himself — is heated by two wood stoves and features two bathtubs, warmed with firewood laid underneath.
His drinking water? It comes from "a creek up the hill." No filters, just all-natural H2O.
Believe it or not, it's not a totally uncommon lifestyle in B.C.
The tiny community of Port Neville (about 200 kilometres north of Vancouver) is also home to a few more off-gridders.
Kurt Cehak, 64, has been there for over four years.
"So often what people get lost in — what I used to get lost in — is mistaking the things I used to touch or pick up or drive or use in a physical way for the things that I now realize are the important things," he told The Huffington Post B.C. in December.
"I think more people could benefit from the idea of making do with what you need, rather than what you want."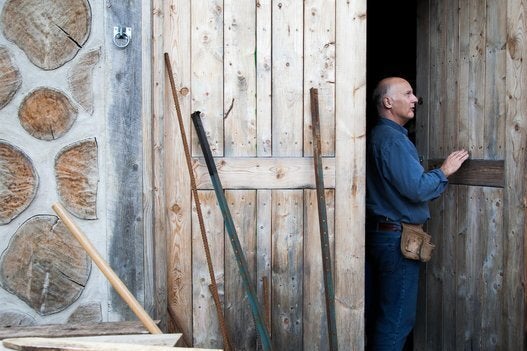 Canadians Live Off The Grid