One of the advantages of the hot mess that 2017 has been, 10 months in, is that there's plenty of fodder for last-minute Halloween costumes.
And fortunately, most of these costumes are relatively easy to DIY with what you already have at home and/or a quick trip to the dollar or thrift store. You don't even necessarily need glue to put these together — just some creativity will do.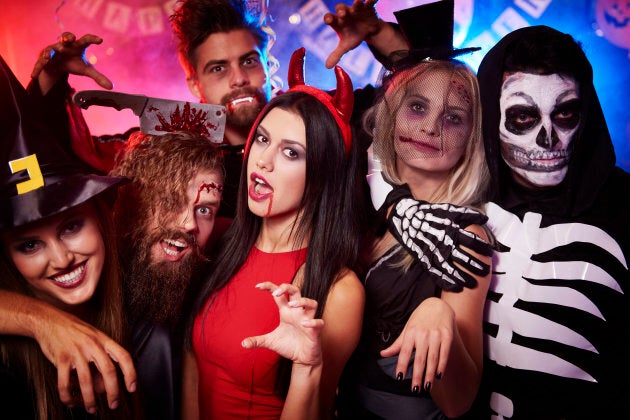 Some of the 20 last-minute DIY costumes below are best done as a solo affair, while others work well as couples or group costumes — use your imagination! A few of them are a little dark, a lot of them are funny, but all of them will be perfectly at home at a 2017 Halloween party.
BoJack Horseman
Everyone's favourite terrible-yet-compelling animated B-list horse! If you can get your hands on one of those creepy horse masks, you just need a terrible sweater and the air of defeat, but it'd be even better with a printed-out illustrated BoJack head.
Fake news
People are saying it's everywhere! Well, one particular person, anyway. Make yourself an outfit out of newspapers (they're still a thing!) and stamp a big red FAKE all over it. Much more creative than the "sexy" version that was of course released this year.
'90s resurrection
Put all those discounted crop tops and platform slides at the mall to good use and go as your most coveted teenage outfit from the Delia's catalogue.
Avocado toast
If avocado toast is going to bring us all down eventually, we might as well celebrate the food that's allegedly preventing you from ever owning a home. This costume is made with fabric but you can do it even more easily with cardboard and coloured paper.
Millennial pink
Go as the colour of the moment by adorning yourself with millennial pink from head to toe. We bet you already have a bunch of the pieces in your closet. Don't forget lips, nails — even hair!
Your favourite emoji
OK, so the movie wasn't great — but emojis are still a lot of fun. It's easy to go as your favourite for Halloween with a costume made from bristol board, thin foam and paint, or even felt and a brightly coloured t-shirt.
Multiple Taylor Swifts
Get some inspiration from Swift's "Look What You Made Me Do" music video for your group costume and go as the various Taylor incarnations: "bad" Swift, zombie Swift, etc.
Fidget spinner
The trendiest toy of 2017 may be fading from popularity, but it's still a great costume idea. Just get some cardboard — bonus points if you can figure out how to really make it move.
Eleven from "Stranger Things"
Dig that box of Eggos out of your freezer and celebrate the return of "Stranger Things." If you're really on the ball, binge the new episodes and go as season 2 Eleven.
BBC interview girl
She swaggered her way into our hearts earlier this year, and "BBC Interview Girl" — complete with yellow sweater, glasses and pigtails — would be welcome to interrupt any Halloween party.
Dart Guy
Already have a Leafs jersey hanging in your closet? Then you're well on your way to going as "Dart Guy," everyone's favourite Leafs fan. Just stick to fake cigarettes, OK?
Vacation Obama
Wouldn't you be smiling too if you'd had a tropical getaway? Throw on a helmet and a sleek life vest, pull out those wraparound shades, and start smiling.
This Is The Future That Liberals Want meme
There are endless variations here thanks to the popularity of the meme, but we are personally fans of this version of "This Is The Future That Liberals Want." Recreate it with a bunch of plush dogs — or just photos — attached to every spare surface of your clothing.
Babadook loves Pennywise
Many have referred to Halloween as "Gay Christmas" but why not bring in a bit of Valentine's-style romance? We are referring, of course, to the LGBTQ couple of the year: Babadook and Pennywise. Get out the clown makeup, start constructing a giant Babadook made of fabric, and have fun.
Dancing Snapchat hot dog
Get a red T-shirt and pants, a brown vest, put on headphones, and add some squiggles of green and yellow. Now put on some music and you're not just a hot dog — you're the dancing Snapchat hot dog!
The ladies of "​​​​​GLOW"
Get your best friends together and celebrate "GLOW," the Netflix hit that provides plenty of great uber-'80s Halloween ideas.
Solar eclipse
That was a nice distraction from regular news for a bit, huh? Bring the eclipse black with an all-black outfit accented by a sliver of gold or yellow — a bow, a single glove, you choose.
A handmaid from The Handmaid's Tale
This may fall under the category of "too soon" but it could also be seen as combining costume and protest. Make the hat with white bristol board, pair it with a dark red dress, and get some friends in on the action.
Ivanka's neighbour
Vacation Mario
One of the most shocking news items of 2017? Mario has nipples. Pay homage to what looks like his great vacation with red shorts, a full mustache, that signature hat — and not much else.