While that role was much darker, in a way it's kind of an appropriate segue to Prepon's casting as Alex Vause in Netflix's "Orange Is The New Black." Mysterious and unquestionably charismatic, Alex is the reason for main character Piper Chapman (Taylor Schilling)'s imprisonment. Or at least, that's what Piper likes to believe.
As Alex, with her trademark red locks long gone, Prepon wields her jet-black hair like a weapon; it's representative of a shadier, more secretive character. HuffPost TV chatted with Prepon on a press tour in Toronto, where she opened up about gratuitous sex scenes and playing a lesbian drug dealer.
HuffPost TV: Did you do any prep for this role?
Laura Prepon: To play a drug-smuggling lesbian? [Laughs]
Yes! You're also a jailbird, and sort of the villain of the series, at least at the beginning.
It took me a little while to figure her out. I also got this role on 14 hours' notice; they basically told me I had to move to New York and go to prison. In terms of the prep, it's not like I'm going to go all method on this one. [Laughs] I tried to humanize her and relate to her as a woman going through all these things. To humanize a manipulative drug-smuggling lesbian isn't the easiest thing to do ... but it turned out great! She's an awesome character. She acts tough, but it's just her exterior.
On the flip side, how much fun is it playing Alex?
It's cool because, as a female actress, you always try to look for roles that are challenging, different and new. It's hard to find something like that. When we read roles, it's usually another f--king typical female role. When I read this script, there were so many rad roles, so when I read Alex I loved her. She's so rockabilly, and all tatted, with black hair and glasses. She's a badass.
You're barely recognizable at times! What was the process like getting you to "look" like Alex?
I know! It was interesting. I actually wanted more tattoos, but Jenji [Kohan] had this specific vision of what she wanted. It's funny, because there's this one tattoo that the makeup artist and I hate, but Jenji loves. It's this little tattoo of a woman on my arm, next to this gorgeous rose. She specifically said she wanted it, and it never wants to stay on -- it's a disaster. [Laughs] My favorite one is the salt thrown over my shoulder. That one's cool.
We all wear the burlap sack uniforms, the gross, whatever, nasty ... we don't have to even shave because you're not going to see anything. At the beginning, the question was, since all these women are individuals and so different, how do we make each person distinctive? I roll my sleeves up, I put my black eyeliner and glasses on. Another character makes her own makeup with Kool-Aid powder and Vaseline. All these cool little things to make our characters into individuals.
Well, you've played some pretty major roles, including Karla Homolka, who served time for the murders of three women. Would you draw any parallels between her and Alex? Did you learn anything from that role?
That role ... OK. [Laughs] I stand behind that role, but that being said, that was right after I finished "'70's." I thought that I needed to do something so vastly different. For some reason I like to put myself in situations where I don't even know how I ended up there. I never want to be complacent or comfortable in a role. So when "Karla" came along, I thought whoa, this is terrifying. How could people ever actually do something this disgusting? As an actress, I wanted to portray this. It was insane. I was messed up while doing it. Very messed up!
On "OITNB," Alex is nothing like Karla Homolka. Karla was an evil, submissive individual, and so was her husband. Alex is ultimately a good person and she's wrapped up in the whole drug world. Alex is wily and smart and she does what she does to survive. Yes, she runs an international drug ring, but she's good at it. One thing about Alex that people might not necessarily realize is that she likes to be in a position of power. She's in a position of power over Piper -- like in the pilot where she's stripping for me. I'm the spider and she's the fly. But Alex is also so in love with Piper, and this girl ripped her heart out.
It's interesting how Piper plays the victim, but isn't always the victim.
That's it exactly! [Laughs] Everyone thinks she's such a goody two-shoes. You see all these characters on "OITNB," and you think they're one thing, but they're not. Piper, ultimately, isn't a great person. She never takes responsibility for anything. Obviously at heart she's a good person, but she's capable of doing bad things. It's like "Lord Of The Flies." Their social veneer is gone. What happens when you get thrown to the wolves?
In a recent interview, Jenji said she really wanted to push the boundaries with this show, especially when it comes to sex. How comfortable were you in terms of that aspect?
She pushes it pretty far! Here's the thing: doing nudity ... I never wanted to do nudity. So this came around, and they were like "There's nudity. Not just nudity, you're a lesbian. And not just lesbian, you're doing crazy sex scenes with people." I was like, "OK." I read it and loved it, but I didn't know about the nudity. Jenji and I talked, and she assured me it wasn't gratuitous; in a women's prison, obviously, you walk around naked. You would look weird if you were hiding in your clothes.
The sex scenes with me and Piper, we were very specific. They were always done in a way that was very non-gratuitous, since their relationship is very intense and special. It's beautiful because they love each other. Taylor and I are so comfortable, even though the first scene we ever shot together was us naked in the shower.
How would you describe your experience working on a Netflix show?
When I started working on "'70's," I had no idea what was going on. I didn't know what a pilot was, how much it means to go to series, I didn't understand it. It was the first thing I ever did. Now that I know what goes into making a pilot, keeping it on the air, and keeping your fans, I'm at a point now where I do a pilot and just hope for the best. If it doesn't work out, it doesn't work out.
For example, I finished that one season of "Are You There, Chelsea," and I loved playing Chelsea Handler. That ended, and I was like, damn. Immediately after that finished, I got offered this, and it was great. You just never know. If it's meant to be, it's meant to be.
You can stream "Orange Is The New Black" at any time on Netflix.
Stay tuned to this space for further interviews with the cast, as well as an in-depth interview with Piper Kerman, the author of the memoir and inspiration for this series.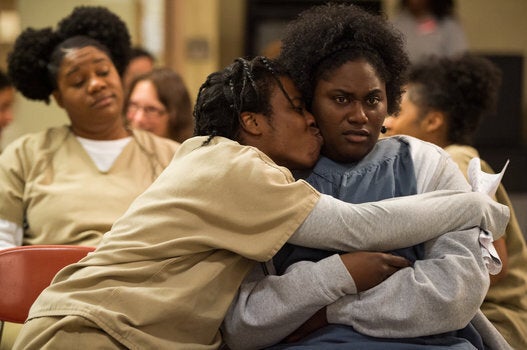 "Orange Is The New Black"