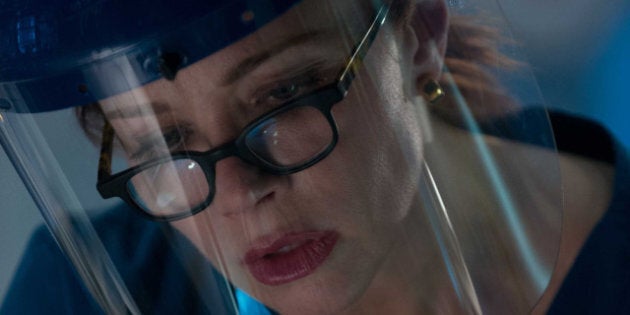 Remember not too long ago, when Americans unhappy with the way their election was going threatened to move to Canada for a better life? Well, American actress Lauren Holly ("Dumb and Dumber," "Picket Fences") did just that -- she moved to Canada so her three sons would have a "healthier place to grow up in than L.A." Ever since she moved to Ontario, she's been popping up in Canadian productions, including sensational sci-fi show "Lost Girl."
Her latest project is "Motive," the innovative crime drama premiering after the Super Bowl on CTV (it was also just picked up by ABC for U.S. play in the summer). She plays medical examiner Dr. Betty Rogers, and is always on the (crime) scene with witty remarks and snide asides.
HuffPost TV Canada spoke with Holly about gross makeup on set, the unusual show structure of "Motive" and Canadian TV production as a whole.
I'm used to seeing Canadian TV productions, and honestly, they're usually pretty low-budget and appear low-budget. "Motive" didn't seem that way, which was a lovely surprise.
That's how I feel as well! I always thought I would be part of an American production that shot here, since I'm not a huge fan of the Canadian productions -- which is really odd to me. Canada has such great crews (which, I think, is why so many shows come and shoot here) and really great actors. For the life of me, I can't figure out why the Canadian shows look so different! I can flip channels and call it -- I can tell which ones are Canadian. I don't understand it.
So when I read [for "Motive"], I thought: this is a really interesting twist on an old genre. It's such a simple thing and yet I've never seen it done before. I was really intrigued, and initially worried that it would eventually have the look of all those other Canadian shows. Then, when I saw the first episode, I was super impressed and excited. This show looks good, and it only gets better.
Your role is also cool -- you get to play a medical examiner/doctor!
[Laughs] She's cool. She's got her own vibe, she's very unique. I really love it. I'm a big fan of props. I love props. When I'm in my morgue, there are so many props and gross things I get to work with. That's always fun. The special effects/makeup people they have are genius. I mean, I've had full-on bodies on my table -- that are fake -- and they're six inches away from me and I still can't tell if they're real or not. That's how amazing they are. It's almost frightening.
Has anything really gross happened so far?
There was an episode where I had to weigh all these body parts, and so the whole scene, both Louis [Ferreira] and Kristin [Lehman] were with me in the morgue. The whole time I had to run my hands through these sausages that were supposed to be small intestines -- foot after foot after foot of these sausages. That was pretty funny. Pretty gross, too. [Laughs]
Did you receive any sort of training for this role? Flip through an anatomy manual?
I went to real morgues. The first one was in Vancouver and it's in the basement of a hospital. There's a special big elevator that takes you down. I was really nervous because I didn't know how I was going to react. When the elevator doors opened, it was blocked by some gurneys with dead bodies on it. I thought it was a joke at first, but then quickly realized it was real.
In the first episode, we only see a little bit of Betty. Will we be seeing more of her as the season progresses?
It's definitely Kristin's show, and I'm always there, but I think a lot of it is I'm commuting [from Toronto to Vancouver], whereas the rest of the cast is already there.
Does she evolve over the course of the season?
If there's humour to be had, more than likely she's having it. [Laughs] She does her own thing, she provides some levity.
"Motive" premieres immediately after the Super Bowl on Sunday, February 3 on CTV.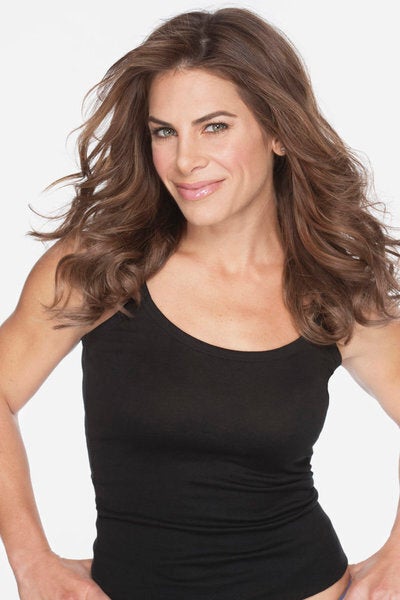 Midseason 2012-2013