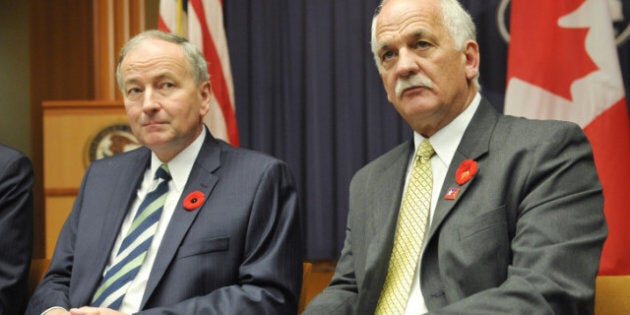 Has Stephen Harper's government had a change of heart about introducing new online surveillance laws? Or are they just biding their time?
That's the question on the lips of digital economy experts and privacy advocates after the omnibus crime bill introduced in Parliament Tuesday made no mention of the controversial provisions, which would vastly expand the ability of police to track people online without a warrant.
"While there is every reason to believe lawful access will be introduced some time in the future, excluding them from the crime bill will provide more time for review and committee hearings," internet law professor Michael Geist blogged.
But for the time being, opponents of the proposed laws -- known on Parliament Hill as "lawful access" legislation -- are sighing with relief, and taking the potential delay as a political victory.
The online rights group OpenMedia declared that the bills disappeared "under the intense pressure of a 70,000+ signature petition." OpenMedia was behind the petition in question, which was dubbed "Stop Online Spying."
The proposedset of laws, which didn't make it through the previous parliamentary session, would have allowed police to demand information about internet users from internet service providers (ISPs) without a warrant. It would also require ISPs to retrofit their internet networks so that surfers could be surveilled in real time. And ISPs would be required to track the web surfing activities of their customers.
"This access is anything but lawful," NDP MP Charmaine Borg said in a statement. "This isn't a question of whether abuse will occur, it's how extreme the abuse will be."
"After months spent decrying the bills as invasive, costly, and poorly thought out the government's move to remove warrantless electronic surveillance from the omnibus is a clear step forward," Steve Anderson, OpenMedia's executive director, said in a statement. "This online spying plan ... would could cost Canadian Internet users and businesses millions."
However, no official statements have been made indicating an overhaul of the lawful access legislation, and the government has not set a timeline for introducing the proposed laws.