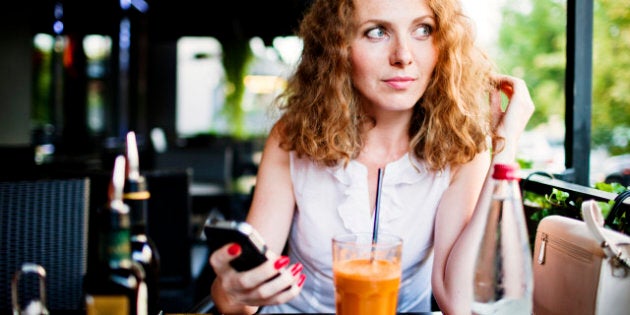 I watch the patrons at Green Grind as I sip my latte. Across from me there's a girl with intricate nail art, her face lit with the reflection of her Macbook screen. Next to her a guy with neck tattoos stares at his Macbook with concentration. His Beats By Dre headphones provide me auditory glimpses of his iTunes gallery. Then there's the girl in the corner by the front door reading Catch 22. She is the most fascinating. She's curled in the wired armchair with her hair moved to one shoulder. At least a dozen men and women have walked into the bustling coffee shop but she hasn't looked up once.
Green Grind attracts the attractive. The art on the walls and the eclectic furniture take my mind to Woody Allen's Midnight in Paris. I fantasize about the cafés in Montparnasse: Le Dôme, La Closerie des Lilas, La Rotonde, Le Select, La Coupole. The places that nurtured the Picassos and the Hemingways.
But Montparnasse is not what it was during les Années Folles. Back then it was the heart of intellectual and artistic life in Paris and in most of the developed world. It was a place where people came together and conversed, a community where oddity was accepted and normality was debated. I suppose this culture of exchange may still take place in the form of blogs, online discussion forums, and Socratic seminars. Our ideas are constantly intertwined in the democratic World Wide Web. But still I wonder, is the type of intellectual discourse that once thrived in Montparnasse insignificant now? Why did this culture of exchange end? Was it the industrial revolution? The death of modernity? Maybe the growth of Cold War sensitivities.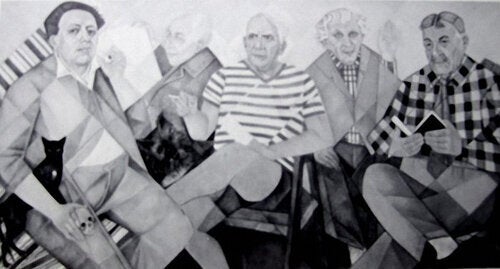 Painting by artist: Marevna (Marie Vorobieff), 1962 Cubism portrait of Diego Rivera, Pablo Picasso, Marc Chagall, Sergei Diaghilev, Ilya Ehrenburg called Homage to Friends from Montparnasse. (Wiki Paintings)
It's time to bring Montparnasse back to Toronto. Toronto is known to incubate incredible artists and novelists before they move off to cities like New York City or New Delhi. With its diverse population and talented artists, bringing together disparate groups and facilitating conversations between them is as significant now as it was then. Toronto may be the largest city in Canada but it is as connected as a small town.
As head of the creative department at The Spoke Club, I'm moderating a program to facilitate conversation between those creative entities that inhabit this city. In a candlelit room and surrounded by Thom Sokoloski's installation, I'm bringing together those individuals that are leaders in their industries. They are being interviewed regarding contemporaneous issues that are being discussed around the world, but somehow aren't being discussed in Toronto. Drop by if you're a member. Check out my blogs here to read about them if you are not.
Welcome to Le Cercle Montparnasse.