Researchers at the University of Calgary say they've developed a way to get oil to its destination without spilling a single drop.
Engineering professor Martin Mintchev and master's student Thiago Valentin de Oliveira say their leakless pipeline prototype could be a near-risk-free solution — if companies are willing to shell out for the increased cost.
The proposed pipeline has three things that make it different: it's double-layered, segmented and has real time wireless monitoring sensors embedded in each section. The inner-most pipeline would transmit the fluid, and if a leak were to occur, it would end up in the air gap between the inner and outer layers, where it would immediately be detected from a central monitoring station. The spill would be contained to one segmented section.
As pressure builds, oil will leak into the adjoining segment, tripping the next set of sensors (by filling the space between the two pipes with fluid, interrupting the connection) and giving crew even more time to respond. This gives workers multiple layers of fail safes so they have time to react, reduce pressure and fix the problem before a drop ever leaves the pipeline.
Double-layered pipelines are not a new idea. Mintchev told HuffPost Canada that double-walled lines were first proposed in the 1980s and are now in the public domain.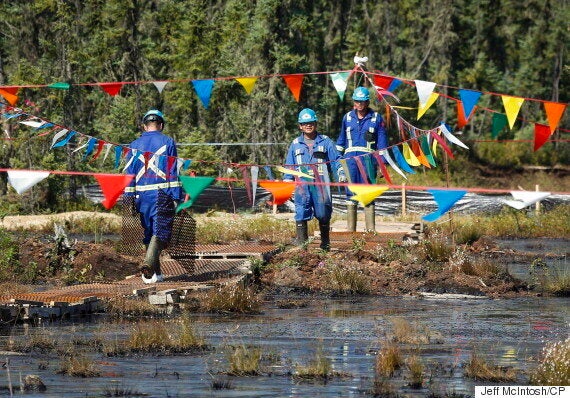 In 2015, a double-walled pipeline at Nexen's Long Lake oilsands facility in northern Alberta spilled 32,000 barrels (five million litres) of bitumen, sand and wastewater. The pipeline was less than a year old, and was built with new technology at the time.
But, the pipeline didn't have segmentation to contain the rupture, and its warning system didn't detect it in time — Nexen said it may have been leaking for up to two weeks before it was discovered.
"If we could turn the time back and use the Nexen pipeline that would utilize our technology ... this leak would have been prevented completely and inevitably," Mintchev says.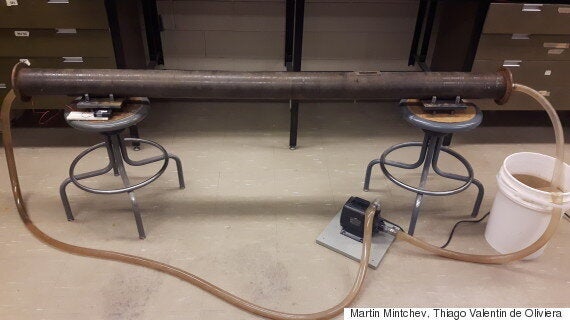 Mintchev says that in the case of the Nexen spill, the pipe was filled with sensors, but they generated numerous false alarms that motivated employees to turn the sensors off, which was one of the reasons the spill went undetected for so long.
Nexen isn't alone when it comes to having a flawed leak recognition system. A 2011 report from TransCanada on the Keystone XL's environmental impact noted that its systems can't detect leaks lower than 1.5 to two per cent of the pipe's flow rate. For a pipeline that will carry 830,000 barrels of oil each day, that's a lot.
In Mintchev and de Oliveira's proposed pipeline, a leak interrupts the connection between sensor stations, so it'll be immediately obvious something is wrong.
"Any disturbance in the pipeline, any earthquake, any movement, any possible sabotage, we'll catch it at the moment it happens with this approach."
The proposed technology would be more expensive than regular pipelines, depending on whether or not the pipeline needs to be replaced or can be modified, Mintchev says.
Here's how the proposed costs would break down:
Replacing an existing single-walled pipeline, segment by segment, would cost double the cost of the pipeline's construction
Upgrading an existing double-walled pipeline to add segmenting rings and wireless monitoring stations would add no more than 10 per cent to the cost
Sleeving an existing single-walled pipeline with a second layer, that includes segments and monitoring technology, would increase the cost by 20 to 25 per cent
Upgrading an underground or undersea pipeline would increase the cost by 50 per cent, and would reduce the pipeline's flow, as the second layer would have to be built inside the existing pipeline
If oil companies start by only upgrading pipelines in sensitive areas — near water crossings, ecological reserves and towns — Mintchev says the benefits would far outweigh the costs.
In 2010, an Enbridge pump station in Michigan ruptured, spilling over 20,000 barrels (3.3 million litres) of crude into the Kalamazoo River. People were evacuated, drinking water was contaminated, and a 56-kilometre stretch of the river was closed for cleanup for two years.
The cleanup cost approximately US$1.21 billion, more than the pipeline's construction cost of $1 billion.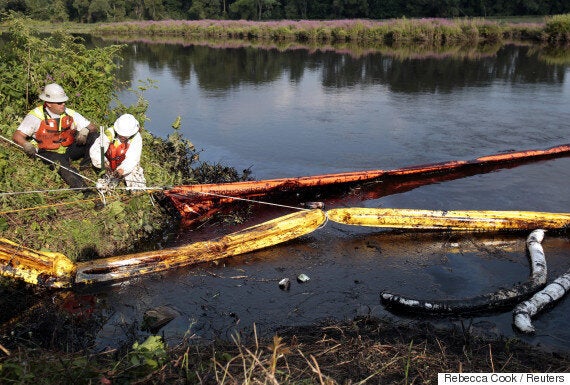 "Implementing the proposed technology ... turns out to be cheaper than having to face one (or several) oil spills," Mintchev and de Oliveira write in an economic and environmental analysis. And that's not counting the environmental damage and loss of wildlife.
The pair have a working prototype and a patent is pending. The design will be presented to the industry for the first time at the Global Petroleum Show in Calgary on June 13.
"Any disturbance in the pipeline, any earthquake, any movement, any possible sabotage, we'll catch it at the moment it happens with this approach."
Pipelines get a bad rap — but they are currently the safest, cheapest, and fastest way to transport oil and gas.
A 2015 study from the Fraser Institute found that pipelines were 4.5 times less likely than rail to experience an accident when transporting oil and gas.
If Mintchev and de Oliveira's pipeline design is embraced, that rate could rise.