As a fellow of the Explorers Club, and president of Artists For Conservation, I am interested in those who seek enlightenment, particularly when it involves adventure, the arts and raising public awareness about our natural environment.
I recently interviewed a fellow B.C. Explorer's Club member, Mike Schauch, who just came back from his expedition to northern British Columbia with a diverse team that included three Tahltan First Nation friends. The team is now campaigning to share their story through a documentary film called "Colours of Edziza."
Here are the highlights of our interview:
Jeff: As a member of the Explorer's Club and seasoned mountaineer, you've done your share of ambitious adventures with specific outcomes in mind. What was your vision and goal with this expedition, and did it evolve during the trip?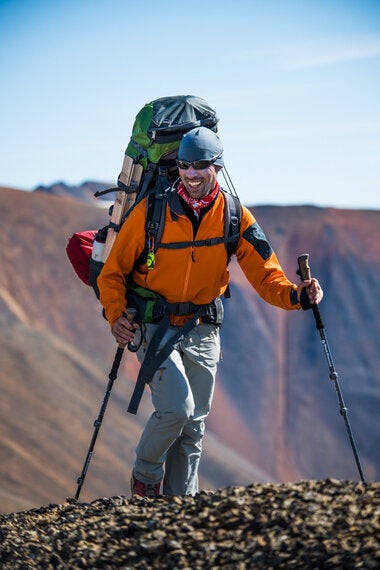 Mike: For this trip, we wanted to collaborate with our Tahltan First Nation friends, and journey through their territory togetherto learn as much as we could from their stories, culture, and perspectives of the land. It was a multi-cultural and multi-generational journey with Curtis, a Tahltan in his 50s who is a leader among his people; Tamara, a Tahltan artist from the millennial generation (Gen Y); Bodean, an 18-year old Tahltan youth who just graduated from high-school, and of course myself, a Gen Xer, and our crew of three, my wife Chantal (film co-director and co-producer), Matt (film director and cinematographer) and Eric (expedition photographer), all from various European backgrounds.
We set out with a vision of achieving unity through working together to overcome hardship and achieve a mutual objective. We realized, however, that unity can only be achieved through open respect. It was open respect for each other that enabled us to successfully complete this journey together.
Jeff: You've shared some incredible images of a remote part of northern British Columbia that many of us may never see. How would you characterize the lands and mountain ranges you traversed?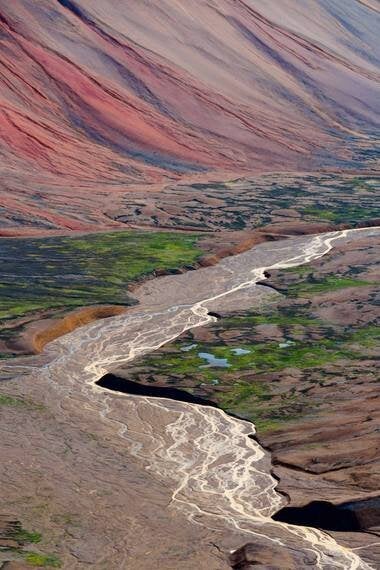 Mike: As one who is passionate about climbing mountains, I have seen a lot of them -- from the 8,000-metre peaks of the Himalaya to the mountains in our own backyard -- the jagged, rocky, glaciated peaks of the coast mountains. Never in my life have I seen mountains like these.
The mountains we traversed, while still rugged and serious terrain, are 2,000 to 3,000 meters high. As a result, you could see how the mountains and high ridgelines tied directly into creating life in the sweeping valleys and lower ecosystems.
Also, these mountains are the most heavily mineralized mountains I have ever seen. We were literally picking up big chunks of iron and copper oxide, boulders of obsidian and crystals. One hillside we huffed up was covered almost entirely in geodes, many of which were broken open and shimmering in the sunlight. The result of all of this was visually spectacular, with every colour you can imagine, deep hues of reds, yellows, oranges, greens, purples, blacks and whites all mixed together with pockets of northern boreal old growth and deep turquoise alpine lakes.
On top of this, the lands are very much untouched -- like the land must have been hundreds of thousands of years ago before humans were the dominant force of the planet. There was a strange richness of the land. You could feel the land's very pulse.
Jeff: Now that you've returned, what is the key message you wish to impart to others?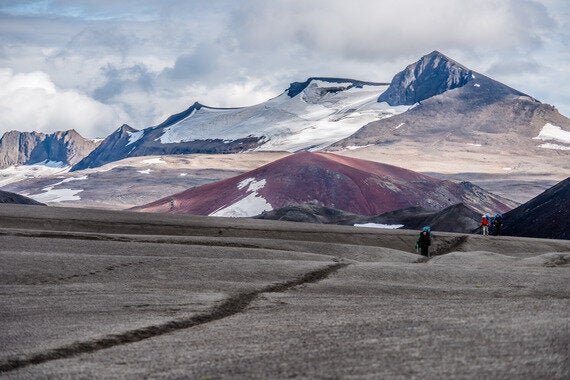 Mike: That we must respect our land. But to do this, we must first learn to respect ourselves and each other. Our journey was mentally and physically taxing. Every day we had new challenges to deal with, weighed down by our bodies getting increasingly fatigued (from carrying 65+ lb. packs over difficult terrain), and the uncertainty of where we would find clean water and a safe flat spot for our tents.
Despite this, day after day we put our differences and egos aside, and worked together to find the best way forward. Sometimes we got it totally wrong, the consequences of which were several hours of exhausting uphill bushwhacking, or gingerly making our way down an ice-laden glaciated scree slope where a tumble could be costly. However, it was through respect for each other that we could make better choices that carried us safely through the challenges of the day.
I believe our experience was a microcosm for what we all face in our daily lives. We don't need to look far to see the general lack of respect we have for ourselves and each other, and the affect this is having on our relationship with our land. Some communities are getting the brunt of it more than others. However, we are all in this together, and so must learn to respect ourselves and each other so we can make decisions that will have a positive impact not only on our own community, but all communities.
Jeff: Who else was involved in the expedition?
Mike: On the trip was my wife, Chantal, producer and co-director of our film, Matt Miles, our film director and cinematographer, Eric Saczuk, our expedition photographer, and our Tahltan friends Curtis Rattray, expedition co-lead, Tamara Skubovius, expedition artist, and our young scout, Bodean Williams.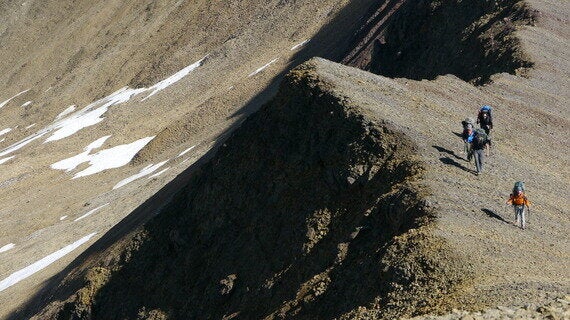 Jeff: What is it you hope will come of the film?
Mike: As most people will never choose or be able to visit this place, one of the last naturally intact places left in our world, we would like to bringing our experiences in these lands to the masses. We hope this will help our viewers reflect on their relationship with our natural world, and how our day-to-day choices and priorities are affecting the world around us, so we can all make better choices about what truly matters to us.
Jeff: Tell me about the crowdfunding campaign to support the film's production and how can people find out more?
Mike: We've self-funded the production (entire trip footage) of the film, and now we need to raise $25,000 for post-production and producing the original film score. We hope that many more people will join us on this important journey, and ask for their support and contributions to our Indiegogo campaign,. We invite people to view our teaser and support at www.coloursofedzizacampaign.com.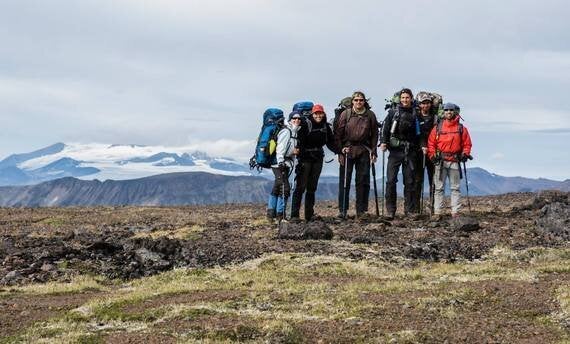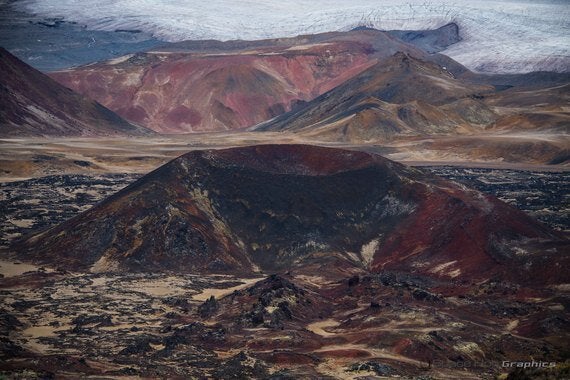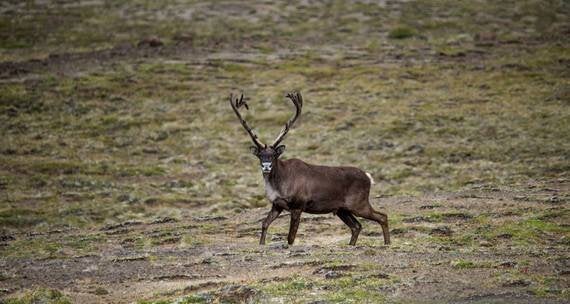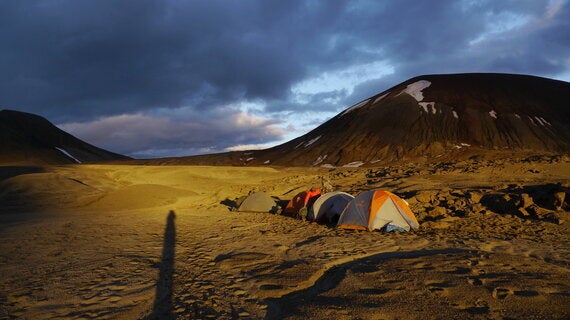 Photo credits: Eric Saczuk, Chantal Schauch, and Mike Schauch
Popular in the Community